Alpine ILX-F411 Halo11 11-Inch Mech-less Audio/Video Receiver
Alpine iLX-F411 11-Inch Mech-less Audio/Video Receiver
11-inch WVGA display with a capacitive touchscreen 

and swipe graphical user interface

Floating style display with adjustable height, depth, and angle mounting bracket

Customizable user interface (three pages with 22 available widgets)
Last Chance - Only 5 Left!
Save $150.00
$1,649.00
$1,799.00
Payments as low as
$137.42/mo
Last Chance - Only 5 Left!
30 DAY RETURN POLICY
LOW PRICE GUARANTEE
Product Description
Features & Specifications
Shipping
Documents
Warranty
Alpine iLX-F411 Halo11 11-Inch Mech-less Audio/Video Receiver
Rise above the rest with the Alpine Halo11, the largest display on the market, and the culmination of everything you love about the Alpine Halo platform.
THE LARGEST DISPLAY ON THE MARKET
The Alpine Halo11 is the culmination of the Alpine Halo display platform. The large, 11-inch display has 49% more surface area than a 9-inch display, making the icons even more visible for quick selections while you're driving. The screen is attached to an adjustable mount connected to a single-DIN chassis that's designed to fit in most dash openings. With five vertical adjustments, four angles, and two separate depths, you can position the floating display in the most optimal position, so you still have access to your dash controls and HVAC system. Once you've determined the best position, the iLX-F411 locks in for a study installation.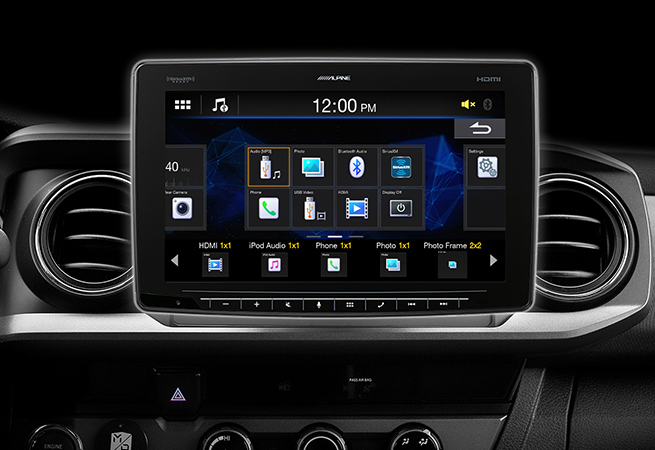 CUSTOMIZABLE SCREEN
Customize the screen exactly the way you want it. Use the capacitive touchscreen to move an icon using drag-and-drop motions with your finger. With over 22 available widgets, you can prioritize your three home screens so you can quickly find the apps you want. While driving, choose from widgets like Clock, USB images, Apple CarPlay, Android Auto, "Now Playing," Sources, Camera, and Bluetooth functions. Add a customizable wallpaper from your photos through a thumb drive.

APPLE CARPLAY
The iLX-F411 "Works with Apple CarPlay" and lets iPhone users make and receive calls, access text messages, play music, and get direction in a way that allows them to stay focused on the road. Apple CarPlay is accessed through the capacitive touchscreen or the mic button to activate Siri voice control and is compatible with iPhone 5 and later (iPhone must be connected via Apple lightning cable).

ANDROID AUTO
The iLX-F411 includes Android Auto and works with the Google Assistant (requires both a USB cable and Bluetooth connection; requires an Android phone running 5.0 [Lollipop] or higher and the Android Auto app). To access the Google Assistant on Android Auto, say "OK Google" or select the mic button. Google Assistant in Android Auto allows users to play their favorite music, get driving directions to their destination, interact with smart home devices, and reply to text messages – hands-free.
MORE ENTERTAINMENT FEATURES
While the Alpine Halo11 is mech-less (no CD/DVD player), you still have plenty of entertainment options that will make every drive exciting. A rear USB port allows you to listen to your music or video file via USB or connect your smartphone to access your music by searching song title, artist info, or album. The Alpine Halo11 can also connect to Pandora® Internet Radio through your iPhone® or Android™ smartphone. SiriusXM® Radio is also available with an optional tuner and paid subscription. An HDMI input and output are available should you choose to connect a CD or DVD player for an all-digital audio and video connection through a single cable.
KEEP SELECT FACTORY CONTROLS
The Alpine Halo11 is compatible with the iDatalink Maestro Module (sold separately) to retain and display vehicle information on the large, 11-inch screen.* Information such as steering wheel controls, tire pressure, and engine codes, and HVAC control may be accessible from the iLX-F411 (information will vary by vehicle).
ADD A REAR CAMERA OR MORE IF NEEDED
Make blind spots a distant memory. The iLX-F411 has a rear camera input and overlaps guidelines onto the camera image on the 11-inch screen to aid with distance judging (camera sold separately). Multiple cameras (for the rear and side) can be added when used through the KCX-C2600M Multi-Camera Selector (camera and switcher sold separately).
AUDIO FEATURES
Get the most from your music by using the 5-band parametric equalizer and 6-channel time correction tool to control the powerful, built-in amplifier. Control the bass in your music on the fly with the built-in subwoofer level control. If you're looking for more power, add additional amplifiers using the three sets of true 4V preamp outputs with subwoofer level control on the third set.
BUILT-IN FEATURES
By offering numerous entertainment options, the iLX-F411 knows how to keep you entertained on the road.

Made for iPod/iPhone
It's convenient to control your iPod or iPhone in the car – enjoy seamless operation of your iPod in addition to full control of all your favorite media sources. Control all search options of your iPod directly from the iLX-F411 via Playlist, Artist, Album, Song, Genre, Podcast or Composer. The USB connection allows for high-quality iPod/ iPhone playback and delivers an even faster access speed so you'll find songs as quickly as you expect to find them on your iPod/ iPhone.

Bluetooth Hands-Free Calling and Audio Streaming
Be smart when using your phone on the road. The built-in Bluetooth wireless technology allows for hands-free calling, secure simple pairing (SSP), and call waiting. Icons depicting the phone battery level and cellular signal level are shown on the 9-inch screen. Expand your entertainment options with audio streaming from your smartphone.

Satellite Radio Ready
Upgrade your sound experience and expand your entertainment choices by adding SiriusXM satellite radio to your iLX-F411. The iLX-F411 is SiriusXM-Ready and connects to the SiriusXM SXV300 Connect Vehicle Tuner Kit (sold separately, subscription required). SiriusXM features include album art; display of channel logos; pause, rewind, and replay up to 60 minutes of content while listening to satellite radio; start songs from the beginning when tuned to any favorite music channel using TuneStart; scan and select songs on favorite music channels with TuneScan.
Pandora
Works with Pandora Internet Radio You can listen to Pandora music from either your Android smartphone or iPhone through a direct source or through Apple CarPlay (using a lightning cable) and Android Auto (using a USB cable and Bluetooth connection) on your iLX-F411.
HDMI
HDMI: More Entertainment with Just One Cable Now it's possible to enjoy even more content than ever before through your iLX-F411. The iLX-F411 has HDMI compatibility for an all-digital audio and video connection via a single cable.
FLAC
Compatible with Hi-Res Audio FLAC files The iLX-F411 can playback 24/96 FLAC files via USB. Other supported formats include MP3/WMA/AAC/HE-AAC music playback via USB.
Product: Alpine ILX-F411 Halo11 11-Inch Mech-less Audio/Video Receiver
Expandability

AUX Input Mini (rear)
Audio/video Input HDMI (rear)
USB Input Rear
USB Port Power 1.5A
Backup Camera Input Yes
Second Camera Input No
CarPlay Yes
Android Auto Yes
Siri Control Yes
Alexa Voice Control N
Android Control Yes
Memory Card Slot USB memory
Bluetooth Compatible Built-in
Satellite Radio Ready SiriusXM
HD Radio No
Navigation Optional

iPod Compatibility

Full size No
Nano No
Touch 7Gen
iPhone 5S and up

General

RMS Power (CTA-2006) 16 watts
RMS Power (Manufacturer) 16 watts
Peak Output 45 watts
RMS Power Bandwidth 20-20kHz
Preamp Outputs 6-channel
Sub Preamp Outputs Yes
Switchable Rear Preamp Outputs No
Video Screen Yes
Navigation App Compatible (iOS) Apple, Google, Waze
Navigation App Compatible (Android) Google, Waze
Preamp Voltage 4 volts
Screen Size 11
Display Color
Key Button Color White
EQ Bands 5
Wireless Remote No
Steering Wheel Control Compatible Adapter required
Parts Warranty 1 Year
Labor Warranty 1 Year

Tuner

FM Sensitivity 9.3 dBf
European Tuning No
Seek/Scan Seek
Radio Data System No

File Playback

Music File Playback MP3, WMA, AAC, FLAC, WAV
High-res Playback N
Second Camera Input Lane Watch N

Car/Marine Receiver Features

Android Auto, Apple CarPlay, Bluetooth, Navigation, SiriusXM Ready

Car/Marine Receiver Type
Estimated Shipping
When you add an item to your cart the Estimated Shipping* cost will be shown.  This estimated shipping* cost is accurate to most major city locations across Canada.  If the shipping cost is higher than the estimated shipping* then GibbysESM will contact you for approval before we process your order.
To learn more click Shipping Terms & Conditions
Alpine Canada 1 Year Limited Warranty