Product Description
Alpine X209-WRA-OR Restyle Navigation System Off-Road Mode
Alpine X209-WRA-OR continues to offer the largest and only 9-inch touch screen radio replacement for the 2011-2018 Jeep Wrangler JK in the U.S. Simple tap shortcuts at the Left, Right, Top, Bottom of the screen to your most commonly accessed features are just one tap away: Tap the right edge of the screen to access the Navigation commands
First-Rate Alpine Engineering For The Jeep Wrangler Jk
The 9-inch X209-WRA-OR is Alpine designed and engineered for the Jeep Wrangler JK. The X209-WRA-OR comes with a stunning rugged dash bezel that houses the oversized 9-inch screen and provides a matching fit and finish to your Wrangler, as if it came that way from the factory. The big crystal buttons for music and navigation sources are backlit to match the color of your Wrangler JK's factory gauges.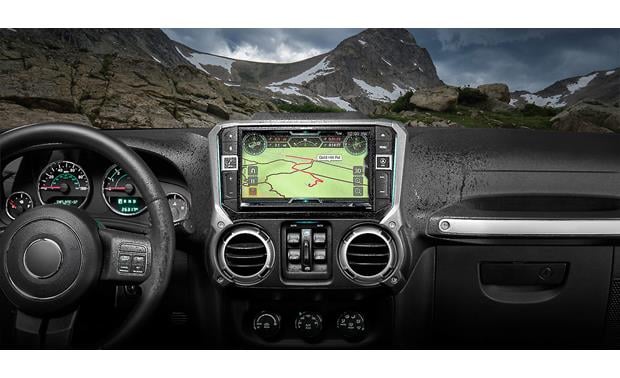 Off-Road Mode, Just For Your Jk
The X209-WRA-OR has the exclusive Off-Road Mode, a suite of features very useful to Wrangler JK owners of all levels who take their Jeeps off the beaten path. When Off-Road Mode is activated, an off-road centric user interface takes over the navigation or camera screen to deliver the information you need while off-roading. Use the built-in clinometer to immediately see your Wrangler's front-to-back and side-to-side angles. Easily view other data like tire pressure, battery voltage, GPS coordinates; and compass readings.
A Little Water Or Dirt Never Hurt
Taking your Wrangler JK off the beaten path? The X209-WRA-OR can keep up with the fun, even when dirt, light rain and dust catch you off guard. The 9-inch touchscreen and dash kit are splash-proof and dust-proof, rated at IP53* so the adventure can go on uninterrupted.
Apple Carplay & Android Auto
Be smart when using your phone on the road. The X209-WRA-OR is compatible with both Apple CarPlay and Android Auto. After connecting your smartphone via the charging cable, and activating Bluetooth for Android Auto use, you get your music, driving directions, and phone calls – all controlled from the 9-inch touchscreen and heard through your vehicle's speaker system — so you don't have to look at or touch your phone and can keep it safely stored away.
Apple Carplay
The X209-WRA-OR "Works with Apple CarPlay" and lets iPhone users make and receive calls, access text messages, play music, and get directions in a way that allows them to stay focused on the road. Apple CarPlay is accessed through the capacitive touch screen or the "Voice" hard button to activate Siri voice control and is compatible with iPhone 5 and later.
Android Auto
The X209-WRA-OR is Android Auto Compatible. Android Auto was designed with safety in mind. With a simple and intuitive interface, integrated steering wheel controls, and powerful new voice actions, it's designed to minimize distraction so drivers can stay focused on the road (requires both a USB cable and Bluetooth connection; requires the Android Auto app on Google Play and on Android compatible smartphone running Android™ 5.0 Lollipop or higher). Android Auto is accessed through the capacitive touchscreen or the "Voice" hard button with voice control.
More Maps: Built-In Navigation With 3d Maps And Voice-Guided Driving Directions
The X209-WRA-OR is the first Wrangler JK Restyle system with Apple CarPlay and Android Auto map features for your urban adventures but still has built-in GPS navigation for when you may lose cellular service off the beaten path. You can also use trip recording to save your favorite off-road routes.
The X209-WRA-OR's navigation system has preloaded HERE® map data of the Canada and United States including Alaska, Hawaii, Puerto Rico and the Virgin Islands, which translates to maps galore. With turn-by-turn instructions delivered by Text-to-Speech (TTS) technology, street names, freeway numbers and freeway exit names are announced clearly through your vehicle's audio system.
Controlling Multiple Camera Systems Has Never Been Easier
The X209-WRA-OR comes with one camera input that can be assigned as a front or rear camera. Add the HCE-TCAM1-WRA Rear View Camera and Light System for style and another set of eyes for the rear. Choose a front and side camera with various views like ground view, wide-angle views to see past your Wrangler JK and multi-angle views to see two images on the screen. Adding a front camera to your JK is also helpful to maneuver around obstacles on trails.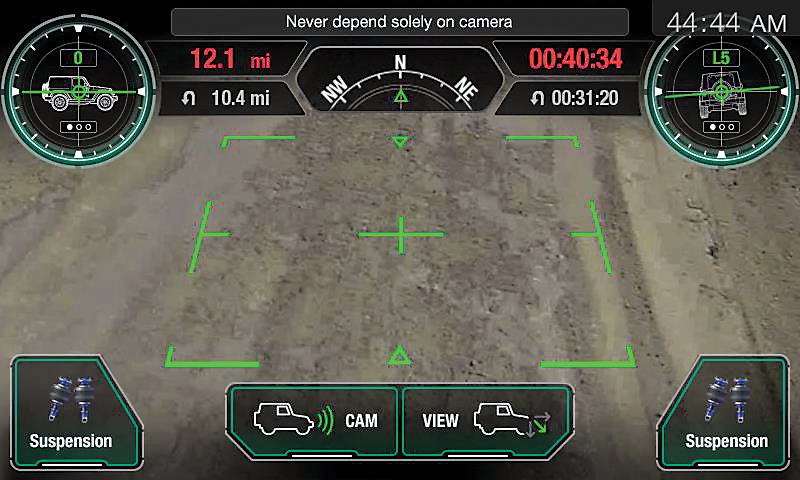 Customizable Shortcuts At Your Fingertips
The My Favorites feature offers convenient shortcuts for the functions that you use the most, such as:
Audio Sources (HD Radio™, Pandora®, iPod®, SiriusXM, HDMI/DVD, AUX)
Navigation Commands (Favorite Destinations, Quick Place Search, Categories)
Phone Settings (Most-dialed Contacts)
Overview:
9-inch Large WVGA high-visibility display with capacitive touch screen
Premium quality OEM-Fit weather resistant dash system (IP53 rating)
Off-Road Mode, which includes: built-in clinometer to monitor pitch and roll; viewing of tire pressure, battery voltage, GPS coordinates, and compass readings; trail recording; and optimized off-road camera and navigation screens
Plug and play installation with factory compatible wiring harness
Built-in navigation system
Works with Apple CarPlay
Android Auto compatible
The Google Assistant
Retains factory steering wheel controls, UConnect and other features via iDatalink Maestro integration
CD/DVD/MP3/WMA/MPEG 2/AAC/MPEG 4/DVD VIDEO/FLAC/DVD VR
Built-in HD Radio
Works with Pandora for Music for iPhone and Android
SiriusXM Ready
Bluetooth built-in for handsfree calling and audio streaming
1 HDMI output / 1 HDMI input with optional KCX-630HD HDMI Switcher
KAC-001 Accessory Controller ready
KCX-C250MC Multi-Camera Switcher ready
Compatible with Alpine Connect