Alpine X308U 8″ Digital Multimedia Navigation Receiver
See things more clearly on an 8″ touchscreen
Your pride-and-joy vehicle's no place for a regular old touchscreen receiver. Alpine's X308U navigation receiver sports an 8″ display, so you can get the big picture of your maps and album artwork while you're driving (and enjoying video while you're parked). You can enjoy tunes from a USB source or your smartphone, thanks to Apple CarPlay® and Android Auto™ compatibility. Built-in navigation ensures you'll be able to find your destination even when you're out of cell range, and you get the usual array of sonic upgrades and other goodies from Alpine, to boot.
A bigger screen, but will it fit?
Since there's no disc player, the X308U's chassis is smaller than most comparable touchscreen navigators. It's likely to fit in more vehicles, and you'll have more room for wires, adapters, and other necessities behind the receiver in your dash opening. Alpine makes Restyle dash kits and wiring harnesses for a number of vehicles, including cars, trucks, and SUVs. If you can't find a dash kit for your vehicle, custom fabrication is always an option for experienced installers.
Improved user interface
Alpine had a real winner on their hands with 2017's X208U 8″ navigation receiver, but they've found a way to make things even easier on drivers with this car stereo. The response time to commands is much quicker, so you're never behind the action. And the user interface's upgraded to get you to your preferred display even faster, so you don't feel like you're wasting time. Four-way swipe control lets you immediately pull up navigation, Bluetooth®, entertainment sources, or settings, while dedicated hard keys also help you find the right screen with ease. And the X308U's capacitive 8″ touchscreen gives you pinch-to-zoom command of your maps and other screens, so you're able to get the best view.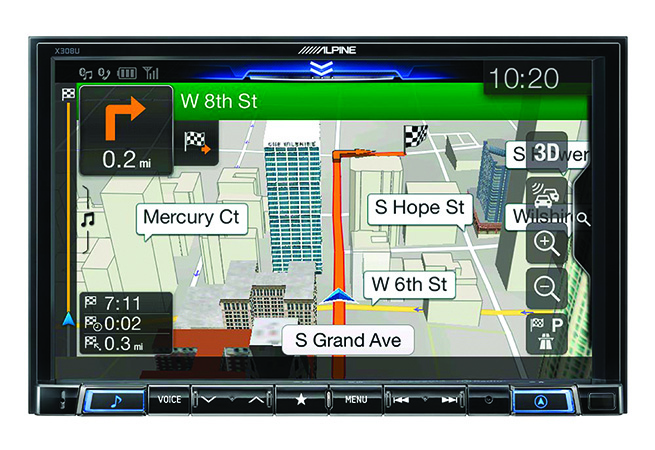 Mapping you can rely on
Take a trip nearly anywhere in the U.S. or Canada, and you'll enjoy detailed road maps and over six million included points of interest. You'll also have time-saving assistants like lane guidance, realistic views of complicated interchanges, and 3D representations of buildings, landmarks, and terrain to help keep you on the correct course. You'll even receive real-time traffic reports in most metropolitan areas for as long as you own the Alpine, at no additional cost.
Works with Alpine Go! from your smartphone
Say you're browsing your phone while at the office and you come across a great new restaurant you want to check out. You save the location on your phone's Google Maps app, but when it's time to get into your car, do you want to go through the trouble of searching for it again on your receiver? The free Alpine Go! app sends saved locations from your phone right to the X308U, so you can have all your favorite spots loaded and ready to go before you hit the road.
Get to your favorite functions in a jiffy
The receiver's "Favorites" button gives you quick access to features you use frequently, like contacts, radio station frequencies, sound settings, and destination searches — anything you'll want to pull up rapidly, including beloved CarPlay and Android Auto functions. One touch adds your choice directly to the favorites menu. Your favorites are tied to your phone's Bluetooth profile, so the X308U recalls your favorites automatically when you get into your vehicle. When the stereo detects two users at the same time, it can offer split-screen access to both users' favorites, so either user can gain control of the action lickety-split.

HD Radio™, Pandora® Internet radio, and more
The X308U offers a wide variety of entertainment options, even without a disc player:

HD Radio reception: You'll enjoy crystal-clear sound quality from participating AM and FM stations, including FM that sounds almost as good as a CD. Plus, you'll see station and song info on the screen.
Pandora Internet radio and iPhone and iPod® control: Easy on-screen control through Android Auto and Apple CarPlay, and you can also control Pandora through Bluetooth with your Android device if your device isn't connected.
Satellite radio compatibility: You can add SiriusXM programming to the receiver with an optional tuner and your paid subscription.

APPLE CARPLAY®
The X308U "Works with Apple CarPlay" and lets iPhone users make and receive calls, access text messages, play music, and get directions in a way that allows them to stay focused on the road. Apple CarPlay is accessed through the capacitive touch screen or the mic button to activate Siri voice control and is compatible with iPhone 5 and later (iPhone must be connected via Apple lightning cable).

ANDROID AUTO™
The X308U includes Android Auto and works with the Google Assistant (requires both a USB cable and Bluetooth® connection; requires an Android™ phone running 5.0 [Lollipop] or higher and the Android Auto app). To access the Google Assistant on Android Auto, say "OK Google" or select the mic button. Google Assistant in Android Auto allows users to play their favorite music, get driving directions to their destination, interact with smart home devices and reply to text messages – hands free.
Alpine accessories give you even more ways to play
The X308U does a lot right out of the box. But these Alpine accessories can add even more functionality to what's already an amazing receiver.
Tweak your audio with the TuneIt app
The X308U also works with Alpine's TuneIt smartphone app, which is a real time-saver for making audio fixes. For starters, it allows you to create a user profile with info about your vehicle and Alpine system, including speakers and subs. You can then follow simple instructions for adjusting sound settings for your specific vehicle (if available), or choose from pre-made settings within the app designed by Alpine for both the vehicle and your speakers. You can use your phone's touchscreen to make the changes to the 9-band parametric equalizer, crossover, and time correction with just a fingertip. You can then share your system and settings with other TuneIt app users, and see what they've done as well. You can link your TuneIt account to your Facebook account and get notifications through social media.
Treat your ears with low end
The TuneIt app also offers Alpine's Bass Engine SQ tuning feature, which lets you determine which low-frequency characteristics you want to emphasize. It automatically adjusts EQ, sub level, and crossover settings to give you the kind of bass you desire without hassle. Speaking of great sound, this Alpine lets you play FLAC audio files from your thumb drive, so you can enjoy your lossless tunes as you travel.
Make it a night at the movies
Adding a disc player or have a thumb drive with video files on it? You can use the receiver's HDMI connection to connect to send video to your vehicle's rear-seat entertainment system to keep your passengers happy. Independent dual-zone video control lets you watch movies up front and send different video content to the back while you're parked.
Product highlights:
General Features:
digital multimedia receiver with AM/FM tuner (does not play CDs)
high-resolution 8″ capacitive touchscreen
Alpine Restyle package recommended for installation (not included)
built-in GPS navigation
plays media loaded with MP3, WMA, and AAC music files (plus high-res FLAC)
Waze-ready with Apple CarPlay or Android Auto
built-in HD Radio tuner
Smartphone Features:
Android Auto and Apple CarPlay compatible
built-in Bluetooth for hands-free calling and music streaming
display and command of select music, navigation, and other apps with iPhone and Android
Pandora and Spotify control with iPhone and Android
Siri Eyes Free control with select iPhones
HDMI/MHL cable required for viewing video content from compatible Android devices
Navigation Features:
built-in navigation system with 3D representations of buildings, landmarks, and terrain
maps of the United States, Canada and Puerto Rico, plus 6 million points of interest
free lifetime HERE traffic service in metropolitan areas
text-to-speech voice prompts announce actual road names at turns
lane assistance and junction view
pinch-to-zoom map interface
Alpine Go! app sends destination from your phone to the X308U
Audio/video Features:
plays USB memory devices (see Details for full capabilities)
9-band parametric EQ
independent source volume level settings
time correction
high- and low-pass crossovers
dual-zone A/V output
compatible with Alpine TuneIt app for sonic profile settings and adjustments through your smartphone
Expandability:
compatible with SiriusXM satellite radio tuner
compatible with optional Accessory Control Module, Multi-Camera Selector Interface, 2-camera switcher, DVD player, and HDMI switcher
inputs: HDMI input; rear USB input; rear composite A/V input (occupied if used with optional iDatalink Maestro module); rear-view camera input
outputs: HDMI output; 6-channel preamp outputs (4-volt front, rear, subwoofer)
Other Information:
wired connection to parking brake required to access settings, video display, and other features on this receiver (the parking brake must be connected and set, released, and set again)
built-in amplifier (16 watts RMS CTA-2006/50 peak x 4 channels)
compatible with most factory steering wheel audio controls (adapter required)
compatible with iDatalink Maestro

retains factory features in a wide selection of vehicles
displays engine performance data on touchscreen