Antennas Direct Clearstream C2-CJM-30 Long Range HDTV Antenna
Antennas Direct Clearstream 2 C2-CJM-30 Long Range HDTV Antenna
Get Network & Local Broadcasts
Works Up To 50+ Miles From Transmitter
Best When Installed Outdoors
Knowledgeable Tech Support
Order Now! In Stock Today!
Payments as low as
$6.67/mo
Order Now! In Stock Today!
30 DAY RETURN POLICY
LOW PRICE GUARANTEE
Product Description
Features & Specifications
Shipping
Documents
Warranty
Antennas Direct Clearstream 2 C2-CJM-30 Long Range HDTV Antenna
Enjoy full 1080i HDTV broadcasts with the ClearStream 2 C2-CJM-30. Efficient and powerful, this high-performance antenna is engineered to deliver uncompromised, indoor/outdoor, high gain, digital/HDTV reception.* Pure and crisp.
Watch All Your Favorite Shows
The ClearStream 2 delivers FREE HD programming from TV networks such as ABC, NBC, CBS, and FOX, including all their top shows.
The Best Picture and Sound Quality
Your can now experience HDTV in the highest-quality picture and sound available. Over-the-air broadcasts are transmitted in uncompressed, crystal clear 1080i; far surpassing what cable and satellite offer. Many local broadcasts are digitally aired in Dolby 5.1 Surround Sound, giving you the ultimate soundstage for watching live television.
The Lastest in Antenna Technology
Our patented Tapered Loop Technology offers the power and efficiency normally found in antennas up to 10 times its size. This advanced technology allows the ClearStream line of antennas to be smaller and more powerful across today's DTV spectrum. ClearStream antennas are engineered for strength and durability.
It's All Free and Over-The-Air
Simply connect the C2-CJM-30 ClearStream 2 antenna to your TV using the coaxial cable provided, perform a channel scan, and in minutes you'll be enjoying free, local programming. And the best part…never pay to watch TV again!
With its unique integrated diplexer for UHF and VHF reliability, this antenna is ideal for suburban area installations challenged with receiving signals through heavy foliage or roofing materials in your attic. Comes with 30′ of RG6 low loss coaxial cable and a 20″ J-Mount Mast.
The ClearStream 2V antenna uses patented technology to receive TV signals 60 miles away from broadcast towers. Rated 4.5 stars, this antenna is ideal for suburban and rural areas where heavy foliage or roofing materials reduce the incoming signal. Dedicated UHF and VHF multi-directional elements deliver range and reception in less than ideal locations. No other antenna can match its performance in such a compact form. Includes a 20in J-mount, 30ft high-performance coaxial cable, mounting hardware, and assembly and installation instructions.
Did You Know?
There are many advantages to an HDTV outdoor antenna over an indoor antenna. An outdoor antenna will have fewer obstructions and less interference (noise) from other electronic devices in your home. A single outdoor antenna can service more than one television at a time. If your home had satellite or cable service, the coaxial cable needed to send the antenna's signal to all your TVs is already installed.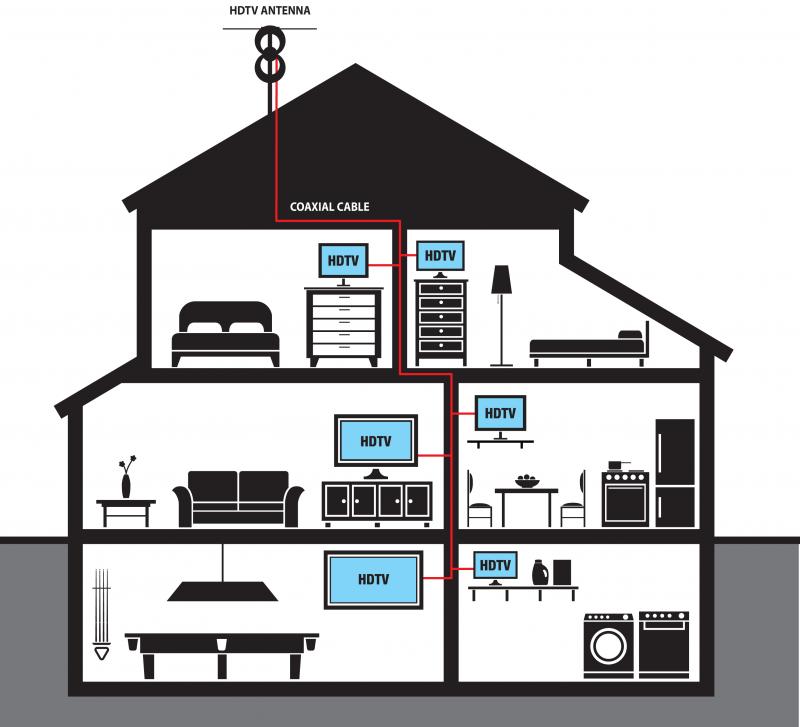 C2-CJM-30 – Set Up is Easy
Locate the broadcast towers serving your area at antennapoint.com. Place indoors on a window or wall for the best results. Connect one end of a coaxial cable to the antenna and the other end to your TV. Scan for the available channels using your TV remote control. Try several locations to find the best reception and remember to scan for channels at each location. Enjoy all your favorite local and network shows in Full HD 1080 where available.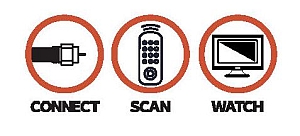 Reduce Your Monthly TV Bill
You can now experience HDTV in the highest quality picture and sound available. Over-the-air broadcasts are transmitted in crystal clear Full HD 1080; far less compressed than what cable and satellite offer. Many local broadcasts are digitally aired in 5.1 Surround Sound giving you the ultimate sound stage for watching live television. With a digital TV antenna you can receive free local news, weather, kids shows, sports, cooking, shopping, and sitcoms from networks with no cost or contracts. Broadcast TV won't be interrupted from service drop outs. Quick fact: local sports are broadcast free over-the-air. You just need an antenna.
A Leader in Cutting-Edge Technology
Why do our antennas outperform the competition? The proof is in the patented loop design. The ClearStream series is engineered to respond to a greater range of frequencies along with a wide beam angle eliminating the need for rotation. In addition to the loop technology, the reflector focuses the antennas power for added range and also provides protection against multipath interference.
Product: Antennas Direct Clearstream C2-CJM-30 Long Range HDTV Antenna
TV Antenna Type

-Amplified: No
-Multi-directional: Yes
-Indoor: Yes
-Outdoor: Yes

Supported Reception

-HDTV: Yes
-Digital: Yes
-UHF: Yes
-FM/AM: No

Range

-Max. Range: 50 km

Dimensions

-Width: 80.01 cm
-Height: 1.8 cm
-Depth: 16 cm

Weight

-1.8 kg

Color
Estimated Shipping
When you add an item to your cart the Estimated Shipping* cost will be shown.  This estimated shipping* cost is accurate to most major city locations across Canada.  If the shipping cost is higher than the estimated shipping* then GibbysESM will contact you for approval before we process your order.
To learn more click Shipping Terms & Conditions
Antennas Direct Canada Lifetime Manufacturers Warranty