Bell'O CW-342 Curved Wood A/V Furniture in Vibrant Espresso Finish
Bell'O CW-342 Curved Wood A/V Furniture in Vibrant Espresso Finish
S-shaped sides crafted of real curved wood
Tinted tempered safety glass shelves
Elegant black chrome post accents
Open architecture for proper ventilation
Cable Management System hides & routes cables
Accommodates most Flat Panel TVs up to 73″ (or 125 lbs.)
Call to Order - Special Order
$749.00
Payments as low as
$62.42/mo
Call to Order - Special Order
30 DAY RETURN POLICY
LOW PRICE GUARANTEE
Product Description
Features & Specifications
Shipping
Documents
Warranty
Bell'O CW-342 Curved Wood A/V Furniture in Vibrant Espresso Finish
This striking audio/video furniture with dynamic S-shaped sides is crafted of real curved wood in a beautifully Vibrant Espresso finish. It can accommodate most Flat Panel TVs up to 73″ or 125 lbs., plus at least six audio/video components on the tinted tempered safety glass shelves. Accented by its elegant Black Chrome posts, this model features a CMS® Cable Management System to hide and manage unsightly interconnect cables and power cords. The open architecture provides plenty of ventilation for convection cooling of components. Bell'O products contain real wood and wood solids. Visual differences in grain and color tone should be expected due to natural stain absorption and room lighting conditions. Products viewed on a computer monitor may also vary in appearance.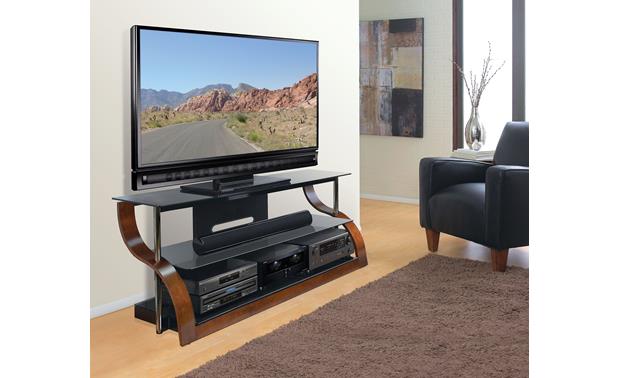 Here's furniture that doesn't just provide storage for your home theater system — it showcases your gear with bold, innovative styling. The Bell'O CW343 features curved, real wood sides with a rich espresso stain. These sides intersect with sturdy, black chrome posts that provide both visual contrast and rock-solid shelving support.
The CW342 can hold a TV with a screen size of up to 73″ and weighing up to 125 lbs. The roomy tempered glass shelves underneath can hold at least four components, such as your receiver, Blu-ray player or cable box. The stand's open-air design helps keep components cool. Hollow channels in the back brace keep your system's interconnects out of sight, presenting a clean, uncluttered appearance.
Product: Bell'O CW-342 Curved Wood A/V Furniture in Vibrant Espresso Finish
Specifications

– Overall Dimensions: 65"W x 24"H x 23"D
– Usable Top Shelf: 65"W x 17-3/4"D
– Usable Middle Shelf: 55-3/4"W x 9"H x 16-1/2"D
– Usable Bottom Shelf: 55-3/4"W x 8-7/8"H x 21"D

– TV Size: Up to 73 inches
– Weight Capacities:
– Top Shelf: 125 lbs. (56.7 kg)
– Middle Shelf: 50 lbs. (22.7 kg)
– Bottom Shelf: 75 lbs. (34.0 kg)

– Carton Dimensions: 69.9" x 25.4" x 7.7"
– Gross Carton Weight: 132.9 lbs.
– Method of Assembly: Regular Assembly
Estimated Shipping
When you add an item to your cart the Estimated Shipping* cost will be shown.  This estimated shipping* cost is accurate to most major city locations across Canada.  If the shipping cost is higher than the estimated shipping* then GibbysESM will contact you for approval before we process your order.
To learn more click Shipping Terms & Conditions
Bello Canada 1 Year Limited Warranty