Product Description
Definitive Technology Mythos XTR-SSA5 5.0 200W Ultra Slim Surround Speaker Bar – Open Box
Definitive Technology answered the need for ultra-shallow high-performance loudspeakers to match the latest ultra-thin TVs with the critically acclaimed Mythos XTR Series speakers. Their slim profile, clean modern styling and sound quality equivalent to full-size speakers made the XTR series an instant hit with audio critics and home theater enthusiasts. Now Definitive offers the five-channel XTR-SSA5 surround bar loudspeaker.
Sound That Comes From All Directions
Spatial Array™ Technology uses complex directional cues to replicate the sound stage of front, center and rear speaker setup. By ingeniously freeing the audio from the speaker enclosure with multiple tweeters and drivers angled in specific ways, the Mythos® XTR-SSA5 makes your brain and ears believe you're in the middle of a system of speakers positioned all around
Get surrounded by sound, not by speakers
Great home theater sound resonates with you, but five speakers with wire around the room – not so much. Definitive Technology's Mythos XTR-SSA5 is just the ticket. This single, slender five-channel speaker connects to your home theater receiver and delivers Definitive's trademark audio fidelity in a room-friendly design. Ten mid-bass drivers and three tweeters work together to reproduce the five traditional channels of a home theater system with clarity and detail. At just over 1-1/2″ deep, the aircraft-grade aluminum enclosure makes this speaker an outstanding visual match for your TV, so your eyes and ears will be delighted at the same time.
Extruded Aluminum Enclosure
Feather-light aircraft-grade aluminum gives the hand-polished gloss black enclosures found on all Mythos® XTR Series speakers their resonance-free rigidity.
Technologies to Admire
Excellent audio fidelity and clarity put the Mythos® SSA-5 into rarified company with exclusive BDSS™ drivers that produce perfectly natural timbre and vocal clarity.
Optimized for Sound
Extraordinary patented XTDD technology dome drivers give the Mythos® SSA-5 its ultra-high performance, dynamic punch, wide frequency range and broad dispersion.
Single Speaker Surround
The thrill of superb surround sound usually requires multiple speakers in separate locations. The Mythos® SSA-5 lets you skip wiring several speakers and go straight to the listening experience.
Thin never sounded so good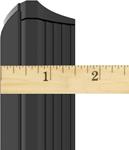 The 'SSA5 uses patented Solo Surround Array (SSA) technology to vastly widen the sound stage to lifelike proportions. For complete seven-channel surround sound enjoyment, mate the XTR-SSA5 with matching Mythos XTR-20BP surround speakers or any of Definitive's in-wall or in-ceiling speakers. And for solid, bass punch, add a powered subwoofer to your system.
Flexible placement
The 'SSA5 speaker comes with everything you need to locate it where you like. It can be wall mounted simply using the rear keyhole slots. Plus the 'SSA5 comes with adjustable shelf support feet so you can place it on your A/V cabinet.