Furman Elite-20 PFi Ultra-Linear Filtering AC Power Source
Protection for 20-amp circuits
If you have a heavy-duty 20-amp circuit powering your audio/video system, the Furman Elite-20 PFi is the missing link between the AC wall socket and your gear. Its twelve rear-panel AC outlets can accommodate 20-amp or standard 15-amp AC plugs. To maximize the protection and performance of your system, Furman includes exclusive technologies originally developed to meet the extreme AC power demands of professional recording, film, and broadcast studios.
Continuous power monitoring plus advanced noise filtering
The Elite-20 PFi constantly monitors incoming AC, and if it detects a significant overvoltage condition, it automatically shuts off power to all connected equipment. In the case of a sudden voltage spike, many surge suppressors are designed to "take a bullet" and sacrifice internal parts to save your gear. It's a noble effort, but it leaves your system out of commission while you send the suppressor back to the factory for repair or replacement. Furman's suppressor circuitry can withstand multiple high-voltage spikes and keep on protecting your gear.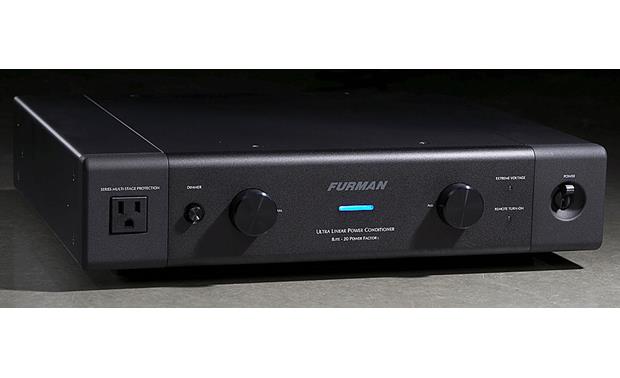 Power Factor Technology: Like a turbocharger for your amplifiers
Wide-open dynamics are essential for truly exciting sound. To cleanly reproduce instantaneous peaks or "transients" cleanly, from a cymbal crash to a car crash, an amplifier needs lots of high-current power. During these moments, amplifiers — including those in receivers and powered subwoofers — may require more current than is available from your home's AC line. Solution? Plug your amplifiers into the Elite-20 PFi's high-current outlets. Furman's unique Power Factor Technology creates a "current reservoir" capable of delivering over 55 amps of peak current. Your amplifier gets the current it needs when it needs it most.
See and hear the signal, not the noise
The Elite-20 PFi's wide-bandwidth filtration reduces the AC line noise that can mask subtle ambient sounds and fine picture detail. Twelve AC outlets on the back panel are divided into three banks, to isolate your system's digital and video circuits from analog components and amplifiers. This helps prevent noise created by one component from affecting the power going to your other plugged-in equipment. These outlets feature hospital-grade connectors that grip your gear's AC plugs snugly and securely.