JL Audio 12W3V3-4 12″ 500 Watt 4 Ohm Subwoofer – #92154
JL Audio 12W3V3-4 12″ 500 Watt 4 Ohm Subwoofer – #92154
12″ 4-ohm subwoofer
mineral-filled polypropylene cone with nitrile-butylene rubber surround
power range: 100-500 watts RMS
peak power handling: 1,000 watts
frequency response: 22-200 Hz
sensitivity: 87.15 dB
Limited Quantities
Save $80.00
$489.95
$569.95
Payments as low as
$40.83/mo
30 DAY RETURN POLICY
LOW PRICE GUARANTEE
Product Description
Features & Specifications
Shipping
Documents
Warranty
JL Audio 12W3V3-4 12″ 500 Watt 4 Ohm Subwoofer – #92154
12W3V3-4 12-inch Subwoofer (500 W, 4 Ω)
This powerhouse 12-inch driver delivers potent performance and world-class sound quality in medium power applications. Several exclusive JL Audio technologies and proprietary assembly techniques are applied to the 12W3V3-4 to enhance linearity and reliability.
The 12W3v3-4 is best used with amplifier power in the 150W – 500W range and is optimized to operate in a compact 1.125 cu. ft. (31.8 l) sealed enclosure, or a 1.75 cu. ft. (49.6 l) ported enclosure. Detailed enclosure recommendations can be found in the "Specifications" tab.
Remarkably realistic bass
JL Audio designed their 12W3V3-4 subwoofers to deliver powerful, accurate bass with a medium-power amplifier. Their extensive motor assembly research resulted in a design that ensures smooth, precise cone movement at any power level. Exclusive cooling features shunt heat away from the sub's internal motor structure for long term durability and reduced distortion. The 12W3V3-4 sub works well in a sealed or ported enclosure.

---
Well-rounded performance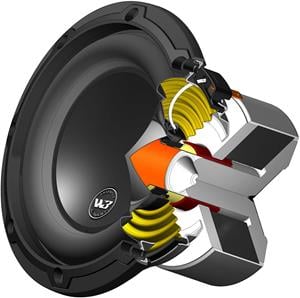 The 12W3v3-4 subwoofer boasts a 12″ mineral-filled polypropylene cone with a distinctive metallic JL Audio medallion. A patented design eases the stress felt by the rubber surround during cone movement, for increased reliability and consistent bass output. The removable, customizable trim ring accepts optional JL Audio grilles, and can be painted to enhance your installation.
12W3V3-4 Dimensions
| | |
| --- | --- |
| Nominal Diameter | 12.0 in / 300 mm |
| Overall Diameter (A) | 12.5 in / 318 mm |
| Mounting Hole Diameter (B) | 11.0625 in / 281 mm |
| Bolt Hole Circle Diameter (C) | 11.7 in / 297 mm |
| Motor Outer Diameter (D) | 5.5 in / 140 mm |
| Mounting Depth (E) | 6.65 in / 169 mm |
| Driver Displacement | 0.071 cu ft / 2.01 L |
| Net Weight | 14.50 lb / 6.58 kg |
Product: JL Audio 12W3V3-4 12" 500 Watt 4 Ohm Subwoofer – #92154
Weight
0.00 kg
Specifications

Size: 12 -inch
Impedance: 4 ohms
Cone Material: Mineral-filled poly
Surround Material: Rubber
Ideal Sealed Box Volume (cubic feet): 1.125
Ideal Ported Box Volume (cubic feet): 1.75
Free-Air: No
Dual Voice Coil: No
Sensitivity: 87.15 dB at 1 watt
Frequency Response: 22 – 200 Hz
Max RMS Power Handling: 500
Top Mount Depth: 6 5/8"
Cutout Diameter or Length: 10 7/8"
Vas (liters): 80.54
Fs (Hz): 26.72
Qts: 0.444
Xmax (millimeters): 13

Car Subwoofer Size
RMS Power
Impedance
Car Subwoofer Features
Estimated Shipping
When you add an item to your cart the Estimated Shipping* cost will be shown.  This estimated shipping* cost is accurate to most major city locations across Canada.  If the shipping cost is higher than the estimated shipping* then GibbysESM will contact you for approval before we process your order.
To learn more click Shipping Terms & Conditions
JL Audio Canada 1 Year Limited Warranty