JL Audio CP210-W0V3 Subwoofer | JD500/1 Amplifier | RBC-1 Remote Bundle – 93265 | 98362 | 98015
Special Order -Due to severe manufacturer shortages on this product please call the store for availability details
$1,119.85
Payments as low as
$93.32/mo
Special Order -Due to severe manufacturer shortages on this product please call the store for availability details
30 DAY RETURN POLICY
LOW PRICE GUARANTEE
Availability:
Out of stock
Product Description
Features & Specifications
Documents
Warranty
JL Audio CP210-WOV3 Subwoofer | JD500/1 Amplifier | RBC-1 Remote Bundle – 93265 | 98362 | 98015
This Bundle Includes:
(1) JL Audio CP210-W0v3 #93265 – Subwoofer with Dual 10W0v3 Subwoofer Drivers
(1) JL Audio JD500/1 Monoblock Class D Subwoofer Amplifier – #98362
(1) JL Audio RBC-1 Car Audio Bass Remote Control 98015
JL Audio CP210-W0v3 Subwoofer with Dual 10W0v3 Subwoofer Drivers – #93265
JL quality at a great price
JL Audio built the BassWedge CP210-W0v3 enclosure to make car-rattling bass for a reasonable price, without the need for a ton of power. The enclosure's designed to match the two 10″ subs loaded into it, so you know you'll get every ounce of performance out of this enclosure.
An excellent combination
The CP210-W0v3 BassWedge contains two 10″ W0v3 subwoofers that handle up to 600 watts RMS, and are loaded into a specially built slot-ported enclosure. The enclosure can be placed with the woofers firing downwards, or in typical front or rear firing applications, giving you immense bass regardless of how you place it.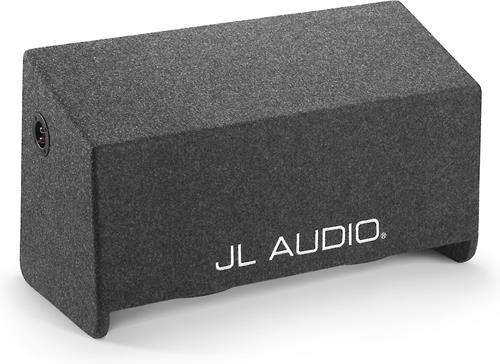 Solid MDF enclosure
JL Audio uses state-of-the-art automated woodworking equipment to fabricate the high-quality MDF enclosure with rugged automotive carpeting, nickel-plated push terminals, and solid internal wiring.
Enclosed Subwoofer System with Dual 10W0v3-4 Subwoofer Drivers, Dark Gray Carpet (600 W, 2 ?) – Ported Enclosure
This powerful slot-ported BassWedge™ subwoofer system delivers awesome output at an unsurpassed value.
The slot-port runs along the bottom of the enclosure and fires on the same plane as the woofers to produce excellent extension and response smoothness. The port mouth is flared to minimize air-flow noises.
The ultra-versatile BassWedge™ shape has extended sides so that it can be placed with the woofers firing out or straight down, off the floor of the vehicle. The shape works equally well in forward or rear-firing installations. This gives you plenty of options for tweaking the loading of the enclosure into your vehicle.
This subwoofer system is shipped wired, loaded and ready to connect via a push-button terminal.
Finish: Dark gray, high-grade automotive carpet with "JL AUDIO" embroidery on the top edge and "Slot-Ported BassWedge™" embroidered on the port mouth.
Construction: MDF
Recommended amplifier power: 150 – 600W
Nominal Impedance: 2 ?
Features
Overview: The JL Audio slot-ported BassWedge subwoofer enclosure is designed around two of JL Audio's 10″ W0v3-4 (4″) subwoofers. Aggressive tuning delivers powerful bass without the need for a huge amplifier. The MDF enclosure is covered with gray carpet and has JL AUDIO logos embroidered across the top and front. The enclosure design offers a variety of installation options: forward, rear or down firing. The slot-port runs along the bottom of the enclosure and fires on the same plane as the woofer; the port mouth is flared to minimize air-flow noises.
Speaker Terminal: The enclosure uses one pair of nickel-plated, high current spring posts; the subwoofers are internally wired in parallel to the single terminal, presenting a 2″ load to the amplifier. The posts are located on the left side of the box and will accept pin connectors, single or dual banana plugs, or bare wire up to 10 gauge.
W0v3 Woofer Features:
Dynamic Motor Analysis (DMA): DMA is JL Audio's proprietary method of improving dynamic motor behavior. As a result of DMA optimization, the 10W0v3-4 motor displays linear force over a long excursion range, and also maintains a stable fixed magnetic field in the gap over a wide power range. The result is a reduced distortion, faithfully reproduced transients, and tight, clean, articulate bass.
Elevated Frame Cooling: The elevated frame design of the 10W0v3-4 delivers cool air through slots directly above the top plate to the voice coil. This not only enhances power handling, but also sound quality by minimizing dynamic parameter shifts and power compression.
Rear Gasket: The woofer has a rear gasket to provide an optimal seal when installing into the enclosure.
Long Excursion: The subwoofer has an Xmax of 11.4mm, giving you louder bass with less distortion.
Optional Grille: The optional SGRU-10 grilles can be added to protect the woofer cones.
Dimensions: The CP210-W0v3 enclosure isn't symmetrical; it's approximately 29-5/8″ wide, 13-7/8″ tall at its tallest point (toward the front), 12″ tall at its shorted point (toward the back), 17-1/2″ deep at the base, and 14″ deep at the top.
JL Audio JD500/1 Monoblock Class D Subwoofer Amplifier – #98362
Monoblock Class D Subwoofer Amplifier, 500 W x 1 @ 2 ? / 250 W x 1 @ 4 ? – 14.4V
Designed to produce a whopping 500 watts into 2 ohms (14.4V, 1% THD), the JD500/1 amplifier is a great solution for powering subwoofers in a cost-conscious system. Our proprietary NexD™ switching technology delivers large amounts of real-world power output with excellent efficiency and ultra-low distortion.
The JD500/1's controls are located on the input panel. while the power and speaker connections can be found along the opposite end of its extruded aluminum chassis. Signal processing features include a 12 dB / octave low-pass filter, with continuously variable frequency selection from 50-500 Hz, and a variable bass boost EQ. Dual-range, differential-balanced inputs are also on-hand, capable of accepting line-level and speaker-level signals. Automatic turn-on capability (via signal sensing or DC-offset sensing) is standard, along with a set of preamp outputs so you can easily pass signals to another amplifier.
The JD500/1 is also equipped with an onboard LED-clipping indicator ring, surrounding the input sensitivity control. This useful feature lets you set your amplifier's input sensitivity, quickly and accurately, without special equipment. With the addition of an RBC-1 remote level control (sold separately), you can control the subwoofer level from the driver's seat.
JL Audio RBC-1 Car Audio Bass Remote Control 98015
The JL Audio RBC-1, is a "Bass Boost" switch that activates a +6dB boost centered at 48 Hz.
JL Audio amplifiers feature bass-boost circuitry to help you adjust low-frequency impact in your vehicle. The RBC-1 wired remote bass control works with all of JL Audio's A-Series, G-Series, RD Series, mono JX-Series, and most Slash v2 amps. You can mount the RBC-1 controller in the front of your vehicle and dial in the amount of bass you want from the driver's seat — mounting instructions, hardware, and a 18″ cable are included.
Connect the JL Audio RBC-1 to your amp, and it converts the amp's selectable bass boost (0 or 6 dB) to a variable boost (0 to 12 dB). With the Slash v2 amps, the RBC-1 takes the place of the amp's boost knob, allowing you to adjust your bass boost from 0 to 15 dB. With RD Series and JX-Series mono amps, the RBC-1 controls the amp's subwoofer level, from full mute to full volume.
Product: JL Audio CP210-W0V3 Subwoofer | JD500/1 Amplifier | RBC-1 Remote Bundle – 93265 | 98362 | 98015
Estimated Shipping
When you add an item to your cart the Estimated Shipping* cost will be shown.  This estimated shipping* cost is accurate to most major city locations across Canada.  If the shipping cost is higher than the estimated shipping* then GibbysESM will contact you for approval before we process your order.
To learn more click Shipping Terms & Conditions
JL Audio 1 Year Limited Warranty