JL Audio CP212-W0V3 Subwoofer | RD500/1 Amplifier | RBC-1 Remote Bundle – 93283 | 98015 | 93281
JL Audio CP212-WOV3 Subwoofer | RD500/1 Amplifier | RBC-1 Remote  Bundle – 93283 | 98015 | 93281
This Bundle Includes: 
Special Order - Limited Quantities
Save $162.40
$1,077.00
$1,239.40
Payments as low as
$89.75/mo
Special Order - Limited Quantities
30 DAY RETURN POLICY
LOW PRICE GUARANTEE
Product Description
Features & Specifications
Shipping
Documents
Warranty
JL Audio CP212-WOV3 Subwoofer | RD500/1 Amplifier | RBC-1 Remote  Bundle – 93283 | 98015 | 93281
This Bundle Includes: 
JL Audio CP212-W0v3 Loaded Sub Enclosure
JL Audio's dual 12″ slot-ported loaded BassWedge subwoofer enclosure has a peak power rating of 1200 watts and an RMS rating of 600 watts. The enclosure is loaded and wired with two JL Audio 12W0v3 single 4-ohm subwoofers. The W0v3 offers superb excursion capability, linearity and an overall performance output that puts it right at the top of its price class. The driver features a very beefy 2.0-inch diameter voice coil, a DMA-optimized motor system and JL Audio's patented Elevated Frame Cooling design – all purpose-engineered for enhanced power handling and reliability. What this also means, is your system will be immediately injected with the increase in output and better sound fidelity that one expects from a JL Audio product. In addition, excellent excursion capability and linearity allow it to reproduce sub-bass with striking extension and quality. When matched up with the proper power source, signal and setup the W0v3 is capable of a well rounded sound that is unparalleled by any other driver in its price range.
Flexible JL Audio Power
The CP212-W0v3 Enclosure can be driven with as little as 150 Watts. However, for best audio performance it is recommended to run an amplifier capable of between 400 – 600 Watts of continuous power per driver, like the JL Audio XD600/1v2 or JL Audio JX500/1D. In addition, The ultra-versatile BassWedge shape has extended sides so that it can be placed with the woofers firing out or straight down, off the floor of the vehicle. The shape works equally well in forward or rear-firing installations. This gives you plenty of options for tweaking the loading of the enclosure into your vehicle.
Striking Linearity and Control
DMA is JL Audio's proprietary Dynamic Motor Analysis system and is aimed at delivering superior dynamic stability and low distortion. As a result of DMA optimization, W0v3 motors remain linear in motor force over an extreme range of excursion and also maintain a highly stable fixed magnetic field in the gap over a wide power range. This leads to tight, clean, articulate bass that also allows for extreme linear excursion, phenomenal power handling and control, control, control.
JL quality at a great price
JL Audio built the BassWedge CP212-W0v3 enclosure to make car-rattling bass for a reasonable price, without the need for a ton of power. The enclosure's designed to match the two 12″ subs loaded into it, so you know you'll get every ounce of performance out of this enclosure.
An excellent combination
The CP212-W0v3 BassWedge contains two 12″ W0v3 subwoofers that handle up to 600 watts RMS, and are loaded into a specially built slot-ported enclosure. The enclosure can be placed with the woofers firing downwards, or in typical front or rear firing applications, giving you immense bass regardless of how you place it.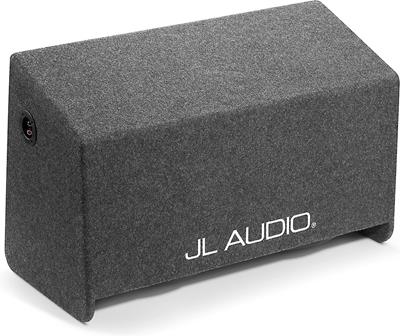 Solid MDF enclosure
JL Audio uses state-of-the-art automated woodworking equipment to fabricate the high-quality MDF enclosure with rugged automotive carpeting, nickel-plated push terminals, and solid internal wiring.
JL Audio RD500/1 #98618 Mono Subwoofer Amplifier
Born to produce a whopping 500 watts into 2 ohms (14.4V, 1% THD), the JL Audio RD500/1 amplifier was engineered to generate tons of pure subwoofer bliss from a sleek, ultra-compact chassis. The secret behind its power proficiency is our proprietary NexD™ switching technology, which delivers large amounts of power output with precise efficiency and ultra-low distortion.
For your convenience, the JL Audio RD500/1's controls are located on top of the amplifier, beneath a protective cover, with all connections found along one side of its chassis. Signal processing features include a 12 dB / octave low-pass filter, with continuously variable frequency selection from 50-500 Hz, and a variable bass boost EQ. Dual-range, differential-balance inputs are also on-hand, capable of accepting most input voltage levels. Automatic turn-on capability (via signal sensing or DC-offset sensing) is standard, along with a set preamp outputs so you can easily pass signals to another amplifier.
The JL Audio RD500/1 is also equipped with an onboard LED-clipping indicator. This all-new, innovative feature lets you easily set your amplifier's input sensitivity setting, quickly and accurately, with no special equipment needed. The RD500/1 features a durable, black powder-coated finish and a top-mounted LED light strip that reports the overall status and condition. With the addition of an RBC-1 remote level control (sold separately), you can control the subwoofer output directly from the driver's seat.
Power your bass
JL Audio's RD500/1 mono amplifier will power your subwoofer with up to 500 watts RMS, so you'll hear and feel the bass clearly over the whistle of the wind and rumble of the road. An optional wired remote lets you adjust the sub's volume from your front seat.
NexD Switching Technology
NexD amplifier technologies produce exceptional audio quality, unsurpassed total efficiency and high power from very compact amplifier designs
Differential-Balanced Inputs
JL Audio's Differential-Balanced Inputs are engineered to combat induced cable noise, which is a common problem in car and marine audio installations. This technology allows for the use of conventional RCA cables, while delivering many of the benefits of a true balanced connection and accepting a wide range of input signal levels.
Low current demand, low distortion, and integrates well
The RD500/1 plays your music with true fidelity and impressive impact, without straining your car's electrical system, thanks to JL Audio's proprietary NexD™ amplifier technology. "Differential-balanced" inputs keep the incoming signals clear of outside noise, and allow you to connect this amp to just about any radio. The speaker-level inputs feature two auto turn-on modes so you can readily incorporate this amp into a factory system — no need for RCA connections or a remote turn-on lead for this setup.
LED clip light and other cool features
A low-pass filter and bass boost help you dial in the perfect tone for your sub and enclosure. An onboard LED clip indicator lets you set the amp gain quickly and accurately with the use of a test tone. A removable cover hides the amp's controls, resulting in a handsome appearance and a tamper-resistant installation. Cool blue LED accent lighting adds some charm to this amp's rugged good looks.
JL Audio RBC-1 Car Audio Bass Remote Control 98015
The JL Audio RBC-1, is a "Bass Boost" switch that activates a +6dB boost centered at 48 Hz.
JL Audio amplifiers feature bass-boost circuitry to help you adjust low-frequency impact in your vehicle. The RBC-1 wired remote bass control works with all of JL Audio's A-Series, G-Series, RD Series, mono JX-Series, and most Slash v2 amps. You can mount the RBC-1 controller in the front of your vehicle and dial in the amount of bass you want from the driver's seat — mounting instructions, hardware, and a 18″ cable are included.
Connect the JL Audio RBC-1 to your amp, and it converts the amp's selectable bass boost (0 or 6 dB) to a variable boost (0 to 12 dB). With the Slash v2 amps, the RBC-1 takes the place of the amp's boost knob, allowing you to adjust your bass boost from 0 to 15 dB. With RD Series and JX-Series mono amps, the RBC-1 controls the amp's subwoofer level, from full mute to full volume.
The RBC-1 remotely controls the Bass Level of the following JL Audio amplifiers
JX-Series: JX250/1, JX500/1, JX500/1D, JX1000/1D
HX-Series: HX300/1 in Low Pass Mode (Note: M-RBC-1 is also available)
MHX-Series: MHX300/1 in Low Pass Mode (Note: M-RBC-1 is also available)
When the JL Audio RBC-1 is connected to the above amplifiers, the on-board "Boost" control of the amplifier is defeated and the RBC-1 becomes the active controller.
The RBC-1 kit includes the rotary control with a black ABS knob, mounting hardware and one 18 ft. (5.5 m) cable.
What's in the Box:
Owners Manual
Bass Controller with attached knob and 9″ cord terminated by a female RJ-11 port
18″ control cable with a male RJ-11 connector on each end
2 Nuts
2 Washers
Installation Instructions
Product: JL Audio CP212-W0V3 Subwoofer | RD500/1 Amplifier | RBC-1 Remote Bundle – 93283 | 98015 | 93281
Estimated Shipping
When you add an item to your cart the Estimated Shipping* cost will be shown.  This estimated shipping* cost is accurate to most major city locations across Canada.  If the shipping cost is higher than the estimated shipping* then GibbysESM will contact you for approval before we process your order.
To learn more click Shipping Terms & Conditions
JL Audio 2 Year Limited Warranty.