JVC DLA-NP5B 4K Home Theater D-ILA Projector | Strong Mounts SM-PROJ-XL-BLK Projector Mount | LX-120G169 120" 16:9 Fixed Screen
$10,317.00
Payments as low as
$859.75/mo
30 DAY RETURN POLICY
LOW PRICE GUARANTEE
Product Description
Features & Specifications
Documents
Warranty
JVC DLA-NP5B 4K 120p Home Theater D-ILA Projector | Strong Mounts SM-PROJ-XL-BLK Projector Mount – Black | LX-120G169 120" Grey 16:9 Fixed Screen
This Bundle Includes:
(1) JVC DLA-NP5B 4K 120p Home Theater D-ILA Projector – Black
(1) Strong Mounts SM-PROJ-XL-BLK Universal Fine Adjust Projector Mount – 50 lbs Capacity – Black
(1) LX-120G169 120" Grey 16:9 Fixed Screen
---
JVC DLA-NP5B 4K 120p D-ILA Projector
JVC DLA-NP5 D-ILA projector is wrapped in a whole new design, which is packed with the latest projection features. For instance with the new 0.69-inch native 4K D-ILA device, the projector can produce high-definition native 4K resolution (4096 x 2160) images from its all-glass 65 mm diameter lens system. HDR10 content can be projected at optimum quality with Auto Tone Mapping function, which automatically adjusts settings based on the mastering information. Combining brightness of 1,800 lm with dynamic contrast ratio of 400,000:1, the projector reproduces life like images for latest contents like HDR10 and Hybrid Log Gamma. Original motion control technology Clear Motion Drive is renewed, and together with Motion Enhance which optimizes the driving of D-ILA device according to the motion of the image, motion blur is reduced significantly compared to conventional projectors.
4K Native Resolution
Equipped with refined 0.69″ native 4K D-ILA device and newly developed digital driver LSI for native 4K resolution.
DLA-NP5 D-ILA projectors continue to evolve for the better. The latest three models feature an original native 0.69″ 4K D-ILA devices, which were first adopted on model DLA-Z1; this device has been improved with process refinements on planarization and reflection efficiency to achieve higher contrast and brightness. Additionally, a dedicated driver LSI was also enhanced to simultaneously drive each of the three (R/G/B) native 4K D-ILA devices at high-speed 120fps. As a result, precise and smooth image projection unique to 4K native can be achieved with the combination of a new device and new driver LSI.
HDR10+ Support allows a choice for two dynamic
tone mappings
When it comes to reproducing the rich video information of HDR content including the extended brightness range, BT.2020 wide colour gamut and 10-bit gradation, rely on one of the new DLA-NP5 D-ILA projectors. New models support all HDR formats including HDR10 for Blu-ray and streaming, HLG for broadcasting, and the latest HDR10+ signal format with dynamic metadata compatibility.
JVC projectors are compatible with the two dynamic tone mappings of HDR10+ and Frame Adapt HDR. HDR10+ contains the metadata of the producer's intentions for each scene, Frame Adapt HDR instantly analyses the peak brightness in HDR10 content using an original algorithm. Ensuring you can watch any HDR content in optimal picture quality.
DLA-NP5 Frame Adapt HDR function
The Frame Adapt HDR function* enables reproduction of any HDR10 content dynamically and in high-resolution!
The colour grading of HDR content varies, some HDR content are adjusted to bright side and others to the dark side. Using JVC's original algorithm, Frame Adapt HDR instantly analyses the peak brightness in HDR10 content frame-by-frame and in real time adjusts the projector to the optimum dynamic range. What's more, the gamma processing accuracy of gradation performance has been improved dramatically from, 12-bit to 18-bit.
All these advancements help to bring out deeper blacks in darker scenes, and higher peaks in brighter scenes without losing colours. Reproducing images with smooth gradations, that are closer to reality as seen by the human eye. (*from firmware version 3.10 and higher)
In the picture, scene 1 represents a dark scene, scene 2 a bright scene and scene 3 a combination of bright and dark.
4K120p input ideal for Low Latency Mode
Because these projectors are equipped with 4K120p input, signal latency is infinitesimal, making it effective when displaying high frame-rate gaming content on large screens. What's more, Low Latency Mode reduces delay in displaying PC signals and games, and improves response to the users' rapid operations.
High quality, all glass lens
All glass, high-resolution lens with full aluminum lens barrel
The DLA-NP5 is equipped with an 18-element, 16-group all-glass lens featuring a full aluminum lens barrel. In order to project high-resolution images to every corner of the screen with the 100 mm diameter lens offering wide lens shift of ±100% vertically and ±43% horizontally, the projector adopts five ED lenses that take into account differences in the R/G/B refractive index to reduce chromatic aberration and colour fringing when lens shift kicks in to deliver precise reproduction of 8K-resolution projection. The DLA-N7 and DLA-N5 models feature a 17-element, 15-group all glass lens with 65 mm diameter to project fully focused 4K native resolution to all corners of the screen.
---
Strong SM-PROJ-XL-BLK Universal Fine Adjust Projector Mount – 50 lbs Capacity – Black
Strong SM-PROJ-XL-BLK is equipped with longer mounting arms and security screw holes, this projector mount is specifically designed to handle oversized models up to 50 lbs., including JVC projectors, while offering maximum installation flexibility. It features tool-less adjustments – so getting the ideal alignment is a breeze – and has a simple three-piece design that minimizes time spent at the top of the ladder.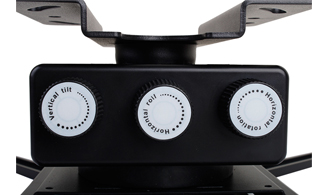 Tool-Less Adjustments: Getting a projector image to perfectly align with a screen is easier said than done. Thankfully this mount simplifies the process with easy-to-use vertical tilt, horizontal roll and yaw adjustments. Just pop off the cover and use the tool-less dials to make micro adjustments until the ideal alignment is achieved – no tightening or loosening of the screws required.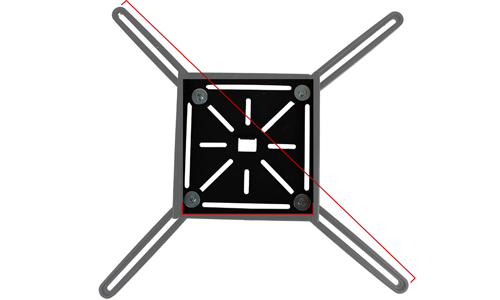 Maximum Mounting Flexibility: For the most versatility in your next installation, this projector mount features longer arms that extend for up to 17.7" diameter mounting. Plus it has a series of slots on the arms and the bottom plate that provide almost limitless placement options, so it's easy to get the projector perfectly positioned. Need to install directly in concrete or ceiling drywall? Not a problem – just use the included hardware.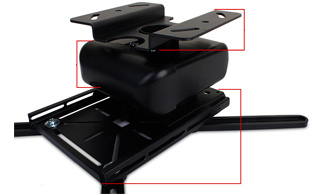 Easy to Install: A smart three-piece design makes it easy to get this projector securely installed – without having to fumble around at the top of the ladder. The top plate attaches to the ceiling and screws into the mount assembly body, while the bottom plate (with attached projector) simply slides and locks into place. It makes installing the product – and taking down the projector for servicing – fast and easy. Now that's what we call installer friendly!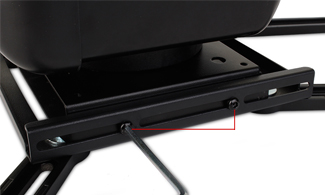 Security Screws: When it comes to projector installs, a secure attachment is key. That's why this mount features multiple security screws for projector attachment, as well as screws on each side of the mounting base – which all help to lock things in place. Move the mount around until you get the perfect center of gravity for the projector, then tighten down the screws and you're good to go!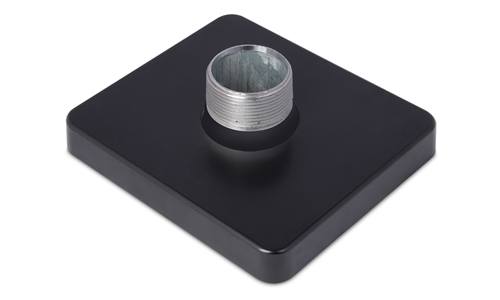 Extension Capability: If you want to drop the projector off the ceiling with an extension pole, we've included a separate ceiling plate to allow for easy connection to the pipe. Also included is a plastic cover to keep the install looking neat and tidy.
---
LX-120G169 120" Grey 16:9 Fixed Screen
So Easy. So Exciting. All the Time.
Throw Distance
LX-120G169 is a high-performance 4K UHD/HDR home theater projector with laser light source technology BLU-Escent. Thanks to the BLU-Escent light source, it realizes brightness of 3,000 lumens so there is no need to pull the curtains every time. Plus, there is no need to care about the lamp life as it offers 20,000 hours of long life. Furthermore the original Auto Tone Mapping function automatically adjusts to deliver the optimum HDR image all the time. This projector will enhance your viewing experience to a new level.
4K resolution (3840 x 2160) and HDR (HDR10/HLG) compatible.
With LX-120G169 the original "Auto Tone Mapping" function, you can enjoy various HDR10 content with the best image quality without any difficult adjustments.
LX-120G169Compact design for installation convenience: 41 cm by 34 cm, and less than 15 cm high (Approx. 16″ by 13-1/2″, and 5-3/4″ in height)
LX-120G169 Compatible with HDMI standards (4K/60P 4:4:4) and HDCP 2.2
4K input specs: LX-120G169 Supports 4K/60p, 4:4:4/36bit, 4K/60p 4:2:2/36bit, and 4K/24p 4:4:4/36bit signals – for more vivid colours and subtle gradations
Connectors: PC in, HDMI 1 with HDCP2.2 support, HDMI 2, USB Mini B, Trigger (12 V), USB Mini A (1.5 A power supply), and RS-232
"BLU-Escent" Laser Light Source
3,000 lm brightness and 20,000-hour long life
HDR (high dynamic range) for more realistic, dynamic images
"Auto Tone Mapping" for pristine HDR10 picture quality
0.47-inch DMD for bright high-definition 4k images
Dynamic contrast ratio: Infinity:1
Wide lens shift function: +/-60% vertical, +/-23% horizontal
1.6x high-resolution lens
HDCP2.2 compatibility with HDMI 1 terminal to support video-streaming services and copyright-protected content including UHD BD discs
Product: JVC DLA-NP5B 4K Home Theater D-ILA Projector | Strong Mounts SM-PROJ-XL-BLK Projector Mount | LX-120G169 120" 16:9 Fixed Screen
Strong Mounts SM-PROJ-XL-BLK Specifications

Distance from Ceiling: 5-1/5"
Roll: -5/+5°
Swivel: -5/+5°
Tilt: -5/+5°
Colour: Black
Maximum Load Support: 50 lbs
Construction: Steel, Plastic
Weight: 5.5 lbs

LX-120G169 Specifications

Screen Surface- Assembled (with Velvet Border)
-Length: 109.1"
-Height: 63.9"
-Depth: 1.4"

Screen Surface (w/o Velvet Border)
-Diagonal: 120.1"
-Length: 104.3"
-Height: 59.1"

Velvet Frame Border
-Width: 2.4"
-Height: 2.4"

-Shipping Dimensions: 70" * 11" * 6"
-Shipping Weight: 36.0 lbs

JVC DLA-NP5B General

Noise level: 24dB (in Low Mode)
Power requirement: AC100V-240V, 50/60Hz

Power consumption
Projector in use: 420 W
Standby: Normal: 1.5W, Eco-mode: 0.3W
Networked standby: 1.3 W (LAN), 1.0 W (RS-232C), 1.3 W (LAN and RS-232C)
Switchover time: 20 min. (To standby or networked standby; default)
Dimensions: W x H x D, mm: 500 x 234 x 495
Weight, kg: 19.2

JVC DLA-NP5B Specifications

Picture
Lens: All-glass lens with 65 mm diameter
Zoom: 2X zoom & focus, motorized
Lamp life: Approx. 4500 hours in Low mode
Brightness: 1,900 lm
Contrast Ratio: Native: 40,000:1,, Dynamic: 400,000:1
Video format: Digital: 480p, 576p, 720p 60/50, 1080i 60/50, 1080p 120/100/60/50/30/25/24, 2048×1080 120/100/60/50/30/25/24, 3840 x 2160p 120/100/60/50/30/25/24, 4096 x 2160p 120/100/60/50/30/25/24

PC input signal
HDMI: VGA/ SVGA/ XGA/ WXGA/ WXGA+/ SXGA/ WSXGA+/ UXGA/ WUXGA/ WQHD (60)/ WQHD (120)

Video input terminals (back panel)
HDMI: 2 (48Gbps, HDCP2.3, no support for CEC)

3D format
Frame packing: 720p 60/50, 1080p 24
Side-by-side: 720p 60/50, 1080p 60/50/24, 1080i 60/50
Top & bottom: 720p 60/50, 1080p/24

JVC DLA-NP5B Terminals

Output terminals (back panel)
3D sync: 1 (Mini DIN 3-pin)
Trigger: 1 (mini jack, DC12V/100mA)

Control terminals
RS232C: 1 (D-sub 9-pin)
LAN: 1 (RJ-45)
Device: 0.69-inch Native 4K DILA Device (4096×2160) x3
Resolution: 4096 x 2160
Lens shift function: +/-80% vertical & +/-34% horizontal, motorized in 16:9 aspect mode
Light source lamp: NSH 265 W

Service terminal
Service: 1 (USB Type A) (for firmware update)

Projector - Features

4K, HDR, Lens Shift

Brightness (Lumens)

1900

Color

Black
Estimated Shipping
When you add an item to your cart the Estimated Shipping* cost will be shown.  This estimated shipping* cost is accurate to most major city locations across Canada.  If the shipping cost is higher than the estimated shipping* then GibbysESM will contact you for approval before we process your order.
To learn more click Shipping Terms & Conditions
JVC Canada Limited 2 Year Warranty
Strong Mount Lifetime Limited Warranty