JVC DLA-NZ8 Home Theater Projector | Strong SM-PROJ-XL-BLK Projector Mount | LX-120G169 120" 16:9 Fixed Screen | Pixelgen PXL-HFC15 15m HDMI Cable Bundle – Black
Save $69.01
$22,446.99
$22,516.00
Payments as low as
$1,870.58/mo
30 DAY RETURN POLICY
LOW PRICE GUARANTEE
Product Description
Features & Specifications
Documents
Warranty
JVC DLA-NZ8 Home Theater Projector | Strong SM-PROJ-XL-BLK Projector Mount | LX-120G169 120" 16:9 Fixed Screen | Pixelgen PXL-HFC15 15m HDMI Cable Bundle – Black
This Bundle Includes:
(1) JVC DLA-NZ8 8K eShift Home Theater Projector
(1) Strong SM-PROJ-XL-BLK Universal Fine Adjust Projector Mount 
(1) Pixelgen PXL-HFC15 15m MAX4 Fiber/Copper Hybrid Interconnect
(1) LX-120G169 120" Grey 16:9 Fixed Screen 

JVC DLA-NZ8 8K eShift Home Theater Projector
The JVC DLA-NZ8 D-ILA projector is the world first (as of September 2021, according to a research by JVCKENWOOD) home theater model to feature 8K/60p/4K120p input. It is equipped with a new 8K/e-shiftX proprietary technology with 4-direction shift to reproduce 8K-quality image from 4K signals. 4K120p input also makes the projector ideal for gaming when combined with Low Latency mode. The projector is driven by three 0.69-inch native 4K D-ILA devices, high-quality 18-element, 16-group 100 mm glass lens with a full aluminum lens barrel, and Ultra-High Contrast Optics that contribute to deliver optical brightness of 2,500 lumens. BLU-Escent laser diode light source also contributes to project the high-resolution 8K image with full depth and dimensionality with longevity of up to 20,000 hours. Compatible with the latest HDR10+, the projector boasts industry leading HDR performance. 8K, Laser, and HDR are the keywords that describe JVCs 2021 projector models.
JVC DLA-NZ8 Features
Worlds first projector to support high-resolution 8K signal input: 8K60p/4K120p
Light source: BLU-Escent laser
Display resolution: 8192 x 4320 (with 8K/e-shiftX)
Input connectors: HDMI x 2 (48 Gbps/HDCP 2.3)
Output and control connectors: RS-232C (D-sub 9pin) x 1, LAN (RJ-45) x 1, Trigger x 1 (Mini jack), 3D Sync x 1 (Mini-DIN 3pin)
3D formats: Frame Packing, Side-by-Side (Half), and Top & Bottom
JVCs proprietary 8K/e-shiftX technology with 4-direction shift reproduces 8K-quality image
0.69-inch 4K D-ILA (4096 x 2160) device x 3
17-element, 15-group all-glass 65 mm diameter high-quality lens
Ultra-High Contrast Optics with BLU-Escent laser light source contributes for optical brightness of 2,500 lumens and longevity of 20,000 hours
Multiple Pixel Control image processor accurately reproduces images closer to the original
Infinity:1 Dynamic Contrast Ratio; 80,000:1 Native Contrast Ratio
Cinema Filter (DCI-P3) creates saturated, beautiful images that come to life
Compatible with the two dynamic tone mappings of HDR10+ content and Frame Adapt HDR with Theatre Optimizer*; together, the projector expresses HDR/HDR10+ content at optimum brightness and darkness in each scene as the creator intended.
The projector automatically reproduces HDR10+ content based on the metadata of the producers intentions for each scene.
Frame Adapt HDR with Theatre Optimizer performs tone mapping according to the input signal of the content, as well as the installation environment and/or usage conditions of the projector.
Installation Mode with 10 Memories centrally manage nine settings related to installation to enjoy video best suited for each environment
Eight settings of Installation Mode include Lens Control, Pixel Adjustment, Mask, Anamorphic on or off, Screen Setting, Installation Style, Keystone, and Aspect; stored installation modes for various environments can be called up.
Compensation accuracy of Clear Motion Drive improved in the periphery of objects. Added with Motion Enhance technology, the projector can reproduce much smoother moving 4K images (function disabled when inputting 4K120p signals).
Low Latency Mode suppresses display delay for faster response when receiving signals from PC and game consoles
Color Management System with 6-axis Matrix
Auto-Calibration Function using an optical sensor** is capable of optimizing essential elements in the image, including color balance, gamma characteristics, color space and color tracking
ISF C3 (Certified Calibration Controls) mode*** to reproduce excellent picture quality optimized for specific environments.
Wireless transmission options for 3D viewing: RF (radio frequency) system transmission with PK-AG3 3D Glasses for 100H continuous operation and PK-EM2 3D Synchro Emitter
*Theater Optimizer can be activated only when the projectors picture mode is set to Frame Adapt HDR. **Exclusive JVC software and optical sensor are required. ***Professional calibration to desired screen is performed by trained dealers

Strong SM-PROJ-XL-BLK Universal Fine Adjust Projector Mount – 50 lbs Capacity – Black
Strong SM-PROJ-XL-BLK is equipped with longer mounting arms and security screw holes, this projector mount is specifically designed to handle oversized models up to 50 lbs., including JVC projectors, while offering maximum installation flexibility. It features tool-less adjustments – so getting the ideal alignment is a breeze – and has a simple three-piece design that minimizes time spent at the top of the ladder.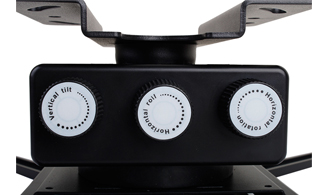 Tool-Less Adjustments: Getting a projector image to perfectly align with a screen is easier said than done. Thankfully this mount simplifies the process with easy-to-use vertical tilt, horizontal roll and yaw adjustments. Just pop off the cover and use the tool-less dials to make micro adjustments until the ideal alignment is achieved – no tightening or loosening of the screws required.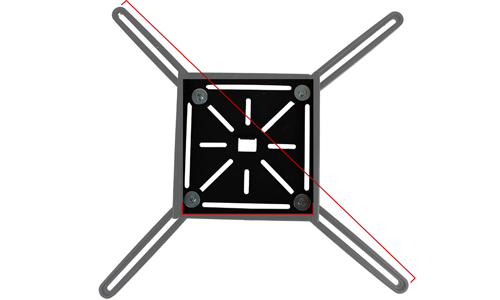 Maximum Mounting Flexibility: For the most versatility in your next installation, this projector mount features longer arms that extend for up to 17.7" diameter mounting. Plus it has a series of slots on the arms and the bottom plate that provide almost limitless placement options, so it's easy to get the projector perfectly positioned. Need to install directly in concrete or ceiling drywall? Not a problem – just use the included hardware.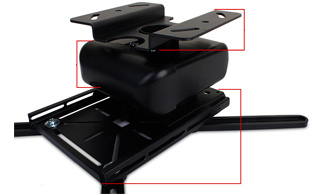 Easy to Install: A smart three-piece design makes it easy to get this projector securely installed – without having to fumble around at the top of the ladder. The top plate attaches to the ceiling and screws into the mount assembly body, while the bottom plate (with attached projector) simply slides and locks into place. It makes installing the product – and taking down the projector for servicing – fast and easy. Now that's what we call installer friendly!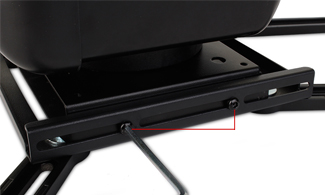 Security Screws: When it comes to projector installs, a secure attachment is key. That's why this mount features multiple security screws for projector attachment, as well as screws on each side of the mounting base – which all help to lock things in place. Move the mount around until you get the perfect center of gravity for the projector, then tighten down the screws and you're good to go!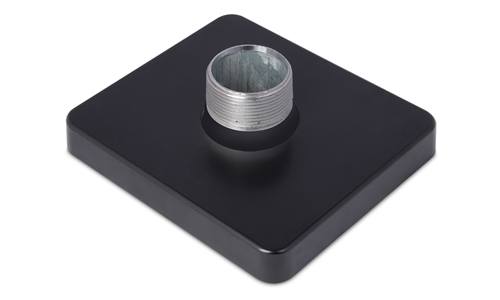 Extension Capability: If you want to drop the projector off the ceiling with an extension pole, we've included a separate ceiling plate to allow for easy connection to the pipe. Also included is a plastic cover to keep the install looking neat and tidy.

LX-120G169 120" Grey 16:9 Fixed Screen
So Easy. So Exciting. All the Time.
Throw Distance
LX-120G169 is a high-performance 4K UHD/HDR home theater projector with laser light source technology BLU-Escent. Thanks to the BLU-Escent light source, it realizes brightness of 3,000 lumens so there is no need to pull the curtains every time. Plus, there is no need to care about the lamp life as it offers 20,000 hours of long life. Furthermore the original Auto Tone Mapping function automatically adjusts to deliver the optimum HDR image all the time. This projector will enhance your viewing experience to a new level.
4K resolution (3840 x 2160) and HDR (HDR10/HLG) compatible.
With LX-120G169 the original "Auto Tone Mapping" function, you can enjoy various HDR10 content with the best image quality without any difficult adjustments.
LX-120G169Compact design for installation convenience: 41 cm by 34 cm, and less than 15 cm high (Approx. 16″ by 13-1/2″, and 5-3/4″ in height)
LX-120G169 Compatible with HDMI standards (4K/60P 4:4:4) and HDCP 2.2
4K input specs: LX-120G169 Supports 4K/60p, 4:4:4/36bit, 4K/60p 4:2:2/36bit, and 4K/24p 4:4:4/36bit signals – for more vivid colours and subtle gradations
Connectors: PC in, HDMI 1 with HDCP2.2 support, HDMI 2, USB Mini B, Trigger (12 V), USB Mini A (1.5 A power supply), and RS-232
"BLU-Escent" Laser Light Source
HDR (high dynamic range) for more realistic, dynamic images
"Auto Tone Mapping" for pristine HDR10 picture quality
0.47-inch DMD for bright high-definition 4k images
Dynamic contrast ratio: Infinity:1
HDCP2.2 compatibility with HDMI 1 terminal to support video-streaming services and copyright-protected content including UHD BD discs

Pixelgen PXL-HFC15 15m MAX4 Fiber/Copper Hybrid Interconnect
Pixelgen PXL-HFC15 15m introducing PXLGLASS™, a long-reach full bandwidth Ultra HD interconnect solution capable of delivering 100% uncompressed 4K signals up to 50m. Using a unique copper/fiber hybrid cable implementation, PXLGLASS™ utilizes optical fibers to carry high-speed TMDS signals while exchanging critical low-speed communication signals such as HDCP 2.2 and CEC 2.0 over copper based wires. This hybrid cabling approach to long-reach Ultra HD connectivity guarantees the highest standard of robustness, reliability and interoperability.
Product: JVC DLA-NZ8 Home Theater Projector | Strong SM-PROJ-XL-BLK Projector Mount | LX-120G169 120" 16:9 Fixed Screen | Pixelgen PXL-HFC15 15m HDMI Cable Bundle - Black
DLA-NZ8 Specifications

General
– Noise level 24dB (In Low Mode)
– Power requirement AC100-240 V, 50/60 Hz
– Dimensions: W x H x D, mm 500 x 234 x 505 (incl. feet)
– Dimensions: W x H x D, inches 19-11/16 x 9-7/32 x 19-29/32 (incl. feet)
– Weight, kg 23.1 (50.8 lbs)
– Video Modes: 720p, 1080i, 1080p/60, 2160p/60
– Data Modes: MAX 8192×4320
– 3D Modes: Full HD 3D
– Digital Keystone: No
– Projector Size: 23 cm x 50 cm x 51 cm (HxWxD)
– Weight: 23.1 kg
– Internal Speakers: No
– Power: 440 Watts 100V – 240V
– Connection Panel: 12-Volt Trigger, HDMI 2.3 (HDCP) x 2, Network: RJ-45, RS232: DB-9pin, USB
– Features: Full HD 3D, Frame Interpolation, Lens Memory, HDR, Infinite Black

Picture
– Device: 0.69-inch Native 4K D-ILA Device (40962160) x3
– e-shift: 8K/e-shiftX
– Resolution: 8192 x 4320
– Display Type: 2 cm D-ILA x 3
– Color Processing: 10-bit
– Contrast: 80,000:1 (full on/off)
– Contrast Dynamic: Infinity:1
– DCI-P3 Color Gamut (Full coverage): Yes
– Aspect Ratio: 1.89:1 (4K HD)

Lens
-Lens Diameter: 65 mm
-Type: x2 Motorized Zoom & Focus, All-glass Lens

Lens shift
-Vertical/Horizontal (motorized, in 16:9 aspect ratio): 80% / 34%
-Lens Shift: Horizontal +/-34% & Vertical +/-80%
-Light source: Laser Diode
-Brightness: 2,500 ANSI Lumens
-Optional Lenses: No
-Included Lens: 2x Powered zoom , Powered focus

Terminals
-Input terminal HDMI: 2 (48Gbps, HDCP2.3, no support for CEC)
-Input terminal Trigger: 1 (Mini Jack, DC12 V/100 mA)
-Output terminals (back panel) RS-232C: 1 (Dsub 9pin)
-Control terminals LAN: 1 (RJ-45)
-Service terminal SERVICE: 1 (USB Type A, for firmware update)

SM-PROJ-XL-BLK Specifications

Distance from Ceiling: 5-1/5"
Roll: -5/+5°
Swivel: -5/+5°
Tilt: -5/+5°
Colour: Black
Maximum Load Support: 50 lbs
Construction: Steel, Plastic
Weight: 5.5 lbs

LX-120B169 Specifications

Screen Surface- Assembled (with Velvet Border)
-Length: 109.1"
-Height: 63.9"
-Depth: 1.4"

PXL-HFC15

Features
– Max TMDS Rate: 17.91Gbps/5.94Gbps per CH (4K60 8bit 4:4:4)
– 4K Formats Supported: 4K60 8bit 4:4:4, 4K60 12bit 4:2:2 (WCG), – 4K60 10bit 4:2:0 (HDR10), 4K60 8bit 4:2:0 (SDR)
– Supports all other formats within the Ultra HD 2.0b specification.
– Range: Up to 50m
– Standards Certification: THX® Certified 4K Interconnect
– Operating Temperature: 0°C ~ 70°C
– Storage Temperature: -20°C ~ 70°C
– Operating Humidity: 20% ~ 90%, RH, non-condensing
– Material: Zinc Alloy

Projector - Features

4K, HDR, Lens Shift

Brightness (Lumens)

2500

HDMI Cable - Length

11-15m
Estimated Shipping
When you add an item to your cart the Estimated Shipping* cost will be shown.  This estimated shipping* cost is accurate to most major city locations across Canada.  If the shipping cost is higher than the estimated shipping* then GibbysESM will contact you for approval before we process your order.
To learn more click Shipping Terms & Conditions
DLA-NZ8 – JVC Canada 3 Year Limited Warranty
LX-120G169 – JVC Canada 2 Year Limited Warranty
Strong Mount Lifetime Limited Warranty
Pixelgen Canada 5 Years Limited Warranty