JVC LX-UH1B 4K DLP Home Theatre Projector with 2,000 Lumens – Black
JVC LX-UH1B DLP Projector – Ultimate High Dynamic Range & 4K Technology – Black
4K UHD yields 3840 x 2160 projected image
Newly developed 0.47" TRP DMD technology provides 4K (3840×2160) resolution
2,000 Lumens with High Power Lamp (PK-L3715U)
Automatic Aperture available with HDR10 content
Dynamic Contrast of 100,000:1
Limited Quantities
$2,498.00
Payments as low as
$208.17/mo
30 DAY RETURN POLICY
LOW PRICE GUARANTEE
Product Description
Features & Specifications
Documents
Warranty
JVC LX-UH1B DLP Projector – Ultimate High Dynamic Range & 4K Technology – Black
The JVC LX-UH1B is a high-performance 4K UHD/HDR home theater projector with compact design and wide lens shift for easy installation; also thanks to its 2,000-lumen output there is no need to always pull the curtain. This projector is ideal for all your broadcast, streaming and BD viewing.
JVC LX-UH1B Features
Compact design for installation convenience: just 33 cm by 33 cm, and less than 13.5 cm high (Approx. 13″ by 13″, and 5.3″ in height)
Compatible with HDMI standards (4K/60P 4:4:4) and HDCP 2.2
4K input specs: Supports 4K/60p, 4:4:4/36bit, 4K/60p 4:2:2/36bit, and 4K/24p 4:4:4/36bit signals – for more vivid colors and subtle gradations
4K resolution (3840 x 2160) achieved
Connectors: PC in, HDMI 1 with HDCP2.2 support, HDMI 2, USB Mini B, Trigger (12 V), USB Mini A (1.5 A power supply), and RS-232
0.47-inch DMD for bright high-definition 4k images
Dynamic contrast ratio: 100,000:1
Brightness: 2,000 lm
100% coverage of Rec. 709 gamut
Wide lens shift function: +/-60% vertical, +/-23% horizontal
1.6x high-resolution lens
HDR (high dynamic range) for more realistic, dynamic images
HDCP2.2 compatibility with HDMI 1 terminal to support video-streaming services and copyright-protected content including UHD BD discs
Available in 2 colors (black and white)

The Power to Project HDR Images Brighter, Higher Contrast , and Wider Gamut.
Bright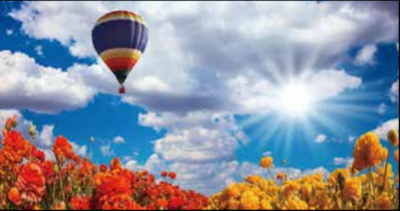 Maximum brightness of 2,000 Im can be achieved by combining a 240 W ultra high-pressure mercury lamp and a highly efficient optical engine. Also, combining with the D-ILA device, it features a narrow gap between pixels. So, it achieves optimum use of light, a powerful yet finely detailed and smooth image projection.
High Contrast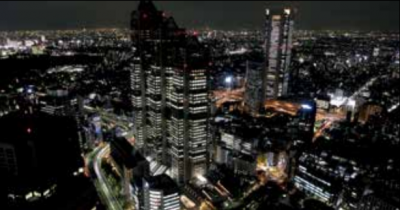 JVC's original D-ILA device combined with an optical engine equipped with a wire grid results in a high native contrast ratio of 100,000:1. Intelligent Lens analyses input signals combined with an original algorithm. Also, it automatically controls the black level of the image to achieve a dynamic contrast ratio of 100,000:1. The synergetic effect based on the dynamic range stemming from high-brightness, delivers sensational 4K video full of reality.
Wide Gamut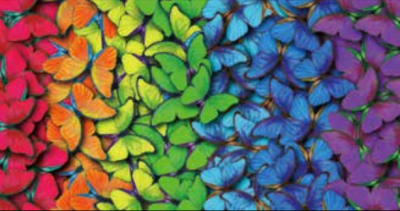 HDR content found on media such as UHD Blu-ray Discs adopts a much wider colour gamut compared to conventional content.Three new D-ILA projectors that feature wide gamut allow for more accurate reproduction of the natural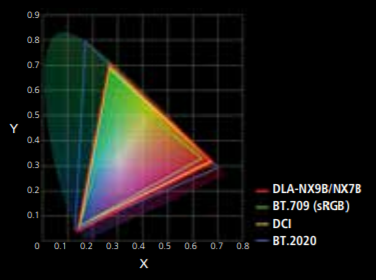 gradations in images of the  sky and the sea, as well as differences in the colour contrast between subjects such as flowers of a deep crimson or rose colour, or the different shades of green on tree leaves, which presented difficulties in the past.
JVC LX-UH1B Support for HDR (High Dynamic Range)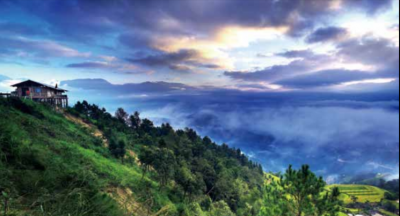 HDR (high dynamic range) content contains more data including an extended brightness range, 10-bit gradation and a wide BT.2020 colour gamut. Precise reproduction requires high basic performance from projector. D-ILA projectors reproduces High-brightness, high contrast, and wide gamut with HDR content as you've never experienced in the past. Moreover, in addition to HDR10 content on UHD Blu-ray Discs, the projector automatically detects the Hybrid LogGamma (HLG) signal allowing the user to view in an optimum picture mode.

Automatic Adjustment with Auto Tone Mapping
The Auto Tone Mapping function featured on the latest models automatically adjusts each content based on the values in the mastering data. (such as Max CLL and Max FALL). They indicate the brightness of the HDR content. Various HDR images with different brightness adjusts for optimal viewing which renders best image quality.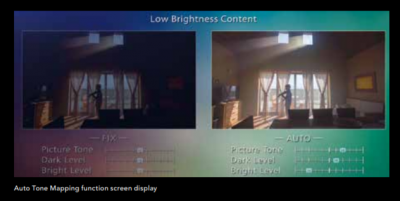 Newly developed TRP DMD Device for JVC LX-UH1B
DMD (digital micromirror device) is a digitally controlled micro-opto-electromechanical system (MOEMS) spatial light modulator (SLM). When coupled to an appropriate optical system, the DMD displays a very crisp, high resolution image or video.
18Gbps HDMI Input with HDCP2.2
JVC incorporates the latest HDMI/HDCP2.2 standard allowing HDCP2.2 copy protected devices to be connected via the HDMI-1 input.
HDR10 & Hybrid Log-Gamma
The JVC LX-UH1B 4K Projector supports 100% of Rec. 709 color space (BT. 2020 compatible) and displays HDR content with high contrast and bright vivid images.
Hybrid Log-Gamma is an additional HDR Gamma mode. Also, it is useful for live broadcast or streaming events.

Product: JVC LX-UH1B 4K DLP Home Theatre Projector with 2,000 Lumens – Black
Picture

Device: 0.47" DMD (1920 x 1080)
Resolution: 3840 x 2160
Lens shift: +/-60% vertical & +/-23% horizontal, motorized
Light source: NSH 240 W
Lamp life Approx. : 4,000 hours in normal mode, 10,000 hours in eco mode
Brightness: 2,000 lm
Contrast Ratio Dynamic: 100,000:1
Video input terminals (back panel)
PC: 1 (D-sub 15pin)
Control terminals
RS232C: 1 (D-sub 9-pin)
Aspect Ratio: 16:9 (4K HD)

General

Noise level 29 dB (Eco)/ 33 dB (Normal)
Power requirement AC110 V-240 V, 50/60 Hz
Dimensions: W x H x D, mm 333 x 135 x 331.5 mm
Dimensions: W x H x D, inches 13-1/8 x 5-5/16 x 13-1/16
Weight, kg 4.8
Weight, lbs 10.56
Video Modes: 720p, 1080i, 1080p/60, 1080p/24, 1080p/50, 2160p/60, 576i, 576p, 480p, 480i

Brightness (Lumens)

2000

Color

Black

Projector - Features

4K, DLP, HDR

Back Order Allowed
Estimated Shipping
When you add an item to your cart the Estimated Shipping* cost will be shown.  This estimated shipping* cost is accurate to most major city locations across Canada.  If the shipping cost is higher than the estimated shipping* then GibbysESM will contact you for approval before we process your order.
To learn more click Shipping Terms & Conditions
JVC Canada Limited1 Year Warranty