LG AU810PB 4K Projector | Grandview LF-PP 200″ Projector Screen
Save $1,070.00
$7,377.98
$8,447.98
Payments as low as
$614.83/mo
30 DAY RETURN POLICY
LOW PRICE GUARANTEE
Product Description
Features & Specifications
Shipping
Documents
Warranty
LG AU810PB 4K Projector | Grandview LF-PP 200″ Projector Screen
This Bundle Includes:
(1) LG AU810PB 4K UHD Smart Dual Laser CineBeam Projector
(1) Grandview LF-PP 200″ 4K Flat 200″ Permanent Fixed Frame Projector Screen
LG AU810PB 4K UHD Smart Dual Laser CineBeam Projector
Exceptional Picture Quality
With 8.3 mega pixels utilizing 4K UHD Laser technology, LG AU810PB CineBeam delivers impeccable precision and detail up to 300-inch screen. With 2,000,000:1 contrast ratio Black level, it can express the deep black. And it accurately represents colors, thanks to a wide color gamut 97% of DCI-P3.
Iris Mode
Depending on lighting condition of viewing environment, you can change iris mode.
Dark Room Mode
Optimized LG AU810PB brightness for dark room. Recommended white brightness + lowest (best) black level with iris's min. aperture.
Bright Room Mode
White and black goes up together, which makes picture visible and vivid with iris's max. aperture.
Fits Laser Output to the Scene
Adaptive Contrast gives more depth to your image by adaptively adjusting the Laser output to image, in order to create a high contrast ratio. Bright scenes appear brighter, while dark scenes remain detailed with deep blacks and shade detail.
The Smart Way to Access Contents
With webOS 5.0, you can explore a variety of TV shows and movies with a simple connect to your Wi-Fi network. Also you can enjoy video contents with built-in apps like YouTube, Amazon Prime and Disney app.
Flexible and Easy Installation
With Lens Shift (H ± 24%, V ± 60%) & Zoom x1.6 functionality, you can install the device virtually anywhere and set the screen to the exact size and location.
WiSA
WiSA delivers hi-resolution digital audio wirelessly from a source device to a maximum of eight powered speakers using 24-bit 48kHz or 96kHz signals, and can support 3D audio formats.
HDMI 2.1
The LG AU810PB projector displays hi-resolution and hi-information images by HDMI 2.1 connection, can output 10-bit images with 444RGB specifications. And it supports eARC.
Auto Calibration (w/ CalMan)
Generally manual calibration requires about 3 hours of setting by professional calibrators using CalMan software. By adopting pre-set CalMan software in AU810PB, Auto Calibration with laptop and program connected calibration can be done in 30 min only.
12v Trigger
You can connect your projector to an external devices that support a trigger signal, then unify power operating. When the projector is on, the connected device, such as motorized screens, power is on at the same time.
Advanced Wireless Connection
You can share the screen and sound conveniently with LG AU810PB AirPlay (for iOS devices), Screen Share (for wireless Miracast® supporting devices) and Bluetooth pairing.
Grandview LFPP200 200″ Permanent Fixed Frame Screen
Grandview LFPU200 200″ Permanent Fixed Frame Screen With a stylish velvet-wrapped aluminum alloy frame and cinema designed HDTV material, the Permanent Fixed Frame is the enthusiast's choice for use in a dedicated application. The material is specifically designed for all high-definition feeds.
Grandview Permanent Fixed Frame Projector Screen
With a stylish velvet-wrapped aluminum alloy frame and cinema designed HDTV material, the Permanent Fixed Frame is the enthusiast's choice for use in a dedicated application. The material is specifically designed for all high-definition feeds. The solid structure and tensioning system ensures that the projection screens are always perfectly flat and the picture flawless.
Grandview's Permanent Fixed Frame projector screens feature a 3.2 inch beveled high quality aluminum alloy frame wrapped in designer velvet.
An adjustable tension system ensures that the screen display surface if completely flat at all times. The flexible material of the screen maintains surface integrity and helps prevent any waves or wrinkles.
The PS HDTV high contrast cinema fabric has a 1.0 gain with a 160 degree viewing angle. The projection surface's backside is reinforced with a special PVC composite material.
The PS HDTV high contrast cinema fabric utilizes mini diamond veins that enhance contrast and image details while reducing glare. It provides a clear picture at any angle and is superior to traditional matte white fabrics in every way.
Grandview's Permanent Fixed Frame projector screens feature a new innovative easy rail installation system utilizing innovative rail mounting brackets for various locations including wood and concrete walls. The installation is secure yet flexible, allowing the screen to adjust horizontally.
Ultra-Narrow Frame
The new Edge Series has a frame just 29 mm wide, looks like a giant LED TV. With this limited width the image is controlled within screen range in case tiny deflection happens during image adjustment.
Attached to the Wall
The distance between screen and wall is just 6.5mm, almost like attached to the wall, which is 67% less than average wall distance of LED TV.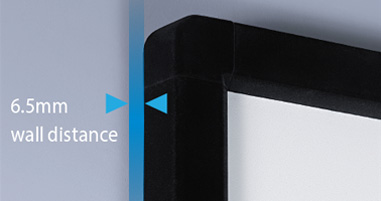 Premium Velvet Touch
The surface frame is made of high quality aluminum wrapped with velvet, turn the screen into an Elegant decoration on on wall.

Stable Structure
With the enhanced 44 x 28 mm aluminum frame structure, the screen can be up to 120″(16:9) and durable for a "life-time" projection.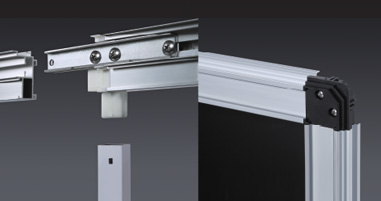 Fabric Tension System
Flat as a mirror
Taking advantage of the mature fabric tension system from Prestige series, the screen is durably flat as mirror after installation.
Range Belt and Circular Lock
Convenient Installation
With the range belt mounted on the installation bracket, you don't need to measure the distance, just fixed the bracket to the wall according to the range belt, hang the screen on and turn the circular lock, it can be done easily by just one person.
Small Package Design
Thanks to the devided frame, the package is dramatically smaller than regular frame screen, even for 120″(16:9), the package is just 1.66 meters, which is 43% less than Prestige series and the overall package size is 77% less.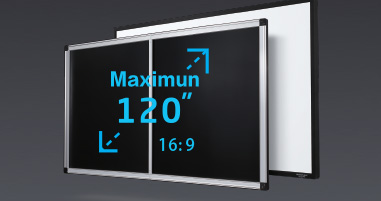 Product: LG AU810PB 4K Projector | Grandview LF-PP 200″ Projector Screen
Projection System

Display Type: DLP
Native Resolution: 4K UHD (3840 x 2160)*
Upscaling / Super Resolution: Yes
Resolution: 4K
Projection size (Screen Size): 40" ~ 300"
Projection Image: 150"@14.1 ~ 22.6ft, 100"@9.5 ~ 15ft, 40"@3.6 ~ 5.9ft
Aspect Ratio: 16:9/Original/Full Wide/4:3/Vertical Zoom
Optical Zoom: x 1.6
Iris: Yes
Adaptive Contrast: Yes
Lens Shift: Vert ± 60% Horiz ± 24%
Focus (Auto / Manual): Manual
Throw Ratio: 1.3 – 2.08
Projection Offset: 0% (+110% ~ -110%)
Brightness (ANSI Lumen): Up to 2700 ANSI Lumens**
Contrast Ratio: 2,000,000:1
Light Source: Dual Laser (R LD, B LD + G Phosphor)
Light Source Life: Up to 20,000 Hrs
Noise (Eco / Nrmal / High brightness): 26/27/28dB (A)
HDCP: HDCP2.2 (HDCP 2.3 Compatible)
Trumotion: Yes
HDR: HDR10, HLG
Digital Keystone Correction: Manual Keystone (Vertical)

LG Smart TV

Premium content providers: Amazon Prime Video, Disney+, YouTube, SHOWTIME, STARZ, AMC Theatres On Demand***
Magic Remote: Yes
App Store: Yes
Web Browser: Yes
Voice Recognition Built-In: LG ThinQ + Google Assistant + Amazon Alexa

Connectivity

Bluetooth (with Speaker): Yes
Screen Share / Screen Mirroring (with Miracast supporting device): Yes
Wireless Contents Share (with DLNA supporting device): Yes
Apple Airplay: Yes

Audio

Bluetooth® Sound Out: Yes
Built-in Speakers: 10W (5W+5W Stereo)
Bluetooth AV Sync Adjustment: Yes
Dolby Atmos compatible: Yes
WiSA Ready (Dognle): Yes (Up to 5.1Ch)

Inputs / Outputs

Audio out: S/PDIF 1 (Optical)
HDMI™: 3 (HDMI2.1* : 1EA/HDMI2.0 : 2EA)
USB Type A: 2 (USB2.0)
RS-232C: Yes
RJ45: 1
12V Trigger: Yes
HID (Keyboard/Mouse/GamePad Connection Thru USB): Yes
IP Control: Yes

Power

Power Supply (Voltage/Hz): 100V – 240 V @ 50~60 Hz (PSU Built-in)
Power Consumption: 300W
Standby Mode: less than 0.5W

Accessories

Remote Control: 1 Magic Remote (Backlit, Battery included)
Manual: Simple Book
Warranty Card: Yes
Adaptor: (PSU built-in)
Power Cord: Yes

Dimensions

Product (WxHxD): 13.3" x 16.1" x 5.7"
Shipping Dimensions (WxHxD): 21.5" x 20.7" x 10.6"
Weight: 24.3 lbs
Shipping Weight: 30.9 lbs

Projector - Features
Projector - Size
Grandview LF-PP 200 Specifications

– Brand Name: Grandview
– Model Number: LFPU200
– Frame: Permanent Fixed
– Size: 200 inch

Specials
Back Order Allowed
Estimated Shipping
When you add an item to your cart the Estimated Shipping* cost will be shown.  This estimated shipping* cost is accurate to most major city locations across Canada.  If the shipping cost is higher than the estimated shipping* then GibbysESM will contact you for approval before we process your order.
To learn more click Shipping Terms & Conditions
LG offers a 1 year warranty | Grandview Canada 1 Year Limited Warranty.