NAD M33 BluOS Streaming DAC Amplifier | Paradigm Founder 100F Floor Standing Speaker – Gloss Black – Pair
Special Order - Call to Inquire about Purchasing
Save $300.00
$14,298.98
$14,598.98
Payments as low as
$1,191.58/mo
Special Order - Call to Inquire about Purchasing
30 DAY RETURN POLICY
LOW PRICE GUARANTEE
Product Description
Features & Specifications
Documents
Warranty
NAD M33 BluOS® Streaming DAC Amplifier | Paradigm Founder 100F Floor Standing Speaker – Gloss Black – Pair
This Bundle includes:
(1) NAD M33 BluOS® Streaming DAC Amplifier with HDMI and Bluetooth®
(1) Paradigm Founder 100F 5-Driver 3 Way Floor Standing Speaker – Gloss Black – Pair
NAD M33 BluOS® Streaming DAC Amplifier with HDMI and Bluetooth®
2021 Winner of the Consumer Technology Association ( CTA )  Smart Home Division Mark of Excellence Award – Audio Component Product of the Year 
The NAD M33 BluOS™ enabled DAC/amplifier is an ultra-high-performance streaming amplifier with superb audiophile sound. As a BluOS enabled component, the M33 can be combined with other players in a BluOS ecosystem of wirelessly networked music players throughout the home for an outstanding whole-home audio system. With the employment of the new Purifi Eigentakt™ Hybrid Digital amplifier technology, the M33 follows NAD's long-standing tradition in identifying and developing cutting-edge amplification technology. With a minimum of 200W per channel on tap, the result is lifelike performance, exemplified by ultra-low distortion and noise.
Our Flagship Model Builds On Remarkable Success with Advanced Features, Cutting-Edge Technology and High Power
Part of a growing ecosystem of compatible products, BluOS tightly integrates hardware and software for an exceptional user experience. The only true wireless High-Resolution multi-room system available today, BluOS supports the new standard for High Res streaming, Master Quality Authenticated (MQA). BluOS also supports over 20 free and paid subscription services as well as supporting locally stored music libraries. With BluOS, the M33 retains all the audiophile features and further adds a range of facilities that will expand its capabilities yet simplifies ease-of-use at the same time. Operable with the BluOS app, the supplied remote control or through hands-free control with any Amazon Alexa or Google Assistant device, the M33's front panel never needs to be touched.
DIRAC Live Room Correction On Board
Experts agree that room acoustics are the weakest link in most sound systems with room reflections deteriorating tonal balance and dynamics. Dirac, one of the most highly regarded Room Correction systems available, not only adjusts for frequency response, but unlike other room correction systems, it also optimises the impulse response. By optimizing the speaker/room interface, music sounds more natural and lifelike. Supplied with the NAD M33 is a precision microphone to measure the room at and around the listening position so your system can be precisely calibrated for optimum performance. Even the most sophisticated loudspeakers can be markedly improved using Dirac calibration. Each of the 5 Dirac memory slots can store a unique room measurement or different frequency target curves to suit a particular musical taste or genre. The M33 also supports Dirac's advanced 'Bass Control'* feature with two independent subwoofer outputs.
Flexibility Meets Long-Term Value
NAD M33 is very complete with a wide range of in/outputs, BluOS, Dirac, HDMI and more already fully integrated. It will meet the requirements of the most demanding users. To minimize the risk of future obsolescence, the M33 comes with two MDC (Modular Design Construction) slots that allow for further expansion. NAD introduced the MDC platform well over a decade ago and allowed updating products with new technologies which didn't even exist at time of introduction
Connection and Wireless Flexibility
Whether looking to connect digital or analogue sources, the M33 comes well equipped to accommodate for all of these: 6 digital inputs and 3 analogue inputs, including MM phono. Around back, the rear panel hosts two sets of speaker outputs capable of bi-wiring and a stereo Subwoofer Output with a fully configurable Digital Crossover. Airplay 2 and Bluetooth AptX-HD allow for local wireless streaming from a phone or tablet.
*Some features will be available via a future software update
Phono and Headphones Are Not Forgotten
The M33 has a high-quality MM Phono Input that rivals specialized outboard units. Accurate RIAA equalization, a clever phase cancelling infrasonic filter, and a huge overload margin combine to bring out the best in LPs. Furthermore, headphone enthusiasts will delight at the sound of the discrete headphone amplifier, which is able to drive even planar and high impedance studio phones. With high voltage and low output impedance, headphones will sound their best. For those who wish to enjoy their headphones but not be tethered to a cable, the integrated Bluetooth AptX-HD module makes it simple to possible to enjoy wireless headphones as well.
Attractive Design With Outstanding Ergonomics
The all alloy casework is elegant yet practical. The single control knob for volume is supplemented by a colour TFT touchscreen display. Rigid panels with magnetic iso-point feet provide a solid foundation for the multi-layer circuit boards and intricate internal construction. The M33 employs a completely modern and fresh take on the traditional stereo amplifier, with features and performance from the future.
Smart Home Integration Made Easy
BluOS provides hands-free control with full integration of any Amazon Alexa or Google Assistant device. Through Airplay 2, control is also possible with Siri. Considerable effort has been spent to make the M33 fully compatible with all the leading smart home systems from leading companies like Apple, Crestron, Control4, Lutron, KNX and many others. This means that along with lighting, shades, HVAC, and security, the integrator or user can seamlessly control the BluOS multi-room music system from a common interface. All integrations are certified for reliable operation. The custom BluOS Apps for iOS and Android tablets and phones, as well as desktop control from Windows and Apple OS are available free-of-charge and are updated regularly.
Key Features of the NAD Masters M33:
BluOS Streaming DAC Amplifier
Hybrid Digital Purifi Eigentakt™ Amplifier Technology
Continuous Power: 200W into 8/4 Ohms
32-BIT/384kHz ESS Sabre DAC
Dirac Live Room LE Correction*
Colour TFT touch display
BluOS multi-room Integration
2 x MDC Slots for Future Expansion
Wireless control with AirPlay 2 and aptX HD Bluetooth Integration
Comprehensive digital and analog connectivity including HDMI eARC
Integrates seamlessly with leading smarthome control systems
MDC (Modular Design Construction) offers ability to upgrade to future digital formats as they become available. Two MDC slots provided.
CI friendly- RS232 Serial Control Port. Trigger In/Out.
IR In with learning function
Paradigm Founder 100F 5-Driver 3 Way Floor Standing Speaker – Gloss Black – Pair
5-driver, 3 way floor standing, ported enclosure
Founder is no ordinary loudspeaker. We've treated every part, large and small, as if it were the most crucial piece of the whole. Every component has been thoroughly researched, designed, engineered, and tested. Not only are the drivers completely new, so is their mounting hardware, the cabinet's internal structure and shape, and even the feet. By leaving no element unaddressed, we've created something that is much greater than the sum of its parts.
Precision. Control. Dynamics.
These are the pillars the Founder Series was built on.
Every once in a while, something special comes along and changes the rules. The perfect blend of technology, design, and performance. At the start of Founder's development, we knew one thing, when Art Embraces Science, anything is possible, and we exceeded our wildest expectations.
Founder is no ordinary loudspeaker. Every component, large and small, was scrutinized down to the tiniest detail. Every component has been thoroughly researched, designed, and engineered, exclusively for Founder's. New patented technologies were developed for the acoustic platform. The new cabinet platform is not just a stunning design, its unique shape and integrated structural bracing delivers acoustic performance that cannot be matched by traditional square boxes. By leaving no element unaddressed, Founder's is so much more than the sum of its parts.
During our exhaustive research, design, and engineering process, we looked closely and carefully at how speakers interact with their environment. The contemporary home interior presents design challenges that have become even more prominent over the last decade. Stone, glass, and wood have become the materials of choice and open concepts dominate. Founder's design has evolved with this trend and is perfectly suited to deliver its maximum performance in rooms that would challenge traditionally designed speakers. Whether you enjoy movies and music in a more traditional listening space, or your home is from the pages of Architectural Digest, you can be sure Founder will sound as good as they look.
Precision
When we say "precision" we mean the nuance, detail, and realism that is achieved when a speaker "gets it right." Founder series includes many new advances in design, materials, and engineering to provide class defining levels of performance.
Aluminum Magnesium Ceramic (AL-MAC™) High-Frequency Driver
Any high-performance speaker driver (in this case, the tweeter) must be both very strong (to prevent distortion), and very light (to be agile, responsive, and accurate). This quest of design and engineering has led the industry to try many different exotic materials. Some of them found practical application and many did not. AL-MAC is our unique blend of Aluminum, Magnesium, and Ceramic materials; each of which contribute to the end goal of greater accuracy and realism. Their special properties contribute to the final product which is not only strong and lightweight, but embodies a natural anti-resonance to ensure the tweeter doesn't just sound good "on paper" but truly sounds incredible in the real world. Cutting edge technology, with real benefits, in practical applications – this is what the Founder Series is all about.
Aluminum Magnesium (AL-MAG™) Midrange Driver
Similar to the goals we had in mind when developing the AL-MAC tweeter, AL-MAG was conceived to bring the same elevated level of performance to the area where our ears are the most sensitive, the midrange. If you have ever read a speaker review, the midrange typically gets a lot of attention, and rightly so. By nature, human hearing places an emphasis on things like voices so that we know when we're interacting with someone familiar. Think about how instantly recognizable your favorite recording artist or actor's voice sounds. Our goal here was to have the midrange driver sound as realistic as possible. After all, isn't that why you have a nice audio system? To make it sound like, "you are there?" With AL-MAG technology, Founder series comes another step closer.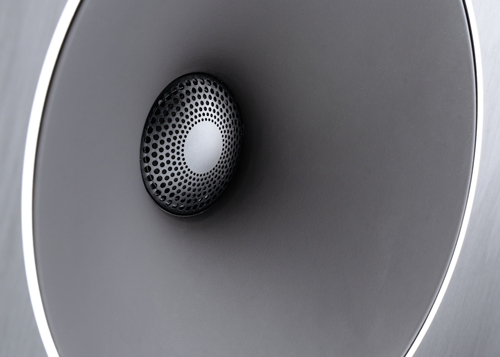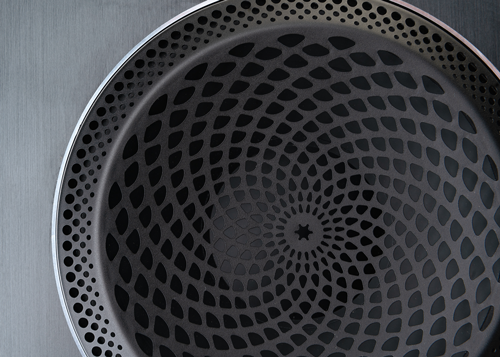 Ultra-High-Excursion CARBON-X Unibody Bass Driver
The foundation of our listening begins with the lowest frequencies. In pursuit of ultimate clarity, we developed new technology, high performance bass drivers for use in the larger floor standing models of the Founder Series. These drivers use a single-piece cone construction for added strength, especially at higher volumes, with the lowest possible mass to ensure every detail can be heard clearly. Combine this with Paradigm's signature ART Surround, and Shock-Mount technologies and you get a bass driver that's both detailed and powerful, as it should be.
Control
Packing incredible technology into a speaker means nothing if the benefits don't reach your ears. By addressing every component, our engineers made sure that you could hear the results of their hard work in any environment.
Oblate Spherical Waveguide (OSW™)
The rooms where we live and listen have changed dramatically over the years. And while home interiors have evolved; many speaker technologies have not kept pace. We believe that speakers should be a natural extension of your room's look and feel, while also providing a noticeable and real-world performance gain. Enter the Oblate Spherical Waveguide (OSW™) tweeter waveguide, only from Paradigm. The OSW™ helps Founder Series Loudspeakers cope with the challenge presented by modern-day environments, which are larger, more open, and full of reflective surfaces. OSW™ technology utilizes a precise, natural geometry to help focus the tweeter output where it matters, the listening area. As you move to the sides of the listening area, tweeter output gradually decreases, avoiding performance-robbing room reflections. Decreased output at the periphery of the room means that sound will not disrupt others that may be in earshot but wish to focus their attention elsewhere. Coupled with a larger, more powerful magnet/motor structure with greater efficiency and lower distortion, OSW™ gives you better sound where you want it, and less distracting sound where you don't. Real solutions for real life.
Perforated Phase-Aligning (PPA™) Lens
Perforated Phase Aligning (PPA™) Lens technology is a perfect example of form meeting function. Not only are the crafted metal parts beautiful to look at, but they protect the driver cone and provide a substantial performance benefit. For added levels of realism, the PPA™ lens works to ensure that all frequencies arrive at the listener's ears at the same time. This means that everything sounds more realistic from the lowest bass, up to the most delicate details. Founder's floor standing models also receive this treatment on their midrange drivers helping to project the sound more predictably at a distance. That makes them ideal for listening from farther away without losing sound quality and detail to the room.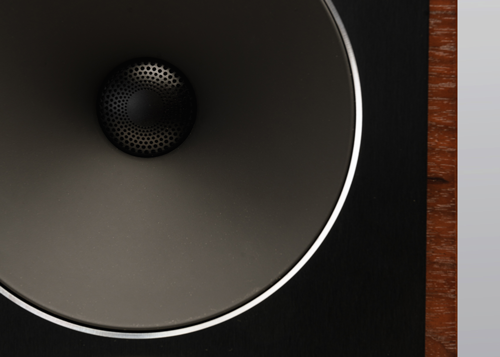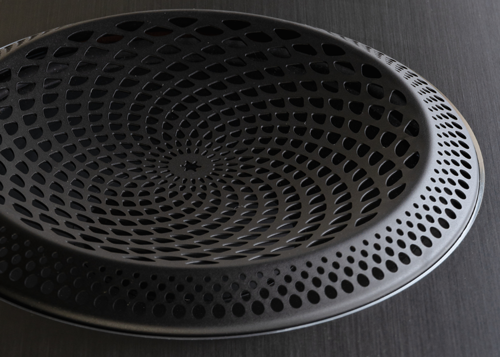 Cascade-Fusion Bracing
The first thing you see on a speaker should be the last thing you hear: the cabinet. Founder Series' cabinets are not only beautiful and unique to the eye, but their design enhances performance. The more rigid and strong a cabinet is, the less resonance and vibration it produces, which invariably improves the sound. The Cascade-Fusion bracing inside the Founder Series' faceted cabinets is engineered to both increase rigidity and break up any standing waves generated by the high output bass drivers. The inherent strength of our unique geometric cabinet also helps distribute energy across a larger surface area providing even greater strength and support than is possible with traditional square cabinet designs. This ultra-rigid construction gives the drivers a neutral platform to play from, resulting in tighter bass, greater clarity, and more precise accuracy. These beautiful cabinets are "seen and not heard".
Advanced Shock-Mount™ System
With Founder series, every detail matters. While all the technologies are something you can hear the benefits of, some are more focused on what you don't hear: distortion. The Shock Mount system is one such special technology that is all about invisibility, both visual and sonic. While we've made our drivers the "Stars of the Show", accompanying technology and innovation ensures that all their benefits reach your ears. Something we're very proud of is the new Advanced Shock Mount system which is specifically designed to control vibration and resonance between the midrange and bass drivers and the cabinet. By mechanically decoupling these drivers from the specially designed and braced enclosure, these performance robbing vibrations are unable to transfer between the drivers and cabinet, or between the cabinet and the drivers. Without these resonances, all drivers are left free to deliver pure, unaltered sound with no audible distortion. We also applied this principle to the enclosure's feet. Shock Mount Feet serve to decouple the speaker cabinet from the floor further controlling and eliminating the harmful effects of extraneous vibration. The feet can even be adjusted from above, without moving or tipping the cabinet making sure you get a perfectly level footing on any surface. Interchangeable hardware is included for both carpet and hardwood floors so that no matter what, you are hearing all the performance you paid for.
Anthem Room Correction (ARC™)
We mentioned earlier that rooms have changed dramatically over the years, yet speakers have not kept pace with the evolution of our living spaces. This is not just a bold claim, we can prove it! Using our world-class room correction system, Anthem Room Correction or ARC, we have collected thousands of data points that paint a clear picture of a room's impact on the sound of your speakers. There is a reason that singing in the shower sounds different than in a living room; the same voice in a different room equals a different sound. The latest version of ARC, ARC Genesis, is an incredibly powerful piece of software that measures exactly what your speakers are doing in your room and tunes them so any harmful effects from your room's acoustics are all but eliminated. ARC Genesis is a tailor-made solution that controls the parts of the room that aren't helping, while keeping the parts that are, leaving you with a cleaner, more accurate sound.
Dynamics
Detail, clarity, accuracy, fidelity – these are words often thrown around to indicate the quality of sound, but what of the quantity? Recreating a live performance takes dynamics, or the ability to recreate quiet sounds, loud sounds, and everything in between. Let's look at how the Founder Series recreates the broadest and most powerful dynamics.
Increasing Useable Output by Decreasing Distortion
All Founder's technologies, from the drivers to the feet and everything in between, are engineered to reduce distortion and provide the most accurate sound possible. Studies have shown that listeners are more tolerant of high output levels when distortion is lower. This essentially proves that it's the "noise" in the sound that bothers us, not necessarily the volume. For those that like it loud, Founder Series is full of technology that lowers distortion and raises the usable volume output. If you enjoy cranking it up, even just occasionally, Founder is an ideal solution, providing more natural, accurate, and pleasing sound not just at lower volumes but also when it's time to rock out. Better sound all the time, this is the way.
High Output, High-Efficiency Components
There is a famous quote that says, "Power is Nothing Without Control" and we couldn't agree more. That's why Paradigm designs speakers that sound clean, controlled, and detailed at any volume. We do this by making sure all driver components are designed for maximum power handling and output. If they can handle high output, everything else is a walk in the park. The voice coil and magnet structure are "where the rubber meets the road" as far as dynamics are concerned. These are the two critical components that actually move a speaker cone back and forth to produce sound. The Founder Series is designed with high power density magnets, high excursion cone surrounds, and multi-layered voice coils. Even the drivers' cooling is addressed in order to keep everything composed even during the most demanding musical passages or intense action scenes. These parts are painstakingly engineered not only to handle more power but also to maintain strong control over the driver to further lower distortion and raise the maximum usable output. After all, if a speaker doesn't sound good while playing loud, then it really can't play loud. In addition to designing the components for high output playback, we also paid attention to efficiency. In this case, that means packing as much performance as possible into a smaller space. Traditional wisdom says there is "no replacement for displacement" so to make a speaker play louder, it needs to be bigger. While it is true that large speakers generally handle higher volumes better than small ones, there is another solution: technology. Paradigm engineers came up with a way to increase the amount of usable cone area while fitting it into the same physical space. When manufacturers list woofer sizes (5.25", 6.5" etc.) they usually measure across the frame of the woofer, not just the usable cone area. This can vary greatly from brand to brand. With our exclusive "Vertical Mounting System", Founder Series provides a more usable cone area in its 5.5", 6", 7" and 8" woofers than do competing designs advertising "larger" sizes. More output and less bulk can only be a good thing. Isn't innovation wonderful?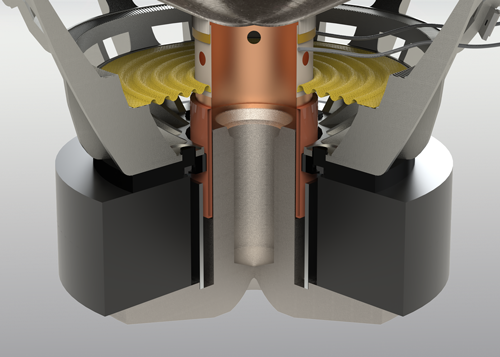 Bi-Amp capable + Hybrid Design
All models in the Founder series can be Bi-amped or Bi-wired. That means two channels of amplification can be run to a single speaker. This not only provides a more direct connection to the components inside the speaker but raises the amount of power available to it. Taking it a step further, the Founder 120H includes an internal 1000-watt amplifier that powers the bass drivers. With this amp doing the heavy lifting, your amplifier is free to handle the mid and high frequencies with far less effort. This hybrid design not only improves the maximum output of the speaker but also allows us to fit this incredible performance into a smaller cabinet that's designed as an integrated system. The 120H's powerful amplifier can also take advantage of our award-winning ARC Genesis room correction system for reference level accuracy regardless of the challenges presented by the room. Since ARC Genesis is part of the internal amp's control system, it can be used with any brand of electronics you wish to connect.
AL-MAC™ High-Frequency Driver
The Founder's tweeter is a 1″ (25mm) Aluminum Magnesium Ceramic (AL-MAC™) dome with a proprietary Oblate Spherical Waveguide (OSW™) and a Perforated Phase-Aligning (PPA™) Lens.
AL-MAG™ Midrange Driver
The Founder's midrange is a 6″ (152mm) Aluminum Magnesium (AL-MAG™) cone with Perforated Phase-Aligning (PPA™) Lens, Advanced SHOCK-MOUNT™ Isolation Mounting System, and a 2" high-temp multi-layered voice coil with ventilated Apical™ former.
Ultra-High-Excursion CARBON-X Unibody Bass Driver
The Founder's Bass driver is a 6" (152mm), 7" (177mm) or 8" (215mm) Ultra-High-Excursion Unibody CARBON-X™ Cone, over-molded Gen3 Active Ridge Technology (ART™) Surround with Vertical Mounting System, Advanced SHOCK-MOUNT™ Isolation and a 1.5" high-temp multi-layered voice coil with ventilated Apical™ former.
Beautiful Premium-Grade Finishes
Founder Series cabinets are offered in a variety of beautiful premium-grade finishes: Walnut and Black Walnut have a smooth satin finish with distinctive wood figuring. Our exclusive Midnight Cherry and Piano Black feature a luxurious hand-rubbed, high-gloss finish.
ADVANCED Shock-Mount™ Feet
Founder Floor standing Speakers include Advanced Shock-Mount™ Feet which decouple the cabinet from the floor, not just once, but twice, for extremely effective vibration decoupling. Interchangeable hardware is included for both carpet and hard surfaces. The feet can be adjusted from above to level the cabinet with ease.
ADVANCED Shock-Mount™ System
The Founder Series midrange and bass drivers are mechanically decoupled from the front baffle by our Advanced SHOCK-MOUNT™ Isolation Mounting System. This special mounting hardware uses an elastomer suspension to prevent any transfer of vibration from the driver to the cabinet, and from the cabinet to the driver. By eliminating resonance, the driver is free to render sound purely and efficiently with no audible distortion and maximum clarity.
Cascade-Fusion Bracing
Cascade-Fusion Bracing inside Founder Series' faceted cabinets increase rigidity and break up standing low-frequency waves. This delivers much tighter bass with greater clarity and accuracy. All bracing is extensively reinforced, making the cabinet into a monolith stronger than the sum of its parts. The inherent strength of the geometric cabinet profile distributes the load points across a larger cabinet area providing greater support and rigidity than can be achieved with traditional square cabinet geometry.
Founder 120H shown
Proudly Crafted in Canada
The Founder Series is completely designed, engineered, and built at our state-of-the-art manufacturing facility just outside of Toronto, Canada. It's made by people who love great audio (just like you). From the hand-chosen, specially engineered components and materials, to the precise workmanship of the non-resonant cabinets with their beautiful premium-grade finishes, Founder Series is truly hand-built for performance. Sure, we could say "Made in Canada," or "Manufactured in Canada." But we believe that building loudspeakers is an art. Everyone at Paradigm shares a passion for crafting speakers, and it's from this intense passion that "Crafted in Canada" was proudly born.
Partnered with the NRC
Paradigm is partnered with Canada's world-renowned NRC in ongoing research to reveal the true nature of sound and human hearing. Findings influence design and performance specs, resulting in a uniquely realistic listening experience, backed by sound science.
The stylish and affordable new Paradigm Monitor SE 3000F Series is the perfect introduction to the world of high performance audio. Sure it's packed with state-of-the-art technology, the kind of stuff only found on speakers that cost much more. But more important, the new Monitor SE Series is part of the Paradigm family of high performance loudspeakers, and just like all Paradigm loudspeakers it's engineered to change the way you think and feel about your entertainment.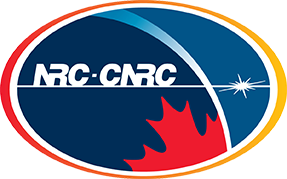 Product: NAD M33 BluOS Streaming DAC Amplifier | Paradigm Founder 100F Floor Standing Speaker - Gloss Black - Pair
NAD M33 Specifications

-Rated output power (ref. 20 Hz-20 kHz at rated THD, both channels driven): >200 W into 8 ohms >380 W into 4 ohms
-Rated output power, Bridge mode (ref. 20 Hz – 20 kHz at rated THD): >700 W into 8 ohms
-Input sensitivity: 865 mV (ref. 200W 8 ohms, Volume maximum)
-THD (20 Hz – 20 kHz): 98 dB (A-weighted, ref. 1 W out in 8 ohms); >120 dB (A-weighted, ref. 200 W out in 8 ohms)
-Clipping power: >210 W (0.1 % THD 1 kHz 8 ohms)
-IHF dynamic power 8 ohms: 260 W
-IHF dynamic power 4 ohms: 520 W
-Peak output current: ≥25 A (in 1 ohm, 1 ms)
-Damping factor: >800 (ref. 8 ohms, 20 Hz to 6.5 kHz)
-Frequency response: ±0.2 dB (20 Hz -20 kHz); -3 dB at 60 kHz
-LINE IN Input Impedance (r and c): 47kΩ/180pF
-LINE IN Input Sensitivity: 280mV (ref. 500mV out, Volume Maximum)
-LINE IN Maximum input level 20Hz-20Khz: 2 Vrms/8 Vrms (low sensitivity mode)
-LINE IN Tone Controls: Treble: ±10dB at 10kHz Bass: ±10dB at 100Hz
-LINE IN Max Output Signal: 4Vrms (ref. 0.1% THD)
-PREOUT Maximum output level: 3.9 Vrms (ref. 0.1% THD)
-PREOUT Signal-to-Noise ratio: >120 dB (A-weighted, ref. 2 V out)
-PREOUT Output impedance: 100 ohms
-SUBOUT Maximum output level: 1.1 Vrms (ref. 0.1 % THD 100Hz)
-SUBOUT Signal-to-Noise ratio: >102 dB (20 Hz-20 kHz, ref. 1V out)
-SUBOUT THD+N: 92 dB
-PHONO Signal to noise ratio (ref. 2 V Preout A-weighted) MC: >76 dB
-PHONO THD+N (ref 2V Preout 1kHz) MM: <0.003 % -PHONO THD+N (ref 2V Preout 1kHz) MC: 100 mW/32 ohms
-AUDIO Supported audio file format: MP3, AAC, WMA, OGG, WMA-L, ALAC, OPUS
-AUDIO Supported high- resolution audio file format: FLAC, MQA, WAV, AIFF
-AUDIO Sampling rate: up to 192 kHz
-AUDIO Bit depths: 16 – 24
-Network connectivity: Gigabit Ethernet RJ45; Wi-Fi 5
-Supported network file share protocol; Server Message Block (SMB)
-USB: 1 x Type-A port for connection to USB memory stick (FAT32 or NTFS formatted) and supported peripherals
-Bluetooth quality: aptX HD 5.0
-Bluetooth connectivity: Two-Way (Receive and Headphone modes)
-Supported operating system: Music playback from network shares on the following desktop operating systems: Microsoft Windows XP, 2000, Vista, 7, 8 to current Windows Operating Systems and macOS versions**
-Mobile Application: Free BluOS Controller App available for download from the respective App stores of Apple iOS devices (iPad, iPhone and iPod), Android devices, Kindle Fire and Windows or macOS desktops
-Front panel: 7-inch full colour touch screen
-Remote control: HTRM 2 remote control
-Auto Standby ON; <0.5W -Idle Power: <40W -Dimensions WxHxD: 435 x 133 x 396 mm (17 1/8 x 5 1/4 x 15 5/8") -Net Weight: 9.7kg (21.4lb) -Shipping Weight: 18.4kg (40.6 lb)

Bluetooth

Yes

Color

Gloss Black, Silver

Watts Per Channel

151 to 250w

Amplifier - DAC

Yes

Amplifier Channels

2

Paradigm Founder 100F Specifications

-DESIGN: 5-driver, 3 way floorstanding, ported enclosure
-CROSSOVER: 2nd order electro-acoustic at 2.1 kHz (tweeter), 2nd order @ 500 Hz (bass)
-FREQUENCY RESPONSE ON-AXIS: ±2dB from 42 Hz – 23 kHz
-HIGH FREQUENCY DRIVER: 1" (25mm) AL-MAC™ Ceramic Dome with Oblate Spheroid Waveguide (OSW™) and Perforated Phase-Aligning (PPA™) Tweeter Lens, ferro-fluid damped / cooled
-BASS FREQUENCY DRIVER: Three 7" (177mm) Ultra-HighExcursion CARBON-X™ Unibody Cone, Gen3 Active Ridge Technology (ART™) with Vertical Mounting System, Advanced SHOCK-MOUNT™ Isolation, and a 1.5" high-temp multi-layered voice coil with ventilated Apical™ former
-MIDRANGE FREQUENCY DRIVER: 6" (152mm) AL-MAG™ Cone with Perforated Phase-Aligning (PPA™) Lens, SHOCKMOUNT™ Isolation Mounting System, and a 2" high-temp multi-layered voice coil with ventilated Apical™ former
-LOW FREQUENCY EXTENSION: 26 Hz (DIN)
-SENSITIVITY ROOM / ANECHOIC: 93 dB / 90 dB
-FREQUENCY RESPONSE: 30° OFF-AXIS±2dB from 42 Hz – 20 kHz
-SUITABLE AMPLIFIER POWER RANGE: 15 – 350 watts
-MAXIMUM INPUT POWER: 250 watts
-IMPEDANCE: Compatible with 8 ohms
-DIMENSIONS HXWXD: 41.9" x 12.9" x 16.1" (106.5cm x 32.8cm x 40.9cm)
-WEIGHT: 72 lbs (32.7 kg) each
-FINISHES: Piano Black, Black Walnut, Midnight Cherry, Walnut

Speaker Sensitivity

91 – 95 db

Impedance

8 Ω

Number of Speakers

2 Speakers
Estimated Shipping
When you add an item to your cart the Estimated Shipping* cost will be shown.  This estimated shipping* cost is accurate to most major city locations across Canada.  If the shipping cost is higher than the estimated shipping* then GibbysESM will contact you for approval before we process your order.
To learn more click Shipping Terms & Conditions
NAD Canada 3 Years Limited Manufacturers Warranty | Paradigm Canada 5 Year Limited Warranty