Nest Hub Max | Nest Smart Lock | Nest Battery Powered Indoor/Outdoor Cam | Nest Indoor Cam | Nest Hello WiFi Video Doorbell
Special Order - Call to Inquire about Purchasing
$1,555.00
Payments as low as
$129.58/mo
Special Order - Call to Inquire about Purchasing
30 DAY RETURN POLICY
LOW PRICE GUARANTEE
Product Description
Features & Specifications
Documents
Warranty
Nest Hub Max | Nest Smart Lock | Nest Battery Powered Indoor/Outdoor Cam | Nest Indoor Cam | Nest Hello WiFi Video Doorbell
This Bundle Includes: 
(1) Nest Hub Max Smart Display with Google Assistant – Chalk White
(1) Nest X YALE Smart Lock With Nest Connect
(1) Nest GA01317-CA Battery Powered Indoor/Outdoor Security Camera – White
(1) Nest NC3100EF Cam Indoor Security Camera – White
(1) Nest NC5100EF Hello Smart WiFi Video Doorbell with HD Camera and 2-Way Talk
Nest Hub Max Smart Display with Google Assistant – Chalk White
Streamline your life and stay in touch with family and friends using the Google Nest Hub Max. Voice-controlled with Google Assistant, the 10″ HD touchscreen lets you make video calls with Google Duo, while its built-in speakers with a 30W subwoofer give you high-quality audio. Its 6.5MP Nest Cam features motion detection and remote viewing for peace of mind.
FEATURES
10″ HD touchscreen and stereo speakers with a 30W subwoofer bring your movies, music, and video calls to life
With Google Assistant, control more than 1,000 compatible lights, cameras, TVs, and more (all sold separately) with your voice
Calendar, commute, reminders, and to-do lists appear on the home screen to keep the whole family organized
Google Duo lets you easily connect with multiple family or friends at once on a group call
With Google Meet, start a video meeting for larger celebrations or gatherings with up to 100 people
6.5MP Nest Cam detects motion and provides live views from anywhere, so you can keep an eye on things at home
Nest Aware subscription (sold separately) gives you features such as video recording and familiar face alerts
Apps such as Chromecast, YouTube, Spotify, and more put entertainment right at your fingertips
Watch your favorite Netflix shows on your Google Nest display
Nest X YALE Smart Lock With Nest Connect
Most locks are made for keys, this lock is made for people
Yale knows secure locks. Nest knows the connected home. Together, we've made a tamper-proof, key-free deadbolt that connects to the Nest app.  Now you can lock and unlock your door from anywhere with the X YALE. Give people you trust a passcode, instead of a key. Lock and check your door status with your voice using the Google Assistant. And always know who comes and goes.
It's secure and tamper-proof
The Nest X YALE Lock replaces the deadbolt you already have. If someone tries to tamper with it, you'll get an alert. If the batteries start running low, you'll know right away and if your lock loses power, you can quickly charge it with a 9V battery to unlock the door.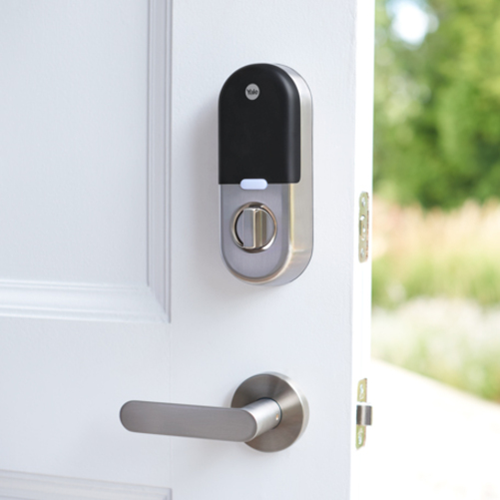 Meet the secure, tamper-proof lock from Nest and Yale. It's keyless, so you can lock and unlock the door from anywhere with the Nest app.* Give people you trust a passcode and get alerts when they come and go. And lock the door with a tap. If you forget, the Nest X YALE Lock even reminds you. The Nest and Yale Lock connects to your Wi-Fi and the Nest app through the included Nest Connect. * Some features, including mobile alerts, remote control and custom schedules, require the Nest app, working internet and Wi-Fi, and Nest Connect or Nest Guard.
Features:
-Includes: Nest X YALE Lock, Nest Connect, Deadbolt Strike and Mounting Hardware, 4 AA Batteries, Installation Manual and Door Template
-Tamper-proof key free, connected deadbolt lock
-Remote control from the Nest app
-Know who's coming in and out of your home
-Create up to 20 unique pass codes for family and friends
-Never hide a key again, create unique entry codes for the people you trust. Delete codes anytime you need to
-Replaces your existing deadbolt in minutes on standard doors, 1-3/4″ to 2-1/4″ thick with just a screwdriver. The free BILT app walks you through installing your lock.
-Comes with the Nest Connect so you can control the lock from anywhere.
-Features a BHMA Grade 2 certified deadbolt that's fully motorized and super quiet.
-Works with Nest Secure so you can arm your home when the door locks.
Nest GA01317-CA Battery Powered Indoor/Outdoor Security Camera – White
Get alerts for what matters.
Who's in the garden? Did the newspaper already arrive? With 24/7 live view and with 3 hours of free event-based recording, Nest Cam helps you look after your home.
More relevant alerts.
Nest Cam sends you an alert when it spots a vehicle or person. And if you have a Nest Aware subscription, you can even recognize familiar faces. Select an area you want to check in on near your home, like your driveway, and then customize which alerts you'll receive.
See clearly.
HDR and night vision help with bright, high-contrast sunlight, and give you a better image even in low light and darkness. Day or night, you can easily tell who is on or near your property.
Go back in time.
Nest Cam sends you an alert when it spots a vehicle or person. And if you have a Nest Aware subscription, you can even recognize familiar faces. Select an area you want to check in on near your home, like your driveway, and then customize which alerts you'll receive.
Intelligent alerts delivered right to your phone.
-Person seen
-Animal seen
-Vehicle seen
-Familiar faces (with Nest Aware)
Indoors or outdoors, rain or shine.
Nest Cam is battery powered, which means installation is as easy as hanging a picture frame. Get one Nest Cam or a few to put inside or outside, anywhere you want to check in from.
Snap it into place. Anywhere.
Battery-powered installation is easy. You can put Nest Cam almost anywhere that you want, outside or in.2 And as it's battery-powered, you don't need to install it near an electrical socket.
Weather the elements.
Nest Cam is battery-powered and weather resistant, and you can recharge it at any time.
Compatible with most homes.
Nest Cam is designed to go anywhere. Plus, you can add an optional stand for an easy indoor placement. Shown with optional stand.
Take action in an instant.
Nest Cam lets you check the live feed, talk through the camera, zoom in and more.
Look closer to see details.
See something? Zoom in to get a closer look. You can save and share clips from your phone, too.
Talk through the camera.
Two-way talk helps you easily interact with delivery persons or other visitors through a built-in speaker and mic.
Stay connected.
If your Wi-Fi goes down or there's a power outage, Nest Cam will automatically store up to one hour of recorded events in its local memory.6 When things are up and running again, you'll be able to see exactly what happened. And just in case, if someone removes your camera without permission, we'll replace it for free.
Shed more light on your security.
Spotlight any moment, even when the sun goes down. Install Nest Cam with floodlight (coming soon) to light the way for guests or draw attention to unexpected visitors
Accessories to enhance your space.
With a range of convenient accessories, Nest Cam is designed to be versatile.
Indoor stand
Set your Nest Cam on a shelf with the available stand to make indoor placement easier. The built-in cable provides continuous power.
Weatherproof cable
If you're installing Nest Cam outside, you have the option to hardwire it with the weatherproof cable – no charging required. And when you wire your Nest Cam, you also get access to additional Nest Aware features.
Requirements:
Compatible mobile device (minimum OS requirements are available at g.co/nest/requirements)
Nest Cam requires a Wi-Fi network, a working broadband Internet connection with at least 2 Mbps upload speed per camera for optimal performance (DSL may not qualify), a compatible mobile device, the free Home app and a Google Account.
Works with Hey Google features require additional hardware, which could include a Google Nest device.
Minimum requirements are available at g.co/nest/requirements.
Video streaming, phone alerts and history may be subject to interruptions or failures for reasons beyond Google's control, like intermittent Wi-Fi or service provider outages.
Nest Cam does not provide third-party monitored emergency notification or response.
Availability and performance of certain features and services are service, device and network dependent and may not be available in all areas.
Nest NC3100EF Cam Indoor Security Camera – White
Google Nest NC3100EF Cam IQ indoor camera is your personal smart home security assistant! This smart security camera captures video in crisp full HD and features advanced algorithms that can identify when people are in the room. Using the Nest application, your indoor camera can send you alerts when it sensors motion, and lets you hear what's going on, and communicate with anyone in the room. Two-way audio features a high-definition speaker, reducing ambient noise and enhancing your voice so you can communicate with visitors. Google Nest Cam IQ indoor camera can be used as a personal Google that you can voice control. It automatically zooms in and tracks intruders in crystal clear videoSmart enough to tell a person from a thing, then alert you
-Ask it questions, tell it to do things, its your own personal Google, always ready to help
-HD talk and listen: hear exactly what's happening and talk back clearly and seamlessly to family and pets
-High definition talk and listen reduces ambient noise so visitors come through loud and clear
-3-hour snapshot history: review what happened in the Nest app, even if you missed an alert
Features:
6-core processor
Google Assistant built in
Don't miss a thing with the new Nest Aware
Knows a person from a thing with Nest Aware
Vision so visionary we call it Super sight
Speaks loudly and carries a big microphone
1080p HD
Plug-In Power Source
Nest NC5100EF Hello Smart WiFi Video Doorbell with HD Camera and 2-Way Talk
A standard doorbell lets you know that someone is at the door. The Nest NC5100EF Hello is equipped with a camera that lets you see exactly who it is, and two-way talk so you can chat with them before you let them in. It sends notifications when it detects people. That way you can see if an expected package is delivered, and whether it stays where it belongs.
Nest NC5100EF Hello keeps an eye on your front porch by looking at the big, sharp picture the Hello's 3-megapixel camera shows you. It has 8X digital zoom capability  and night vision that helps you  see what you need to see, when you need to see it. You can set it up for 24/7 streaming, and check in from anywhere at any time.
SAY HELLO, EVEN WHEN YOU CAN'T
Nest NC5100EF Hello's HD Talk and Listen reduces ambient noise so visitors come through loud and clear. And when you can't answer, quick responses let you reply to visitors with different prerecorded messages.
YOUR VIDEO STAYS SAFELY IN THE CLOUD
We encrypt our connections. Keep data safe and private. And we work hard to protect your information.
PART OF YOUR SMART HOME NETORK
The Nest NC5100EF Hello connects to your existing Wi-Fi® network, and ties into your Nest account so it works with your other Nest devices, as well as everything else that works with Nest.
Product: Nest Hub Max | Nest Smart Lock | Nest Battery Powered Indoor/Outdoor Cam | Nest Indoor Cam | Nest Hello WiFi Video Doorbell
Specifications

Camera: 6.5 megapixel camera with wide field of view (FOV) and smart framing
Dimensions and Weight: 9.85" (W) x 7.9" (H)
Colours: Chalk White
Display: 10" HD touchscreen
Speakers and Mic: Stereo speaker system
Sensors: Ambient EQ light sensor
Connectivity: Wi-Fi and Bluetooth support
Power: 30 W power adopter
Ports: DC power jack
Operating System: Android IOS1

X YALE Specifications

ADI Part Number: 1M-540WV619
Brand Name: Google Nest
Manufacturer: Google, Inc
Manufacturer Part Number: RB-YRD540-WV-619
Product Name: Yale Lock
Product Type: Smart Deadbolt

Features: Auto Lock, Key-free, Remote Monitoring Capabilities, Touchscreen Keypad

Touchscreen: Yes
Wireless LAN: Yes
Power Source: Battery
Battery Chemistry; Alkaline
Battery Size Supported: AA
Number of Batteries Supported: 4

Depth: 0.80" (20.32 mm)
Durability; Tamper Proof
Finishing: Satin Nickel
Height: 4.59" (116.59 mm)
Weight (Approximate); 1.03 kg
Width: 2.59" (65.79 mm)
Environmental Certification: RoHS
Environmentally Friendly: Yes
Package Contents: Yale Lock, Installation Guide with removable door template, Strike Plate, Mounting Screws, 4 x AA Alkaline Batteries

GA01317-CA Specifications

What's Included
• 1 x Nest Cam camera
• Magnetic plate
• Wall plate
• 2 x Wall anchors
• 2 x Wall screws
• 1 x Charging cable, 1 m (3.3 ft)
• 1 x Power adapter
• Quick Start Guide
• Safety and warranty document

Dimensions
Width: 3.27 inches
Height: 3.27 inches
Depth: 3.27 inches
Weight: 0.88 pounds

Technical Specifications
Camera: 6.46 mm (1/2.8 inch), two-megapixel sensor, 130° diagonal field of view, 6x digital
Video: Up to 1080p at 30 FPS, HDR, 24/7 live view, Night Vision with HDR, H.264 encoding
Video history: Up to 3 hours of event-based video history (included), Captures and stores video
Audio: High-quality speaker and microphone, Full-duplex 2-way audio with noise
Motion detection: Single motion sensor, 110° horizontal field of view, Up to 7.5 m (25 ft)
Night Vision: Up to 6 m illumination, 6 high-power 850 nm infrared LEDs
Wireless: 802.11b/g/n (2.4 GHz) Wi-Fi, Bluetooth® Low Energy (BLE), WEP, WPA, WPA2, WPA3
Security: On-device machine learning, Secure boot, Automatic security updates, 128-bit
Ports and connectors: Nest Cam uses a proprietary magnetic connector
Power: 6 Ah lithium-ion battery, Learn more at g.co/nest/camlife., 1 m (3.3 ft) indoor rated
Mounting options: Mounts to wall with two screws, Sticks magnetically to a metallic surface
Operating temperature: -20°C to 40°C (-4°F to 104°F)
Weather resistance: IP54
Lights: RGB status LED
Colour: Snow
Green/td>: Nest Cam is sustainably designed with 47% post-consumer recycled material
Languages: English, Danish, Dutch, Finnish, French, German, Italian, Japanese, Norwegian, Spanish, Swedish

NC3100EF Specifications

Wall Mount Included: No
Wi-fi Compatibility: Yes
Works With Amazon Alexa: Yes
Works With Android: Yes
Works With Apple Homekit: No
Works With Ios: Yes
Works With Nest: Yes
Works With Smartthings: Yes
Works With Google Assistant: Yes
App Compatibility: Yes
Audio Detection: Yes
Audio Microphone: Yes
Audio Speaker: Yes
Bluetooth Compatibility: Yes
Color/finish Family; White
Connectivity: Wired
External Memory: Internet cloud-based
Facial Recognition; Yes
Hub Required: No
Image Encryption: No
Image Type: Color
Image Zoom: Yes
Indoor/outdoor: Indoor only
Installation Required: Yes
Internal Memory: No internal memory
Kit: No
Model Description: Nest Camera IQ Indoor
Monitor Size: Not included
Motion Sensor: Yes
Night Vision Capable: Yes
Night Vision Range; Less than 15-ft
Number Of Cameras Included: 1 NA
Output To Computer: No
Output To Dvr: Yes
Output To Mobile: Yes
Output To Tv: No
Power Source; Plug-in
Record Capable: Yes
Series Name: Nest IQ
Technology: Digital
Total Cameras Supported: 1
Touchscreen Monitor: No
Two-way Communication: Yes
Use Location: Indoor
Used For: Security camera
Video Output: Mobile device
Viewing Modes: Manual and simultaneous
Voice Controlled: Yes

NC5100EF Specifications

General Specs
– Power requirements: 16V AC–24V AC; requires a 10VA transformer and wired doorbell
– Camera: 1/3-inch, 3-megapixel (2K) color sensor, 8x digital zoom
– Video: HD UXGA 1600 x 1200, up to 30 frames/sec, H.264 encoding, HDR
– Field of view: 160° diagonal
– Audio: High-quality speaker and microphone
– Lights: RGB light ring and status light
– Night Vision: 850 nm infrared LEDs
– Operating temperature: 14° to 104°F (–10° to 40°C)
– Weather resistance: IPx4 rating
– Security: 128-bit AES with TLS/SSL
– Weight: 4.28 oz (121.6 g)
– Requires a wired doorbell and chime.

Wireless
– Wi-Fi 802.11a/b/g/n/ac, 2.4GHz or 5GHz (WEP, WPA, WPA2 encryption supported)
– Bluetooth Low Energy (BLE)
– 802.15.4 at 2.4GHz

Connectivity Requirements
– Wi-Fi 802.11a/b/g/n/ac, 2.4GHz or 5GHz (WEP, WPA, WPA2 encryption supported)
– Working broadband internet connection with at least 2 Mbps upload speed (DSL may not qualify)
– Requires a compatible phone or tablet with the free Nest app and Bluetooth 4.0

Bandwidth Requirements
At 1600×1200, Google Nest Hello requires 800 to 2000 Kbps of upload bandwidth while streaming video. Nest Hello will use more bandwidth to stream video when there is more motion in the scene. If you subscribe to Nest Aware, your Nest Hello streams all video to the cloud for secure offsite storage. At 1600×1200, each Google Nest Hello could use 150GB to 600GB of upload bandwidth per month depending on the video quality setting.

In the Box
– Google Nest Hello video doorbell
– Chime connector
– 15° wedge
– Release tool
– Masonry drill bit
– Window decal
– Wall plate
– Extension wires
– Wall anchors
– Screws
– Quick Start Guide
Estimated Shipping
When you add an item to your cart the Estimated Shipping* cost will be shown.  This estimated shipping* cost is accurate to most major city locations across Canada.  If the shipping cost is higher than the estimated shipping* then GibbysESM will contact you for approval before we process your order.
To learn more click Shipping Terms & Conditions
Nest Canada 1 Year Manufacturers Warranty – Hub Max, GA01317-CA, NC3100EF
Nest Canada 2 Year Limited Warranty – NC5100EF
Nest Canada Lifetime Warranty – X YALE