Nest Hub Max Smart Display | Nest Wi-Fi Thermostat E – White | Nest Temperature Sensor – 3 Pack
Special Order - Call to Inquire about Purchasing
$549.00
Payments as low as
$45.75/mo
Special Order - Call to Inquire about Purchasing
30 DAY RETURN POLICY
LOW PRICE GUARANTEE
Product Description
Features & Specifications
Shipping
Documents
Warranty
Nest Hub Max Smart Display | Nest Wi-Fi Thermostat E – White | Nest Temperature Sensor – 3 Pack
This Bundle Includes:
(1) Nest Hub Max Smart Display with Google Assistant – Chalk White
(1) Nest T4000EF Wi-Fi Thermostat E – White
(1) Nest T5001SF Temperature Sensor – 3 Pack
Nest Hub Max Smart Display with Google Assistant – Chalk White
Streamline your life and stay in touch with family and friends using the Google Nest Hub Max. Voice-controlled with Google Assistant, the 10″ HD touchscreen lets you make video calls with Google Duo, while its built-in speakers with a 30W subwoofer give you high-quality audio. Its 6.5MP Nest Cam features motion detection and remote viewing for peace of mind.
FEATURES
10″ HD touchscreen and stereo speakers with a 30W subwoofer bring your movies, music, and video calls to life
With Google Assistant, control more than 1,000 compatible lights, cameras, TVs, and more (all sold separately) with your voice
Calendar, commute, reminders, and to-do lists appear on the home screen to keep the whole family organized
Google Duo lets you easily connect with multiple family or friends at once on a group call
With Google Meet, start a video meeting for larger celebrations or gatherings with up to 100 people
6.5MP Nest Cam detects motion and provides live views from anywhere, so you can keep an eye on things at home
Nest Aware subscription (sold separately) gives you features such as video recording and familiar face alerts
Apps such as Chromecast, YouTube, Spotify, and more put entertainment right at your fingertips
Watch your favorite Netflix shows on your Google Nest display
Nest T4000EF Wi-Fi Thermostat E – White
It's easy to save energy.
Meet the Nest Thermostat E.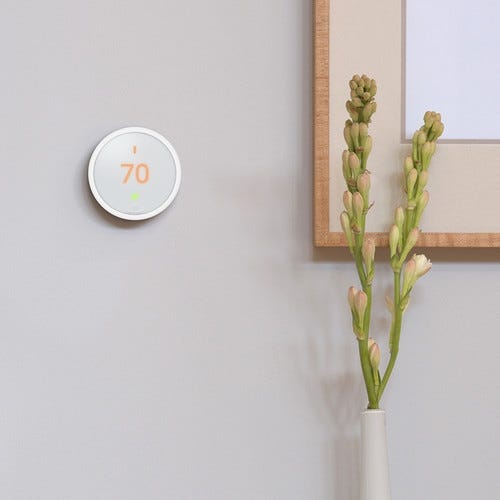 Turn it up or down from anywhere.
You can change the temperature with the Nest app on your phone, tablet or laptop. Or just use your voice with your home assistant.
It saves energy. And keeps you cozy.
The Nest Thermostat E is all set with a simple schedule to help you save from day one.³ It knows when everyone has left the house, then turns itself down so that you're not heating an empty home. And when you change to an energy-saving temperature, you'll see the Nest Leaf.
Meet the Heat Link E.
The Heat Link E connects to your heating system and works with the Nest Thermostat E to turn on and off or modulate the heat. It can also sense the temperature in the room.
It blends in beautifully.
The frosted display shows you the temperature when you're up close, then it all disappears when you walk away. And you can place the Nest Thermostat E on a table or desk in a room that matters most.
It's easy to install yourself.
Most people install the Nest Thermostat E in 60 minutes or less, because you don't need to access your heating system. The Heat Link E goes in the same spot as your current wired thermostat. And you can put the Nest Thermostat E anywhere you like.
Nest T5001SF Temperature Sensor – 3 Pack
The right temperature, right where you want it.
Most homes aren't the same temperature in every room. Maybe the living room gets too warm or the baby's room is too cold. With the Nest T5001SF Temperature Sensor, you can let your Nest thermostat know which room should be a certain temperature at a certain time of day. And that room will always be the most comfortable. Just place it on a wall or shelf and get the right temperature, right where you want it.
Requires:
Requires a 3rd generation T5001SF (T3017CA, T3016CA)  or a Nest Thermostat E. (T4000EF)
The Google Nest T5001SF Temperature Sensor 3-pack allows you to maintain a comfortable temperature in any room of your house. These diminutive devices work by sensing and communicating the temperature in a room to compatible Google Nest thermostats, which enables you to adjust the room temperature to what you want it to be. These sensors are equipped with Bluetooth Low Energy wireless technology, and have a working range of up to 50′ away from your Nest Thermostat. The included CR2 3V lithium batteries deliver up to 2 years of battery life. The free Nest app for iOS and Android devices enables simple setup and customization.
Features:
-Senses and communicates temperature to compatible Google Nest thermostats
-Offers flexible placement on a wall or shelf
-You can place temperature sensors in different rooms, and choose which room to prioritize
-Up to 6 Google Nest Temperature Sensors supported per connected thermostat, and up to 18 Google Nest Temperature Sensors supported per home
-Weighs only 1.6 oz.
Product: Nest Hub Max Smart Display | Nest Wi-Fi Thermostat E – White | Nest Temperature Sensor – 3 Pack
Specifications

Camera: 6.5 megapixel camera with wide field of view (FOV) and smart framing
Dimensions and Weight: 9.85" (W) x 7.9" (H)
Colours: Chalk White
Display: 10" HD touchscreen
Speakers and Mic: Stereo speaker system
Sensors: Ambient EQ light sensor
Connectivity: Wi-Fi and Bluetooth support
Power: 30 W power adopter
Ports: DC power jack
Operating System: Android IOS1

T4000EF Specifications

Battery Chemistry: Lithium Ion (Li-Ion)
Smart Connect: Yes
Depth: 3.21" (81.60 mm)
Height: 3.72" (94.40 mm)
Product Color: White
Width: 3.21" (81.60 mm)
Application Usage: Notebook, Smartphone, Tablet
Package Contents: Thermostat E, Heat Link E, Power adapter, Display, Base, Trim plate, Screws, Terminal blocks, Installation guide, Quick Start Guide, Welcome Guide

Color
White

T5001SF Specifications

Brand Name: Google
Manufacturer: Google, Inc
Manufacturer Part Number: T5001SF
Packaged Quantity: 3
Product Name: Temperature Sensor
Product Type: Temperature Sensor
Temperature Range: 32°F (0°C) to 104°F (40°C)
Form Factor: Shelf Mountable, Wall Mountable
Height: 0.80" (20.32 mm)
Product Color: White
Weight (Approximate): 45.4 g
Certifications & Standards: UL 60730-2-9, Particular Requirements for Temperature Sensing Controls
Compatibility: Nest Thermostat (3rd generation), Nest Thermostat E
Environmental Certification: REACH, RoHS
Environmentally Friendly: Yes
Package Contents: Temperature Sensor, Mounting Screws, Installation Card, 1 x CR2 3V lithium Battery
Estimated Shipping
When you add an item to your cart the Estimated Shipping* cost will be shown.  This estimated shipping* cost is accurate to most major city locations across Canada.  If the shipping cost is higher than the estimated shipping* then GibbysESM will contact you for approval before we process your order.
To learn more click Shipping Terms & Conditions
Nest Canada Offers a 1 Year Manufacturers Warranty – Hub Max, T5001SF
Nest Canada 2 Year Limited Manufacturers Warranty – T4000EF