Nest T4000EF Wi-Fi Thermostat E – White
Product Description
Features & Specifications
Shipping
Documents
Warranty
Nest T4000EF Wi-Fi Thermostat E – White
It's easy to save energy.
Meet the Nest Thermostat E.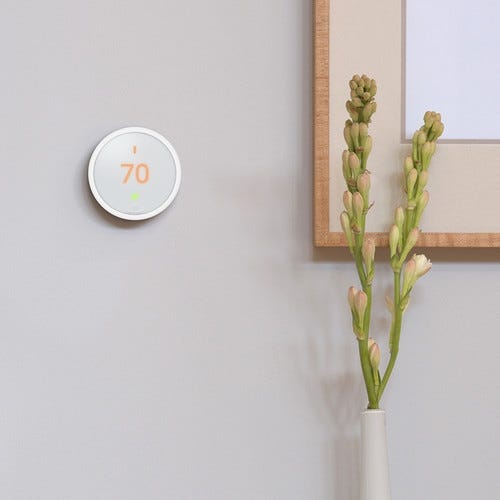 Turn it up or down from anywhere.
You can change the temperature with the Nest app on your phone, tablet or laptop. Or just use your voice with your home assistant.
It saves energy. And keeps you cozy.
The Nest Thermostat E is all set with a simple schedule to help you save from day one.³ It knows when everyone has left the house, then turns itself down so that you're not heating an empty home. And when you change to an energy-saving temperature, you'll see the Nest Leaf.
Meet the Heat Link E.
The Heat Link E connects to your heating system and works with the Nest Thermostat E to turn on and off or modulate the heat. It can also sense the temperature in the room.
It blends in beautifully.
The frosted display shows you the temperature when you're up close, then it all disappears when you walk away. And you can place the Nest Thermostat E on a table or desk in a room that matters most.
It's easy to install yourself.
Most people install the Nest Thermostat E in 60 minutes or less, because you don't need to access your heating system. The Heat Link E goes in the same spot as your current wired thermostat. And you can put the Nest Thermostat E anywhere you like.
Product: Nest T4000EF Wi-Fi Thermostat E - White
Specifications

Battery Chemistry: Lithium Ion (Li-Ion)
Smart Connect: Yes
Depth: 3.21" (81.60 mm)
Height: 3.72" (94.40 mm)
Product Color: White
Width: 3.21" (81.60 mm)
Application Usage: Notebook, Smartphone, Tablet
Package Contents: Thermostat E, Heat Link E, Power adapter, Display, Base, Trim plate, Screws, Terminal blocks, Installation guide, Quick Start Guide, Welcome Guide

Color
Estimated Shipping
When you add an item to your cart the Estimated Shipping* cost will be shown.  This estimated shipping* cost is accurate to most major city locations across Canada.  If the shipping cost is higher than the estimated shipping* then GibbysESM will contact you for approval before we process your order.
To learn more click Shipping Terms & Conditions
Nest Canada 2 Year Limited Manufacturers Warranty