OmniMount AB1 Speaker Mount – Each – Clearance
With the OmniMount AB1 Speaker Mount you can make the most of your home audio or stereo system for better sound distribution. Designed to support up to 2.5 lbs (1.1 kg), the Omnimount AB1 speaker mount is part of the AudioBasics Series: made of durable injection-molded, glass reinforced nylon, it provides maximum support in a lightweight mount.
Allowing great flexibility, the base of the mount can be fully rotated while the rest of the mount offers pan and tilt adjustments. Included are two extensions that allow for different lengths, and a complete hardware kit to smooth the installation process.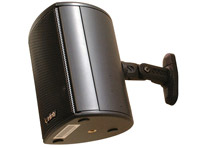 Features:
Injection molded, glass reinforced nylon
Suitable for all-weather use
Maximum flexibility: 360º base rotation, up to 180º pan and +/- 30º tilt
Mount on wall or ceiling
Includes two extensions that create three different lengths
Includes complete hardware kit