OmniMount CMK Mini Paintable Cable Management System
The white OmniMount CMK Paintable Cable Management System provides a clean, finished appearance for any flat panel install where wires aren't run through the wall. Simply guide the wires through the channel and snap on the covers. These covers can be cut to your desired length, and painted to match your walls. Both screws and double-sided adhesive are included for mounting. Additionally, the included 90 degree elbow lets you mount your wires either vertically or horizontally. Featuring a width of 2.3″, the system can be used to conceal several cables.
With a width of 2.3″, CMK MINI conceals multiple cables, wires or cords by guiding them through a rigid and modular channel. Just snap on the covers—it's that easy. When running cords through the wall is not an option, OmniMount cable management systems are a great addition to a TV or monitor installation, ensuring a clean and sleek presentation.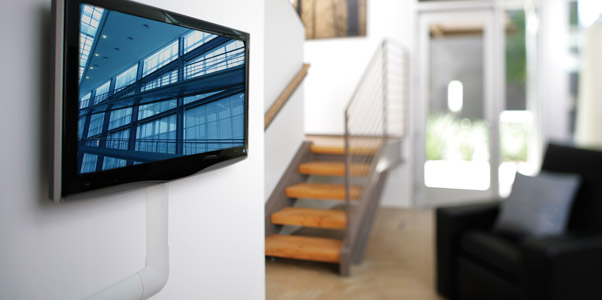 Features:
Modular design allows for any configuration
Covers can be cut to desired length
Can be painted to match any wall
Mount using screws or double sided adhesive; both are included
Route wires vertically or horizontally with 90 degree elbow
Comes with installation template to smooth the installation process