OmniMount OWS60 AV Wall Shelf Mount – Black
OmniNount OWS60 AV Wall Shelf Mount
Create a minimalist look with an AV wall shelf – no need for furniture!
Store and display your tech gear beneath your TV
Wall shelf easily accommodates a sound bar or side-by-side components
Under-shelf cubby houses small components and electronic accessories
In Stock Now ! Limited Quantities
Save $120.00
$129.99
$249.99
Payments as low as
$10.83/mo
In Stock Now ! Limited Quantities
30 DAY RETURN POLICY
LOW PRICE GUARANTEE
Product Description
Features & Specifications
Shipping
Documents
Warranty
OmniNount OWS60 AV Wall Shelf Mount
The OmniMount OWS60 is a sleek extra-wide glass shelf and cubby for keeping tech gadgets under your wall mounted TV—a great alternative to furniture. The shelf's design looks great with large flat screen TVs and holds a variety of audio and video components weighing up to 60 lbs.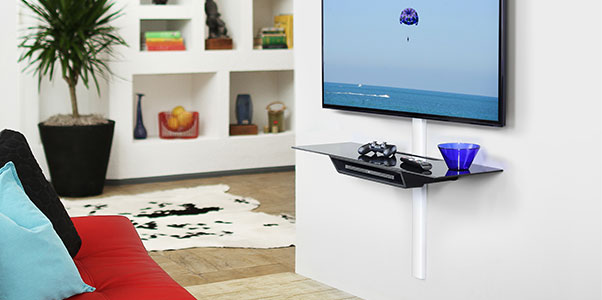 Features:
Create a minimalist look with an AV wall shelf – no need for furniture!
Works with TVs of any size
Store and display your tech gear beneath your TV
Includes hassle-free cable channel system for routing and concealing wires on the wall
Cable channel can be painted or trimmed
Wall shelf easily accommodates a sound bar or side-by-side components
Under-shelf cubby houses small components and electronic accessories
Cubby easily accommodates a surge protector power strip
Simple installation
Post-installation leveling for added ease of install
Mount in the desired spot regardless of stud location
Use alone or with multiple OWS60 shelves
Includes complete hardware kit for drywall or wood stud
Adjustable shelf height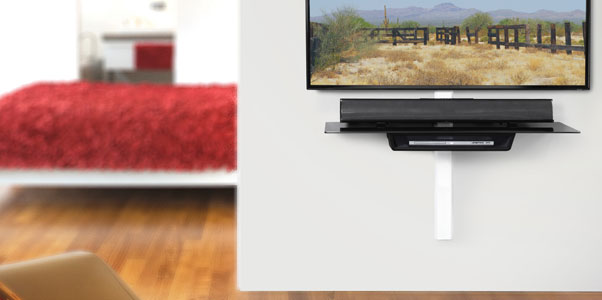 Product: OmniMount OWS60 AV Wall Shelf Mount – Black
Estimated Shipping
When you add an item to your cart the Estimated Shipping* cost will be shown.  This estimated shipping* cost is accurate to most major city locations across Canada.  If the shipping cost is higher than the estimated shipping* then GibbysESM will contact you for approval before we process your order.
To learn more click Shipping Terms & Conditions
OmniMount Canada 1 Year Limited Warranty