---
Pioneer SPH-10BT Audio Digital Media Receiver
---
Pioneer SPH-10BT Audio Digital Media Receiver
Alexa Built-in When Paired with Pioneer Smart Sync App
Made for iPhone® Connectivity
Compatible with Android™ Smartphones
Bluetooth® Connectivity
Built-in Cradle for Smartphone
Special Order - Due to severe manufacturer shortages on this product please call the store for availability details
$219.99
Payments as low as
$18.33/mo
---
Special Order - Due to severe manufacturer shortages on this product please call the store for availability details
Availability:
Out of stock
Product Description
Features & Specifications
Shipping
Documents
Warranty
Pioneer SPH-10BT Audio Digital Media Receiver
Pioneer's SPH-10BT, the perfect match for today's on-the-go lifestyle, offers a new approach to smartphone connectivity. Simply mount your smartphone¹ in the built-in cradle², then connect (either wirelessly or wired,) to the Pioneer Smart Sync app³ and enjoy a smarter connected driving experience. Specially designed for easy use, the SPH-10BT features direct access buttons that work with the Pioneer Smart Sync app to bring multimedia capabilities such as navigation, hands-free calling, messaging, and voice-command to a single-DIN receiver.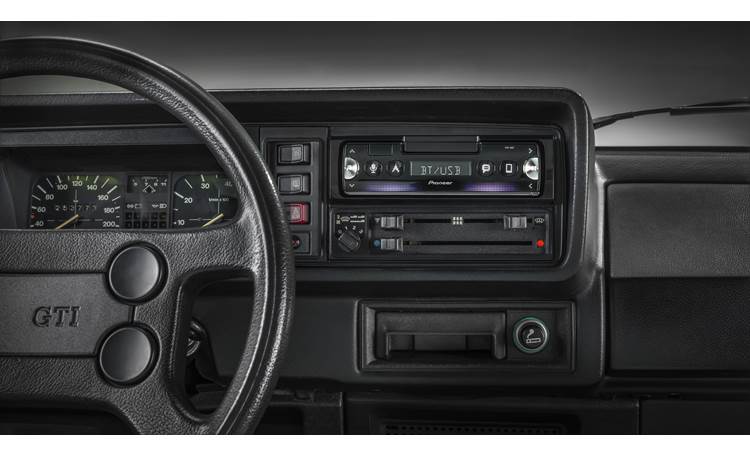 Pioneer Smart Sync
Integrate Your Smartphone with Your Receiver. Pioneer Smart Sync is a highly evolved app available for both iOS and Android OS that utilizes the power of a connected smartphone to expand the features and user interface of compatible Pioneer in-dash receivers. With support for either a Bluetooth® or USB connection, the link between your smartphone and the in-dash receiver can be either wired or wireless. Through Pioneer Smart Sync, you can access many popular smartphone apps for maps, messages, music and more.
Pioneer Smart Sync now features Amazon Alexa Built-in. Just download or update to the latest version of the Pioneer Smart Sync app and download the Alexa app. Using Alexa with Pioneer Smart Sync is simple – just tap-and-ask – you can ask to play music, hear the news, check weather, control smart home devices1, and more. Alexa lives in the cloud, so it's always getting smarter, adding new capabilities that are delivered to your device automatically. To learn more about the Pioneer Smart Sync app, visit www.pioneer-carglobal.com/pss.
Compatible CD Receivers feature designated buttons for Navi, and BASS Boost. The Rotary knob that triggers system to read messages out loud.
Download the Pioneer Smart Sync app on the Apple® App Store and Google Play Store.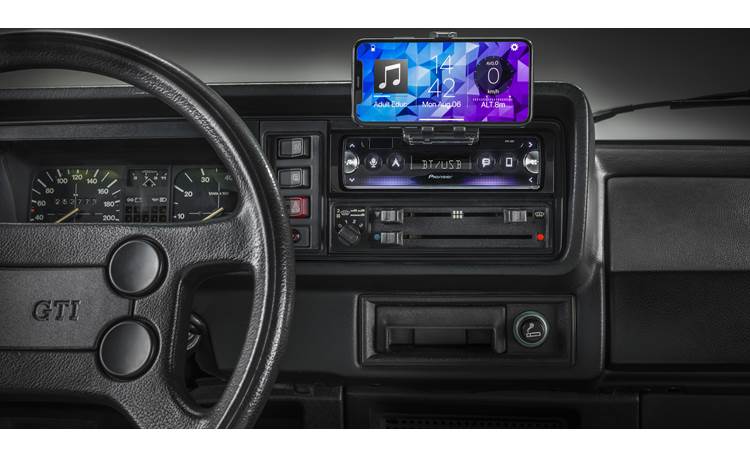 Back-Up Sensors
Get obstacle detection on your smartphone display when used in conjunction with the ND-PS1 Rear Parking Sensors (sold separately, requires professional installation) and the Pioneer Smart Sync App.
Hands-Free Calling and Audio Streaming
Stay safe and obey local hands-free laws with built-in Bluetooth (HFP). Easily pair a Bluetooth enabled phone to the SPH-10BT without having to go through complicated settings. When a registered Bluetooth device is in proximity to the receiver, the auto connection function automatically pairs the two units.
From hands-free calling, wireless audio streaming (A2DP) with artist, album, and song search*, simple pairing, and control audio (AVRCP profile), Bluetooth® wireless technology has made life in the vehicle much more convenient.
The SPH-10BT with Bluetooth also includes superior call quality reception using Wideband Speech Handsfree Profile 1.6. Wideband Speech nearly doubles the bandwidth of frequencies of a normal Bluetooth call (when compared to calls without Wideband Speech)**.
Other features include the ability to browse music libraries on smartphones wirelessly.
*Search functions vary by phone.
**Call quality depends on wireless provider's support of HFP 1.6.
Smartphone Control
Access music on your smartphone directly from the Pioneer receiver. Search for Artist, Albums and Songs using Pioneer's intuitive interface. With Pioneer receivers you can also access and control select music and radio apps on your smartphone.
Android Music Support
Users of devices running Android OS version 4.0 or later can connect to the SPH-10BT and listen to music stored on the device without the need for an app. The process is made possible using Media Transfer Protocol (MTP), which allows the receiver to recognize the Android smartphone as a music storage device. Operate basic functions like FF, REW, Play, Pause, Random Play, and Repeat and view Metadata information such as track, artist, and album name.
USB Direct Control for iPhone
Pioneer's SPH-10BT is ready to roll with direct connectivity to your iPhone** for music and video via USB. Song, artist, time and album information are beautifully displayed on the 6.2″ touchscreen. The system's wired USB connection provides direct digital signal transfer from the device for clean, clear sound while providing 1.5 amp of current to keep your iPod/iPhone charged.
** Requires iPhone 5 or newer. Compatibility with unit and operations may vary depending on iOS version.
FLAC Codec Support
FLAC compatible Pioneer Car Stereo Receivers upgrade in-car audio with amazing sound reproduction. FLAC (Free Losssless Audio Codec) files are 50-50% smaller than WAV files, yet retain the integrity of the original sound sources. FLAC playback is possible at up to 44.1khz sampling frequency and 16-bit bitrate for files stored on a USB thumb drive
Product: Pioneer SPH-10BT Audio Digital Media Receiver
Estimated Shipping
When you add an item to your cart the Estimated Shipping* cost will be shown.  This estimated shipping* cost is accurate to most major city locations across Canada.  If the shipping cost is higher than the estimated shipping* then GibbysESM will contact you for approval before we process your order.
To learn more click Shipping Terms & Conditions
Pioneer Canada Offers One ( 1 ) Year Limited Manufacturers Warranty