Pioneer TS-A301D4 12″ – 1600 W Dual 4 Ohm Component Subwoofer
Pioneer TS-A301D4 Champion Series 12″ – 1600 W Dual 4 Ohm Component Subwoofer
1600 W Max Power/500 W Nominal Power
Dual Voice Coil
Honeycomb IMPP™ Composite Cone Structure
Dual layer fiber reinforced elastic polymer surround
New!
Save $20.00
$159.99
$179.99
Payments as low as
$13.33/mo
30 DAY RETURN POLICY
LOW PRICE GUARANTEE
Product Description
Features & Specifications
Shipping
Documents
Warranty
Pioneer TS-A301D4 Champion Series 12″ – 1600 W Dual 4 Ohm Component Subwoofer
The TS-A301D4 Champion Series subwoofers have evolved from Pioneer's award winning "SPL Champion Edition" lineup, known for its deep and powerful bass production. The TS-A301D4 12" dual-voice coil component subwoofer features a re-designed large and powerful motor assembly for improved efficiency and sensitivity. The subwoofer baskets are optimized using a reinforced structure design for added strength and reduced vibration to deliver excellent sound quality. This subwoofer has continuous power of 500 watts with a maximum peak of 1,600 watts. It features an advanced 2-piece cone designed with a highly rigid and durable Honeycomb IMPP™ composite cone structure plus a rigid drive cone to deliver high output levels with reduced distortion.
Bring your tunes alive
I don't think it's an exaggeration to say that a good sub will make your car's sound system come alive, and Pioneer's Champion Series subs provide the deep low-frequency punch to make it happen. The TS-A301D4 12″ subwoofer handles up to 500 watts RMS while pumping out loud, clean bass. This sub features Pioneer's  Honeycomb IMPP™ cone for exceptional strength and a dual-layer, fiber and reinforced elastic surround that supports the woofer during cone excursion for accurate, hard-hitting bass notes when you crank the tunes.
Enhance your ride
This potent Pioneer's dual 4-ohm voice coils give you more wiring options when setting up your system. Throw one or two of these subs in your ride, power them up with a nice amp, and you'll understand — whatever you listen to, great bass will make it sound much, much better.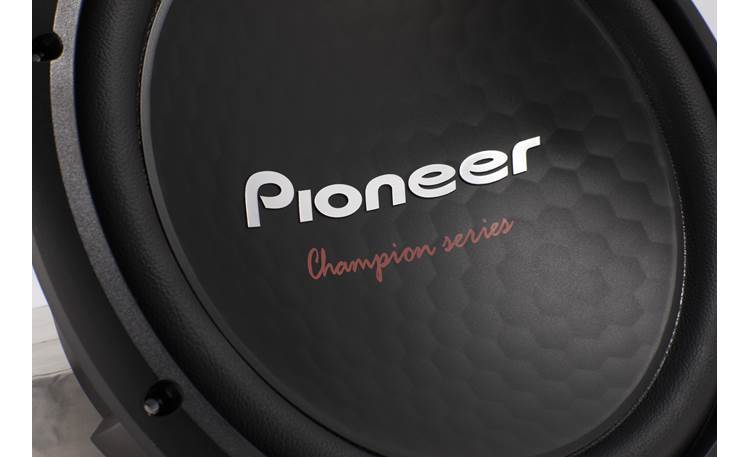 Features
Woofer Cone: Pioneer uses an IMPP (Injection Molded Polypropylene) woofer cone. This process of cone molding assures a uniform cone thickness for superior linearity and clarity.
Dual 4Ω Voice Coils: This woofer features two 4Ω voice coils that offer wiring flexibility. When the voice coils are wired in parallel, the woofer presents a 2Ω load. When the voice coils are wired in series, the woofer presents an 8Ω load.
Terminals: The spring post terminals will accept pin connectors, single banana plugs, or bare wire up to 10 gauge.
Sealed Box Volume: Pioneer recommends a sealed enclosure with an internal volume between 0.85 ft³ and 1.75 ft³, with an ideal volume of 1.25 ft³. Sealed enclosures provide the most control over the woofer, will handle a lot of power, and provide accurate sonic reproduction, making them suitable to all types of music.
Ported Box Volume: The recommended ported box volume ranges from 1.25 ft³ to 2.0 ft³, with the ideal size being 1.5 ft³, using a single 3″ diameter x 6½" long port. Ported (or vented) enclosures typically provide better overall efficiency than sealed, maximizing bass output for a given amplifier.
Free-Air: The woofer can also be mounted in free air to a baffle board (infinite baffle, no enclosure). When mounted in free air, the power handling is reduced by 75% (to 125 watts).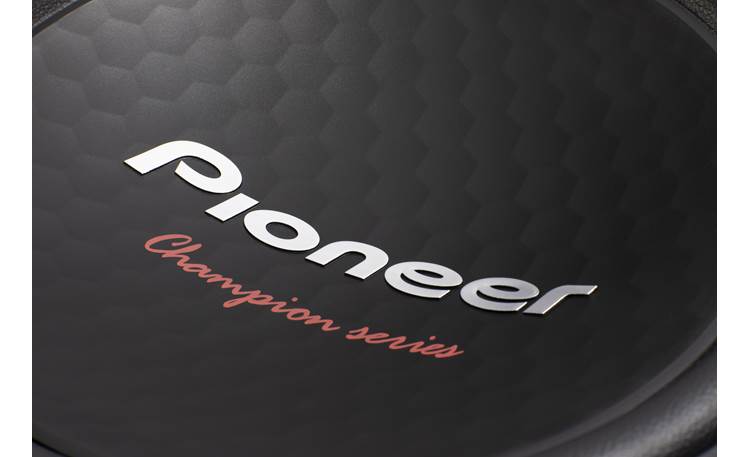 TS-A301D4 Highlights:
12″ subwoofer with dual 4-ohm voice coils
injection-molded polypropylene/glass fiber/mica cone
elastic polymer/reinforced fiber surround
power handling: 500 watts RMS (250 watts per coil)
1600 watts peak power handling
frequency response: 20-1600 Hz
sensitivity: 92 dB
mounting depth: 6.125″
sealed box volume: 1.25 cubic feet
ported box volume: 1.5 cubic feet
Product: Pioneer TS-A301D4 12" - 1600 W Dual 4 Ohm Component Subwoofer
Standards & Performance

Continuous Power Handling (RMS): 500 W
Frequency Range: 20 Hz to 1.6 kHz
Maximum Peak Power Handling – Watts: 1600 W
Nominal Load Impedance: 4-ohm
Sensitivity (1W/1m): 92 dB
System-Type: Component

Features

Cut Out dimensions: 11.125"
Equivalent Compliance (VAS): 37.7
Free Air Resonance (Fs): 38
Linear Excursion (Xmax): 11.3
Port Diameter: 3"
Port Length: 6.5"
Recommended Ported Box volume: 1.5 Cu Ft / 42.5 Liters
Recommended Sealed Enclosure Volume: 1.25 Cu Ft / 35.4 Liters
Subwoofer Mounting Depth: 6.125"
Total Speaker "Q" (Qts): 0.73

Materials

Basket Material: Steel
Center Cap Material: Polypropylene
Damper: Poly cotton
Drive Cone Material: Cellulose Fiber
Installation Ring: ABS
Magnet Material: Ferrite
Magnet Weight: 90 oz
Surround Material: Elastic Polymer / Reinforced Fiber
Surround Type: Rolled
Voice Coil Bobbin: Aluminum
Voice Coil Type: Dual
Voice Coil wire: Copper
Wire Terminals: Push Type

What's in the Box

Pioneer TS-A301D4 owner's manual
One 12" Dual 4-ohm voice coil woofer
Eight 1-1/8" Screws
Adhesive backed foam gasket
Manual (English/ French/ Spanish/ Portuguese)
Warranty information

Car Subwoofer Features
Car Subwoofer Size
Impedance
RMS Power
Estimated Shipping
When you add an item to your cart the Estimated Shipping* cost will be shown.  This estimated shipping* cost is accurate to most major city locations across Canada.  If the shipping cost is higher than the estimated shipping* then GibbysESM will contact you for approval before we process your order.
To learn more click Shipping Terms & Conditions
Pioneer Canada 1 Year Limited Warranty