Pioneer TS-ME770FS 7.7″ 2-Way Coaxial 250w Marine Speakers with Sports Grilles – Pair
Pioneer TS-ME770FS 7.7″ 2-Way Coaxial 250w Marine Speakers with Sports Grilles – Pair
75 Watts Nominal Power
Handles up to 75 watts RMS (250 watts peak power)
Frequency response: 32-23,000 Hz
Impedance: 4 ohms
Sensitivity: 88 dB
Order Now - In Stock Today!
$399.99
Payments as low as
$33.33/mo
Order Now - In Stock Today!
30 DAY RETURN POLICY
LOW PRICE GUARANTEE
Product Description
Features & Specifications
Shipping
Documents
Warranty
Pioneer TS-ME770FS 7.7″ 2-Way Coaxial 250w Marine Speakers with Sports Grilles – Pair
Pioneer TS-ME770FS speakers are protected from the effects of sun and water exposure, meeting both IPX7 and ASTM D4329 certification to achieve all-weather reliability.
Awesome sound and bright RGB lights
Pioneer's TS-ME770FS marine speakers give you big, bold sound when you're out having fun on the water. These 7.7″ speakers have super-stiff mica-reinforced polypropylene cones, durable butyl rubber surrounds, and great-sounding neodymium dome tweeters mounted directly to the grilles for optimal sound.
Built tough for boating life
Life on the water can be hard on electronics, but these speakers can stand up to just about anything. They're IPX7-rated for water resistance and built to withstand punishing sunlight that can weaken lesser speakers. The grilles look terrific, of course, but they're also durable enough to survive in harsh marine environments.
Add a little light
Want to bring cool-looking RGB LED lighting to your boat? Pioneer's UD-ME770LED RGB LED Kit is designed to work with these TS-ME770FS speakers and made for marine use.
Choose the look you like
These speakers are available in two styles. There's the sleek white Classic grille design, or you can go with Sport grilles, which come with both black and white grilles.
TS-ME770FS

Features
Marine-Tested: The speakers meet both IPX7 (water immersion) and ASTM D4329 (UV exposure) marine certifications.
Woofers: Each woofer cone is mica reinforced injection-molded polypropylene (IMPP). This process of cone molding assures a uniform cone thickness for superior linearity and clarity. Additionally, the cones are lightweight and rigid for decreased distortion and superior bass response.
Tweeters: The tweeters are bridge mounted to the grilles, rather than to a pole piece, thus there is no chance of water leaking through the woofer cone.
Optional LEDs: The optional UD-ME770LED kit (sold separately) can be added the the speakers, offering multi-color illumination to the cones.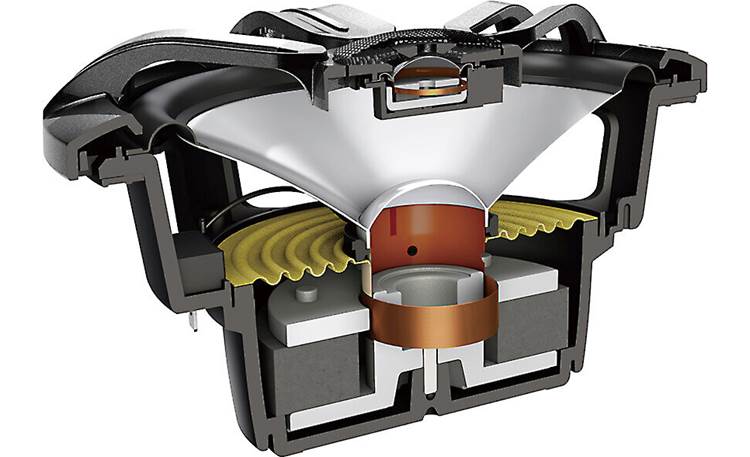 Product: Pioneer TS-ME770FS 7.7" 2-Way Coaxial 250w Marine Speakers with Sports Grilles - Pair
General

Size: 7.7"
Design: 2-Way Coaxial System
Tweeter Design: 7/8" Dome
Tweeter Composition: Polyimide
Tweeter Magnet Composition: Neodymium
Woofer Composition: Injected Molded Polypropylene™
Woofer Surround: Rubber
Woofer Magnet Composition: Ferrite

Marine

Water Resistant: IPX7
UV Resistant: ASTM D4329
Grille Style: Black and White Sports Included

Installation Specifications

Max. Music Power (Nominal): 75W RMS / 250W PEAK
Frequency Response: 32Hz to 23kHz
Sensitivity (1W/1 m): 88 dB
Impedance: 4 Ohms
Crossover Frequency: 3.0 kHz
Mounting Depth: 3-1/8"
Cut-Out Dimensions: 6-1/4"

Speaker Design
Speaker Sensitivity
Speaker Size
RMS Power
Impedance
Estimated Shipping
When you add an item to your cart the Estimated Shipping* cost will be shown.  This estimated shipping* cost is accurate to most major city locations across Canada.  If the shipping cost is higher than the estimated shipping* then GibbysESM will contact you for approval before we process your order.
To learn more click Shipping Terms & Conditions
Pioneer Canada 1 Year Limited Warranty