Pioneer TS-MR1600 Nautica Series 6.5″ 2-Way Coaxial Marine Speakers
Pioneer TS-MR1600 Nautica Series 6.5″ 2-Way Coaxial Marine Speakers
100W maximum power handling, 25W nominal
Water-resistant white IMPP composite woofer
Dual cone tweeter
6'5″ speaker resists water, corrosion and heat
Order Now - In Stock Today!
$89.99
Payments as low as
$7.50/mo
Order Now - In Stock Today!
30 DAY RETURN POLICY
LOW PRICE GUARANTEE
Product Description
Features & Specifications
Shipping
Documents
Warranty
Pioneer TS-MR1600 Nautica Series 6.5″ 2-Way Coaxial Marine Speakers
The Pioneer TS-MR1600 is built specifically for marine use. Water. Salt. Sunlight. Heat. These are typical boating conditions that eat ordinary speakers for lunch.  Its heavy-duty construction resists all these nasty conditions, delivering rich, full music to an afternoon cruise or a happy hour docked.
Dual-cone quality for your boat
When it comes to marine speakers, great sound is nothing without great reliability. Pioneer's Nautica TS-MR1600 6-1/2″ speakers are built for life on the water, so they'll stand up to moisture, sunlight, and extreme temperatures without missing a beat.
IMPP Composite Cone – Pioneer's popular injection molded polypylene (IMPP) cones produce outstanding mid-bass response and resist the effects of salt, water, humidity and extreme heat. Elastomer Surround – Each speaker utilizes an elastomer surround that resists color fading or running, which extends the longevity of the product. Acrylonitrile-Elastomer Styrene (AES) Glass Fiber Reinforced Basket/Magnet Cover – The AES cover protects the magnetic circuit that can affect the performance of the
speaker. The speakers also sport the pure white AES grilles to resist fading and yellowing caused by direct sunlight and heat. Gold Tinsel Wire – Gold tinsel wire and gold plated wire terminals are used for better current transfer.
Built for life on the water
Pioneer's water-resistant IMPP (injection-molded polypropylene, in case you were wondering…) woofer cones are bonded to weather- and water-resistant elastomer surrounds. With low-frequency response down to 30 Hz, they'll give you full, deep lows and smooth highs, whether you're blasting across the lake or hanging out at the dock.
With rigged glass-fiber reinforced baskets, corrosion-resistant mounting hardware, and gold-plated tinsel leads and speaker terminals, these speakers are definitely tough enough for marine duty. And the sleek white grilles are made to resist fading and yellowing.
Handles up to 100 watts peak power (25 watts RMS),6-1/2″ water-resistant white IMPP composite woofer cone offers high rigidity and minimal resonance for full, deep bass dual cone tweeter provides crisp dynamic highs acrylonitrile-Elastomer Styrene glass fiber-reinforced cover protects the magnetic circuit. Frequency response: 30Hz – 30kHz. Sensitivity: 90dB. Impedance: 4 ohms.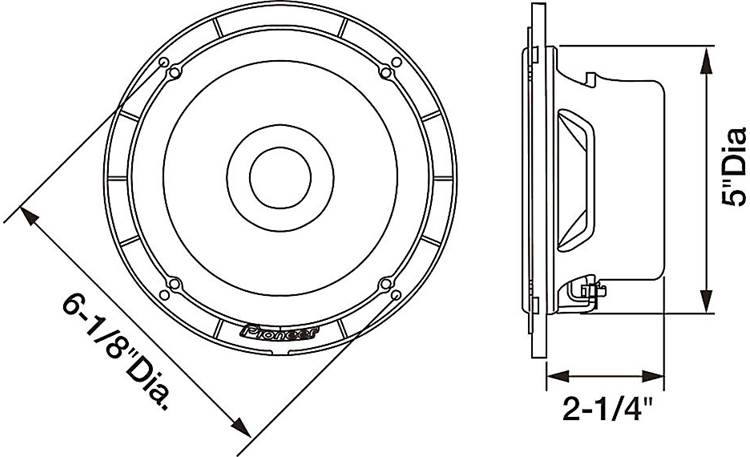 Product: Pioneer TS-MR1600 Nautica Series 6.5" 2-Way Coaxial Marine Speakers
Specifications

Size: 6-1/2"
Cone Material: Water-Resistant IMPP
Frequency Response: 30 Hz to 20 kHz
Impedance: 4 Ω
Mounting Depth: 2-1/4"
Cut-Out Dimensions: 5"
Design: 2-way
Tweeter Design: Cone
Woofer Composition: IMPP
Woofer Surround: Elastomer
Sensitivity: 90 dB at 1 watt
Max RMS Power Handling: 25
Peak Power Handling (Watts): 100
Top-mount Depth (Inches): 2 1/4
Cutout Diameter or Length (inches): 5 1/16

What's in the Box

Two dual cone speakers
2 Grilles
Eight 1-1/8" Stainless steel screws
8 Stainless steel speed clips
Warranty information
Specifications and template on box

Speaker Size
RMS Power
Speaker Design
Estimated Shipping
When you add an item to your cart the Estimated Shipping* cost will be shown.  This estimated shipping* cost is accurate to most major city locations across Canada.  If the shipping cost is higher than the estimated shipping* then GibbysESM will contact you for approval before we process your order.
To learn more click Shipping Terms & Conditions
Pioneer 1 Year Limited Warranty