Samsung QN75LST9TAFXZC 75″ The Terrace Full Sun Outdoor TV | HW-LST70T/ZC The Terrace Outdoor 3.0 Channel Soundbar
Samsung QN75LST9TAFXZC 75″ The Terrace Full Sun Outdoor TV | HW-LST70T/ZC The Terrace Outdoor 3.0 Channel Soundbar
This Bundle Includes:
(1) Samsung QN75LST9TAFXZC 75″ The Terrace Full Sun Outdoor TV
(1) Samsung HW-LST70T/ZC The Terrace Outdoor Soundbar
Samsung Electronics recently announced that all models of The Terrace TV, the premium product line designed for outdoor lifestyles, have become the first in the TV industry to be verified for outdoor visibility performance. This verification comes from U.S.-based Underwriters Laboratories (UL), a global independent safety science organization with over a century of experience in driving safety solution innovation.
Special Order
Save $4,700.00
$11,496.00
$16,196.00
Payments as low as
$958.00/mo
30 DAY RETURN POLICY
LOW PRICE GUARANTEE
Product Description
Features & Specifications
Documents
Warranty
Samsung QN75LST9TAFXZC 75″ The Terrace Full Sun Outdoor TV | HW-LST70T/ZC The Terrace Outdoor 3.0 Channel Soundbar
This Bundle Includes:
(1) Samsung QN75LST9TAFXZC 75″ The Terrace Full Sun Outdoor TV
(1) Samsung HW-LST70T/ZC The Terrace Outdoor Soundbar
Samsung QN75LST9TAFXZC 75″ The Terrace Full Sun Outdoor TV
Direct-sun Protection
Built exclusively to be outside, The Samsung QN75LST9TAFXZC TV lets you enjoy your entertainment with crystal clarity even on the sunniest days.
Ultra Bright Picture Quality
Enjoy QLED picture quality you expect from an indoor Samsung TV at your favourite place outside of your home. The Terrace offers you an immersive viewing experience with 1,500 nits brightness.
More ways to enjoy TV
Control your TV with just your voice, and dive into a world of content with just a click. The Terrace is loaded with ways to give you a simple and fun viewing experience.
Weather-Resistant Durability (IP55 Rated)
The Terrace is your year-round solution for outdoor entertainment. Its IP55 Weather-Resistant rating delivers performance and protection from the outdoor elements including humidity, dust, and heat, installed in a shaded area.
QLED 4K MR120
The Terrace features 100% Colour Volume technology which delivers rich and accurate 4K QLED colour quality in every scene, even in the sunlight. An impressive, high motion rate cuts out the blur between fast-paced images for an ultra-smooth viewing experience for gaming or when watching sports, movies, and more.
Anti-Reflection
The Terrace features impressive anti-reflection technology, greatly reducing TV reflection and glare while also enhancing picture contrast level. Sunny days are now perfect days to enjoy your favourite content outdoors.
Direct Full Array 16x
Precisely controlled backlights intelligently adjust to deliver richer blacks. Brace yourself for crisp details with sharp contrast.
4K AI Upscaling
4K AI upscaling uses Samsung's powerful Quantum Processor, automatically analyzing the input source to reduce image noise, restore lost detail, and define edges around objects and text.
Adaptive Picture
Actively adapt to the viewing environment by automatically adjusting the brightness. Experience excellent picture, regardless of time of day or content you're watching.
HDR 24x
Quantum HDR 24x sets the new standard for incredible detail and brightness. Enjoy rich, accurate colour and deep contrast with crisp details. The dynamic tone mapping of HDR10+ shifts colour and contrast scene by scene, allowing you to appreciate even the slightest nuances.
Tap View
Mirroring movies or music from your smartphone to TV is as simple as a tap. When you tap TV with your smartphone, the TV senses the tap and mirrors automatically.
Multi View
Bring the content on The Terrace and your mobile together, watch your mobile content next to your TV content on The Terrace. You can adjust the screen size and the volume of each content as you need.
Samsung HW-LST70T/ZC The Terrace Outdoor Soundbar
Designed for the Outdoors
Audio optimized with the outdoors in mind. Pair Samsung HW-LST70T/ZC with The Terrace TV for clear sound and picture quality, even while outside.
Outdoor Optimized Sound
The Samsung HW-LST70T/ZC Terrace Soundbar provides high-quality audio powerful enough for the outdoors and includes a center channel (3.0CH) for crystal clear dialogue.
Weather-Resistant Durability IP55 Rated
Resistant to extreme temperatures, and is best in class IP55-rated for weather resistant durability against water and dust.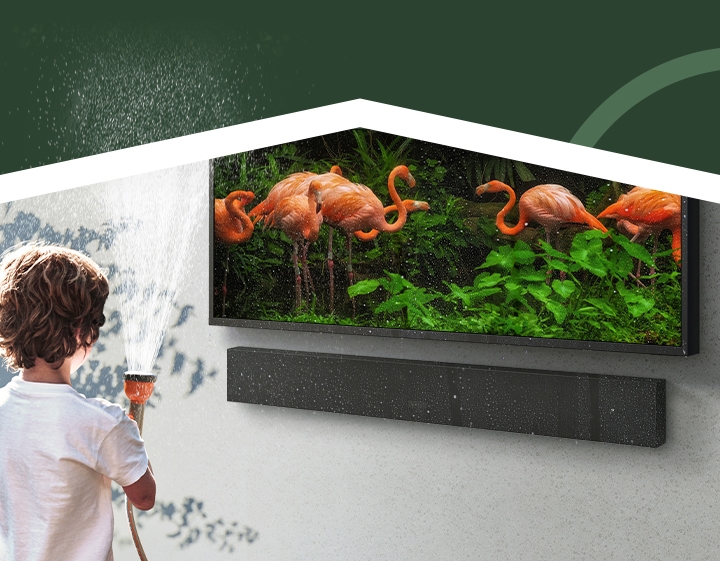 Built-in Woofer (210W)
Experience Samsung HW-LST70T/ZC 210 watts of sound with the deep rich bass of the built-in woofer.
Distortion Cancelling
Samsung HW-LST70T/ZC Distortion Cancelling technology reduces distortion before it happens, for deep bass and dynamic audio.
Wi-Fi & Bluetooth®? Streaming
Stream music by connecting wirelessly to other devices via Wi-Fi and Bluetooth®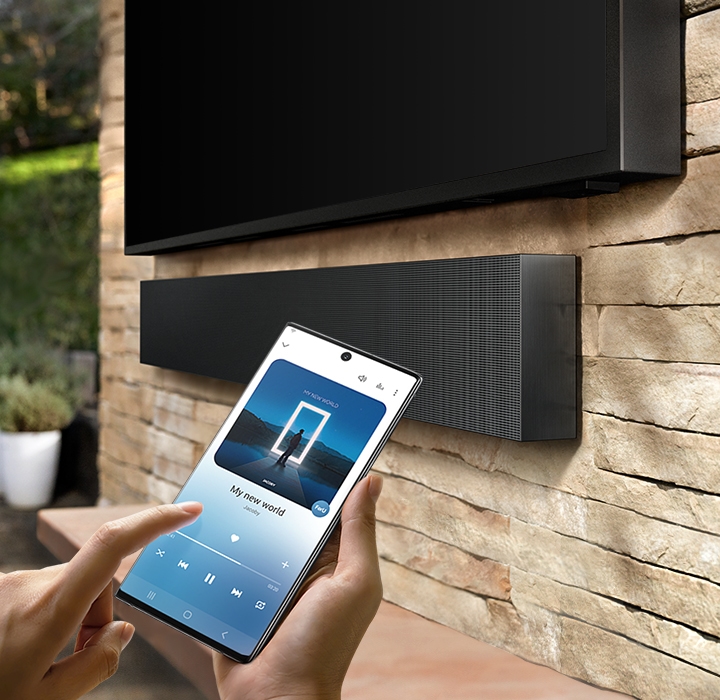 Adaptive Sound
The Samsung HW-LST70T/ZC Terrace Soundbar analyzes your content to automatically deliver optimized sound based on each scene, letting you hear speech clearly at the lowest volumes.
Works With Alexa
Enjoy your Soundbar hands-free using voice control through your Alexa enabled device*. Ask Alexa to play something by simply saying the title or a few lines of the song's lyrics. No matter what kind of music you're in the mood for, Alexa will find it.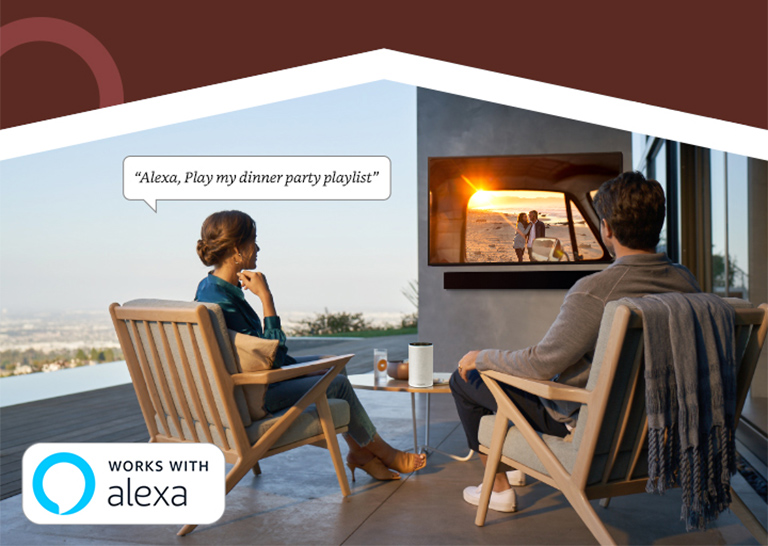 Samsung Audio Lab
Tested and tuned at the California Audio Lab, where our world-class audio engineers apply the advanced acoustic technologies and cutting-edge computer modeling to give you perfectly balanced, room-filling sound.
SmartThings App Support
Take connected living outside. Add The Samsung HW-LST70T/ZC Terrace Soundbar to your network with the SmartThings app for greater control over your audio throughout your smart home.
Samsung OneRemote
One remote is all you need. Control key soundbar functions like power, volume, and even sound effects with the Samsung TV remote.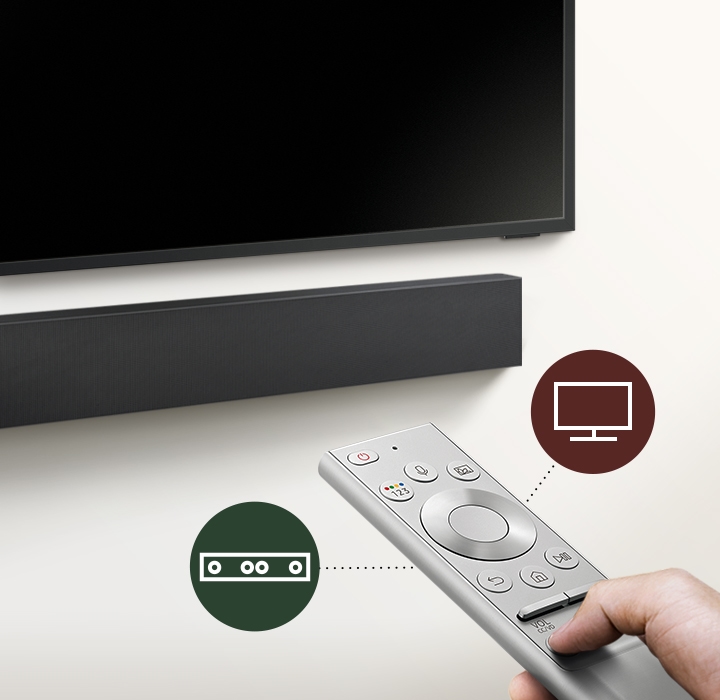 Wide Range Tweeter
Every spot is the sweet spot with the Samsung HW-LST70T/ZC. Hear consistently clear sound with Samsung's wide range tweeter.
Wall & TV Mount Kit Included
No need for professional installation. With the included mounting kit, you'll be able to set up your Samsung HW-LST70T/ZC speaker on the wall or neatly below The Terrace TV for a seamless sound experience.
Product: Samsung QN75LST9TAFXZC 75" The Terrace Full Sun Outdoor TV | HW-LST70T/ZC The Terrace Outdoor 3.0 Channel Soundbar
Features

360 Camera Support
360 Video Player
4K AI Upscaling
Adaptive Picture
Ambient Mode+
AirPlay 2
Alexa
Auto Motion Plus
Bixby
Connect Share
Contrast Enhancer
Digital Clean View
Direct Full Array 16x
Filmmaker Mode
Google Assistant
LED Clear Motion
Light Sensor
Motion Detection
Multi View
PC on TV
Real Game Enhancer+
Smart Things
Tap View
TV Plus
V-Chip
Voice Command
Wide Viewing Angle

Audio

2 x 10Watts
2.0 Channel
Adaptive Sound
Dolby Digital Plus

Connectivity

USB : 1
Ethernet RJ45: 1
HDMI: 3
Cable/Antenna: 1
Optical/Audio Out: 1
RS232: 1

Operating Conditions

30°C – 50°C

Television - Refresh Rate

60 Hz

Television Features

Amazon Alexa, Apple Airplay, Bluetooth, Dolby Digital Plus, Google Assistant, Mountable, Outdoor

Screen Resolution

4K Ultra HD

Screen Size

70" & larger

HDMI Inputs

3

HW-LST70T/ZC Specifications

General
-Color: Titan Black
-Number of Channels: 3 Ch
-Total Power (W): 210W
-Center Speaker: Yes

Features
-Wide Range Tweeter: Yes
-Distortion Cancelling: Yes

Audio Processing
-Dolby: Dolby Digital 5.1
-DTS: DTS digital Surround

Audio Features
-Sound Mode: Surround Sound Expansion
-Adaptive: Standard
-Wide Range Tweeter: Yes
-Distortion Cancelling: Yes

Speakers
-Number of Speakers: 7
-Subwoofer Type: Built-in
-Built-in Woofer: Yes

AV Decoding Format
-WAV: Yes
-MP3: Yes
-WMA: Yes
-OGG: Yes
-FLAC: Yes
-AAC: Yes
-ALAC: Yes
-AIFF: Yes

Connectivity
-Optical Inputs: Yes
-Wi-Fi: Yes
-Bluetooth®: Yes
-Bluetooth® Power On: Yes
-One Remote Control: Yes
-Voice Features: Yes
-SmartThings App compatibility: Yes

Power Consumption
-Stand-by Power Consumption (Main): 0.45W
-Operating Power Consumption (Main): 25W
-Free Voltage: Yes
-Rating Voltage: AC110-240V~ 50/60Hz
-Adaptor Power: 100W

Dimensions & Weight
-Product Dimensions (W x H x D): 48.0" x 5.5" x 2.1"
-Product Weight (lb.): 14.8 lbs.
-Package Size (inches): 67.0" x 5.9" x 8.0"
-Package Weight (lbs): 23.6 lbs.

Accessory
-Remote Control: Yes
-Wall Mount Kit: Mount Kit for Wall & Mount kit for The Terrace TV
-Battery for Remote Controller: Yes
-Cable Included: Optical

ETC
-Tap Sound: Yes (May not be available at launch. To be updated via firmware)
Estimated Shipping
When you add an item to your cart the Estimated Shipping* cost will be shown.  This estimated shipping* cost is accurate to most major city locations across Canada.  If the shipping cost is higher than the estimated shipping* then GibbysESM will contact you for approval before we process your order.
To learn more click Shipping Terms & Conditions
Samsung offers a 1 year warranty