Samsung SP-LSP7TFAXZC The Premiere 120″ 4K Smart Laser Projector | Grandview LF-PA 120″ Perforated Projector Screen
This Bundles Includes:
(1) Samsung SP-LSP7TFAXZC The Premiere 120″ 4K Laser Projector
(1) Grandview LFPA120 AT6 Prestige Series 120″ Fixed-Frame Screen
Samsung SP-LSP7TFAXZC The Premiere 120″ 4K Laser Projector
Ultra high-resolution with cutting-edge laser technology
The Premiere delivers dramatic home cinema viewing that's just like being in a theater. With precise color accuracy and incredible contrast on a max 120-inch screen space, the Premiere is the world's first HDR10+ projector for realistic, vibrant viewing.
Bigger and better
Get ready for a whole new home cinema experience. Experience immersive detail from any angle with the 120-inch wide screen, while crystal 4K resolution provides staggeringly crisp images and optimized color expression.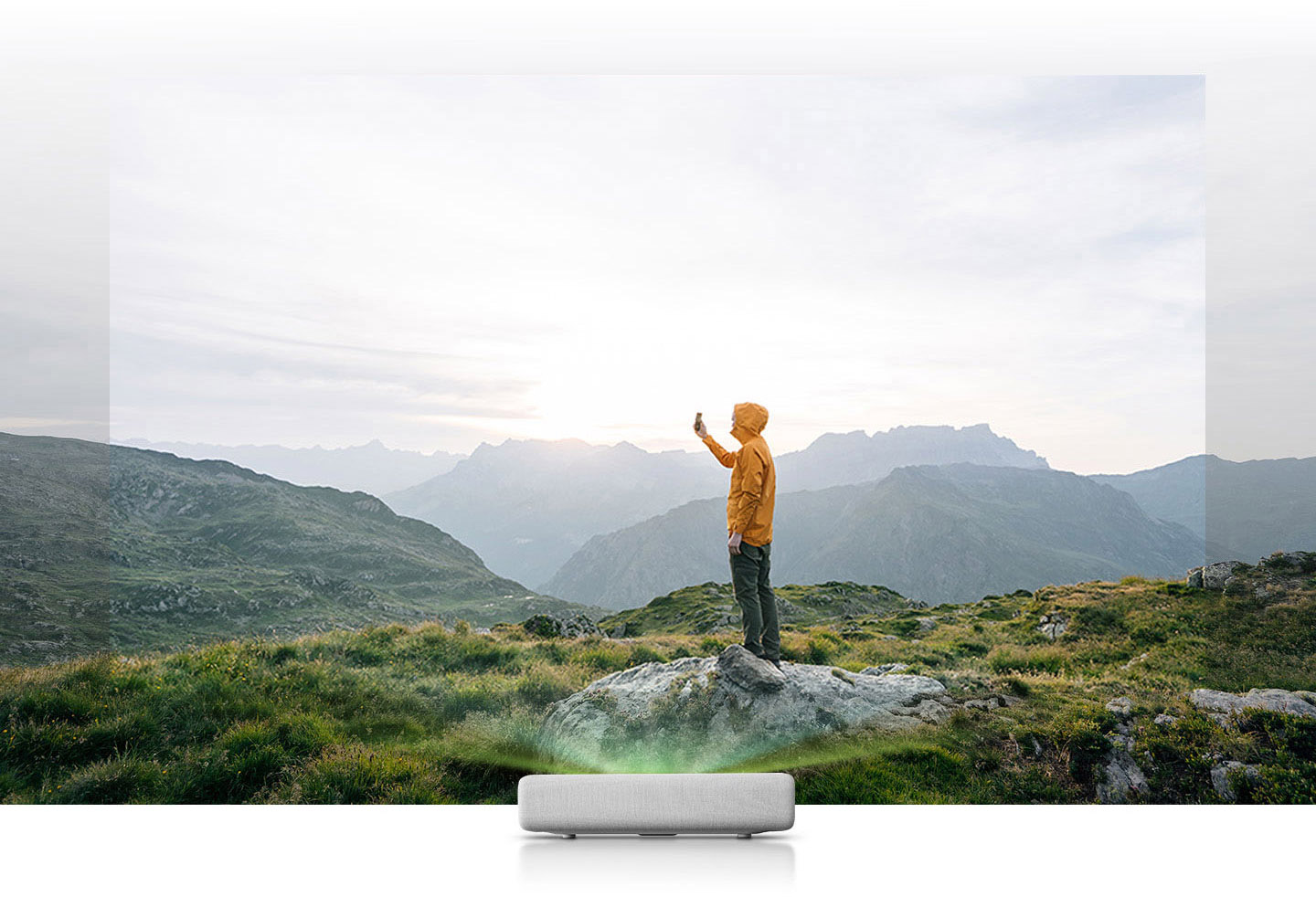 Details even in bright light
Enjoy perfectly lit shows, movies and games with 2200 lumens of brightness so you can catch every detail, any hour of the day.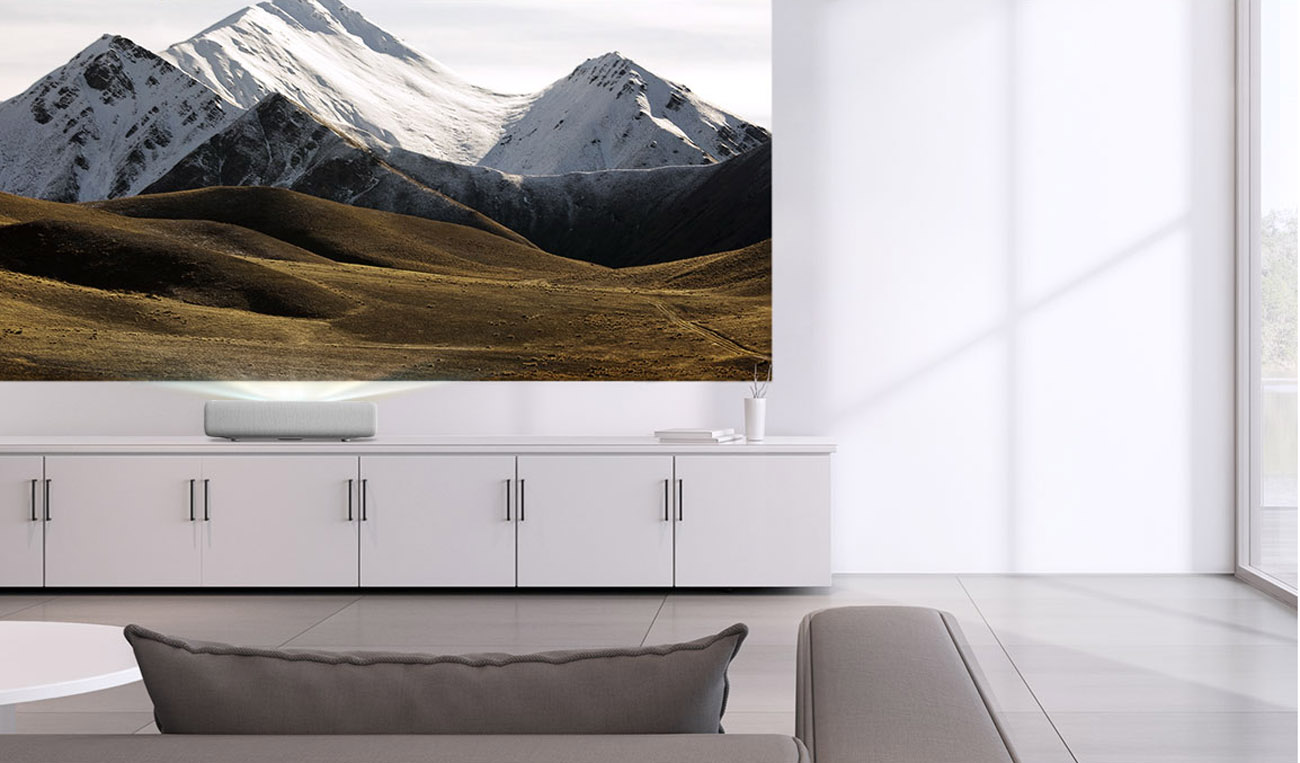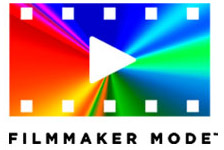 True cinematic quality
Experience movies as they're meant to be watched with Filmmaker Mode, the first-of-its-kind setting on a projector.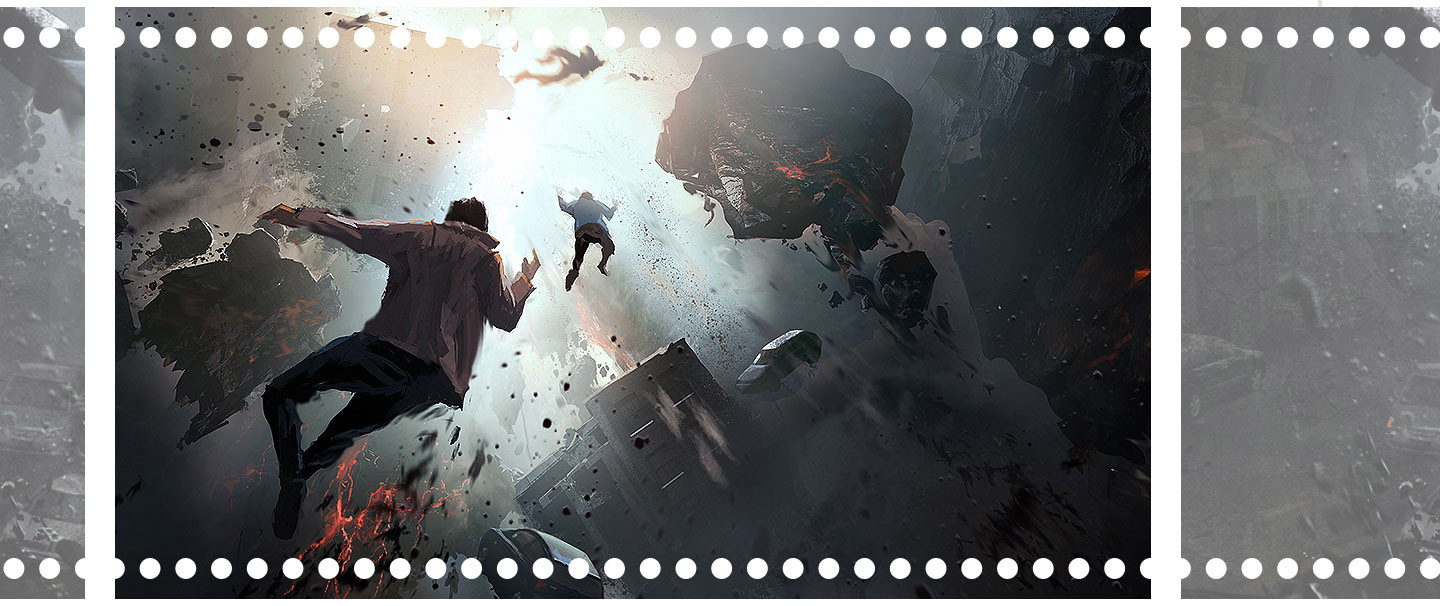 Dive completely into room-filling sound
Powerful sound
Get amazing cinema-quality sound to match the stunning display with 30 watts of 2.2ch audio built in.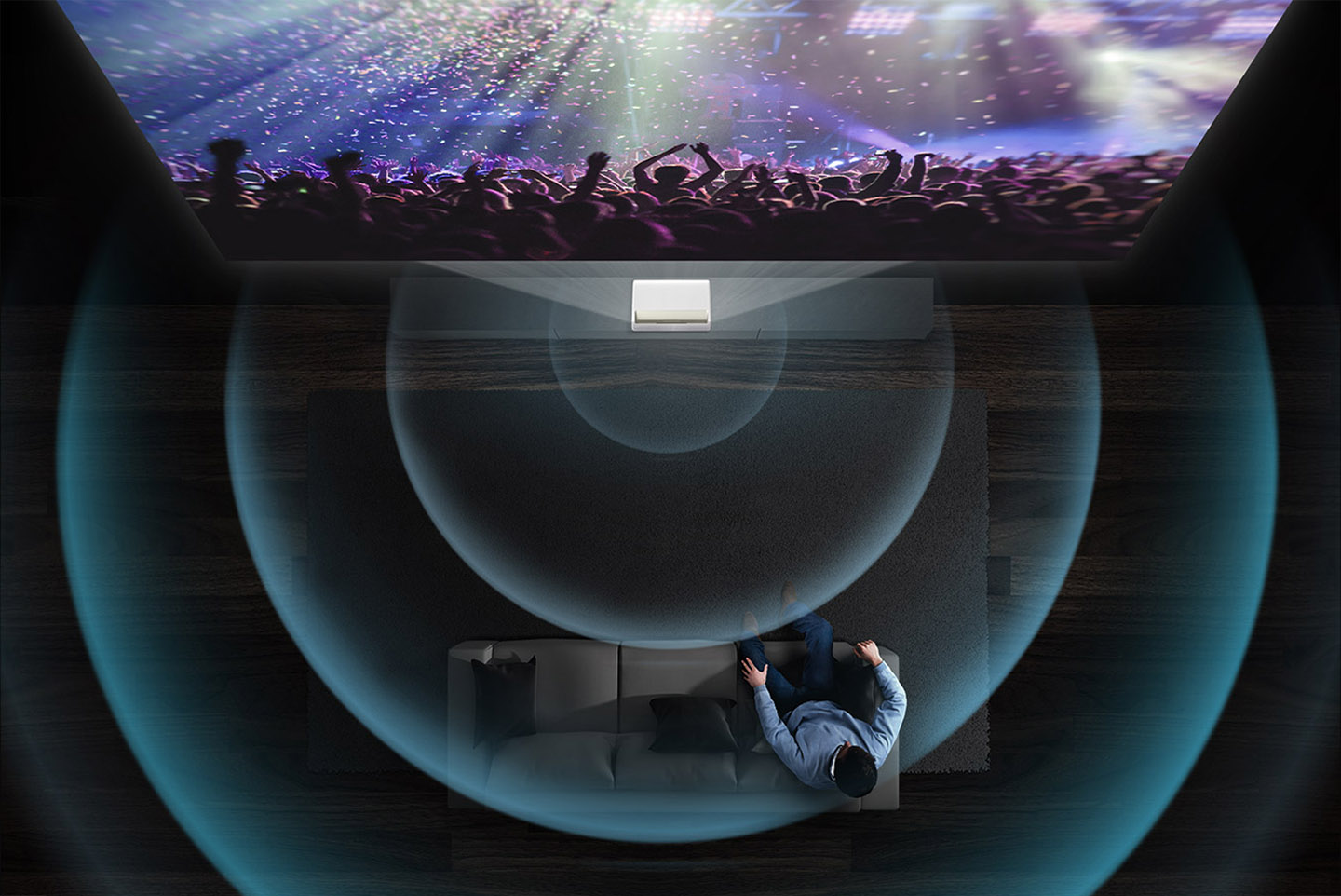 Blends seamlessly into your space
Make the most of your space with The Premiere's sleek, compact form that works with any aesthetic.

Freedom to arrange your space
Place your projector almost anywhere. The Premiere can create a massive screen even when it's positioned close to the wall, and special built-in sensors automatically reduce brightness when it detects anyone near.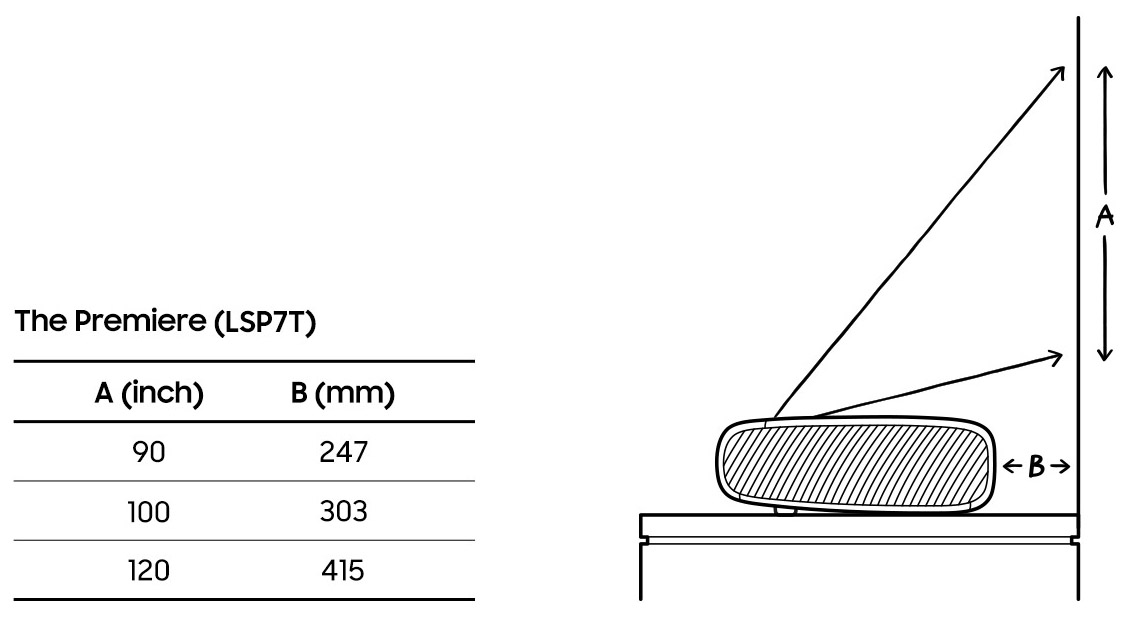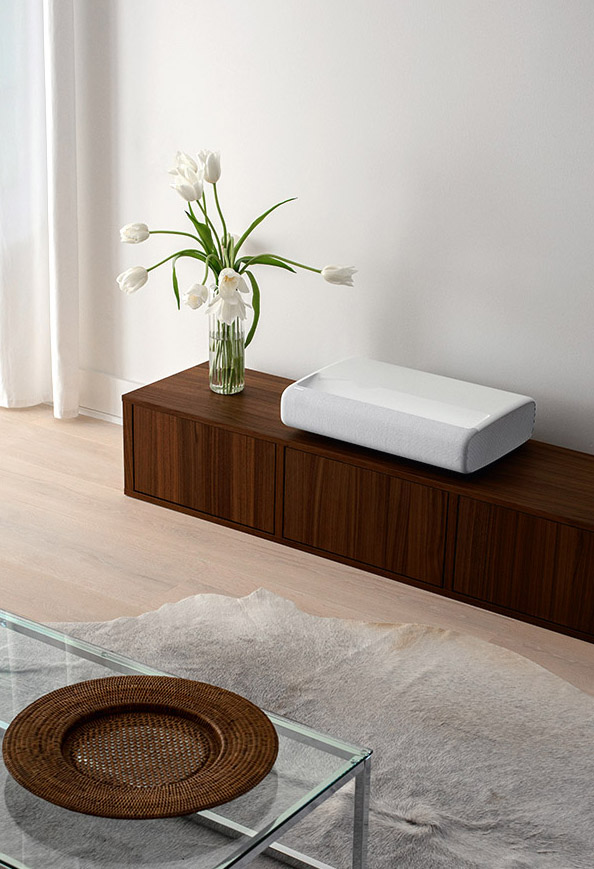 Just place it by the wall
Simple to install and plug in, The Premiere is designed to sit right by the wall with an easily adjustable screen size.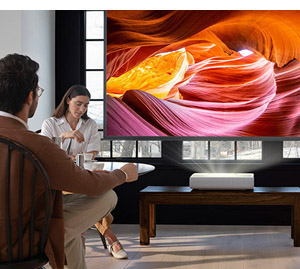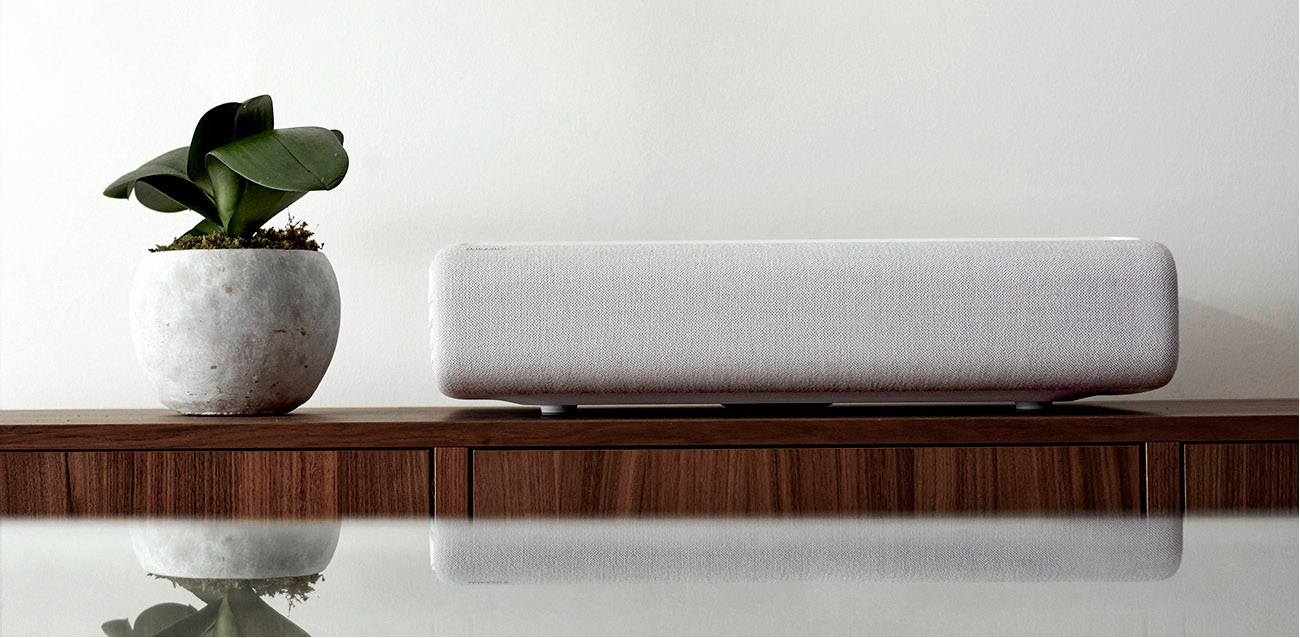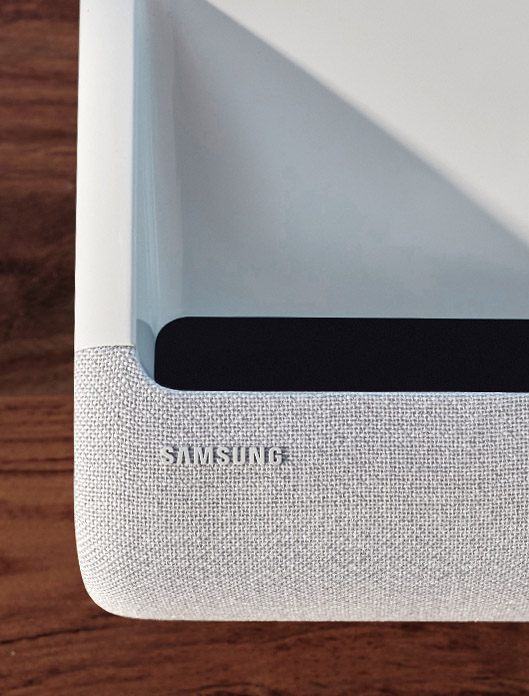 Elegantly minimized
Beautiful from every angle with a premium fabric finish, The Premiere is the perfect blend of minimalist design and superior engineering.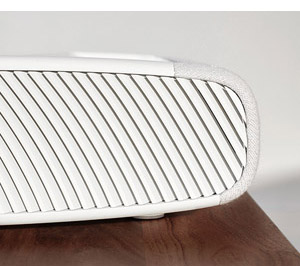 Enjoy content without a screen
A white wall is all you need. The Premiere simplifies home entertainment by providing vivid picture — even without a screen.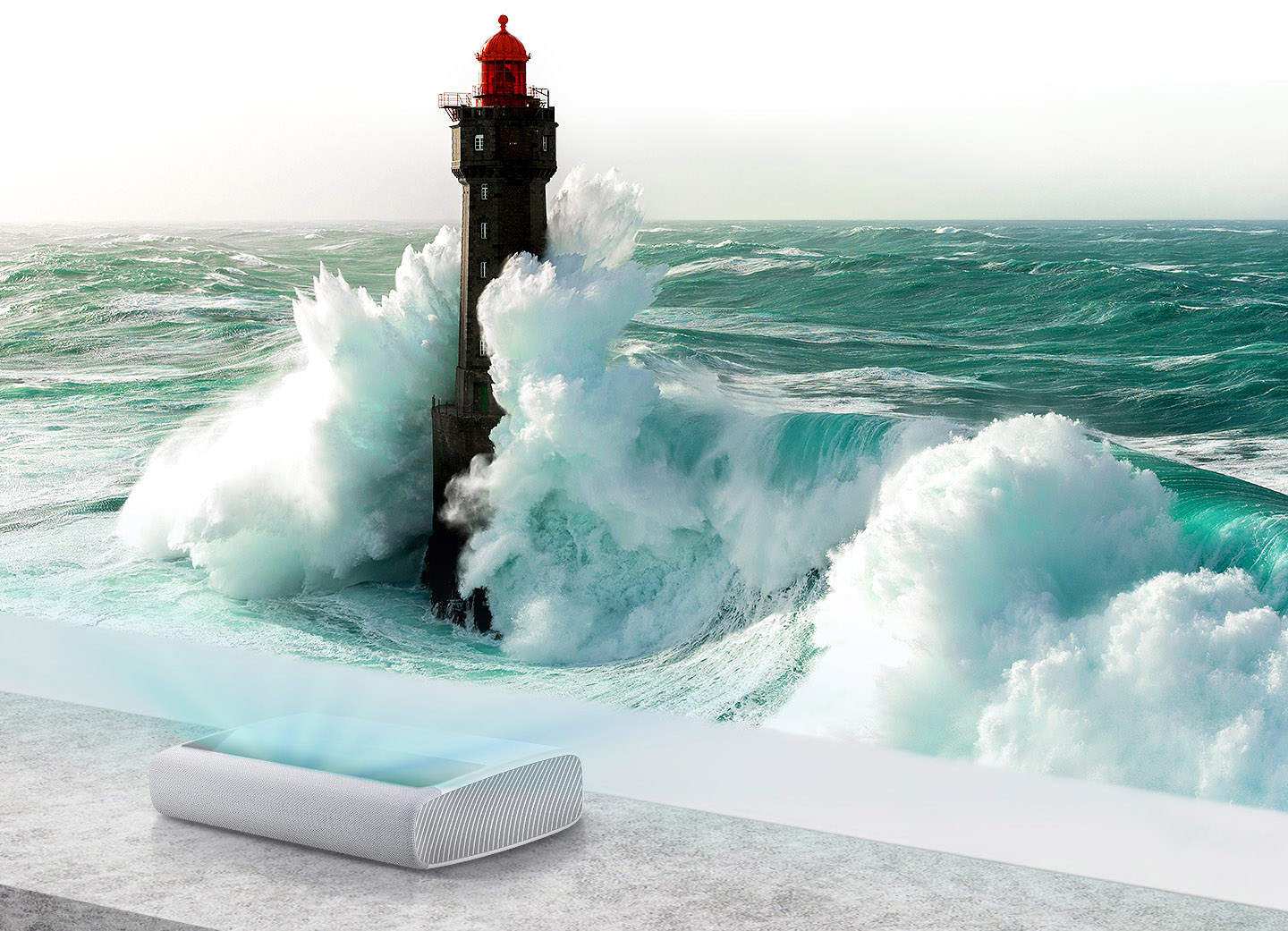 More ways to enjoy The Premiere
Get the same Smart service as a Samsung TV, with the added bonus of instant-on.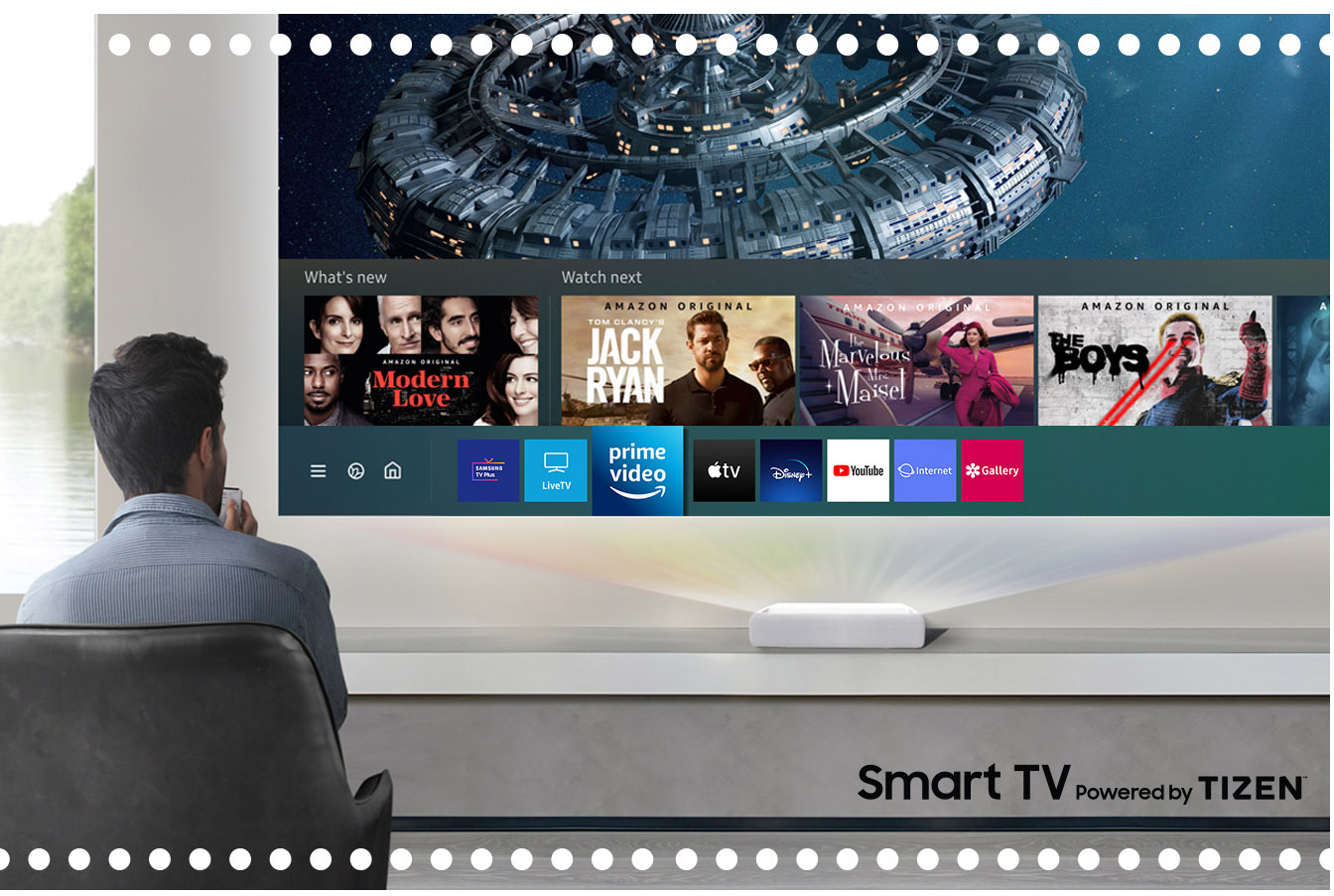 Ready to stream
From YouTube to Netflix, Amazon Prime Video, Disney+ and more, stream what you like right out of the box.

Seamless voice control
Multiple Voice Assistants.

Bixby
Do more with The Premiere with Bixby — all you need to do is ask.
* Bixby voice command recognizes English (U.S.), Mandarin Chinese and Korean. Not all accents, dialects and expressions are recognized. The list of features that can be controlled by voice commands via Bixby will continue to expand. Mobile functionality compatible with Samsung Galaxy 8 series or higher with Bixby function. Samsung account log-in and data network (Wi-Fi or internet connection) required to fully operate Bixby features.

Amazon Alexa
Just ask Alexa to change the channel, open apps, search for movies and shows, play music, control your smart home devices, and more.
* Amazon, Alexa, and all related logos are trademarks of Amazon.com, Inc. or its affiliate.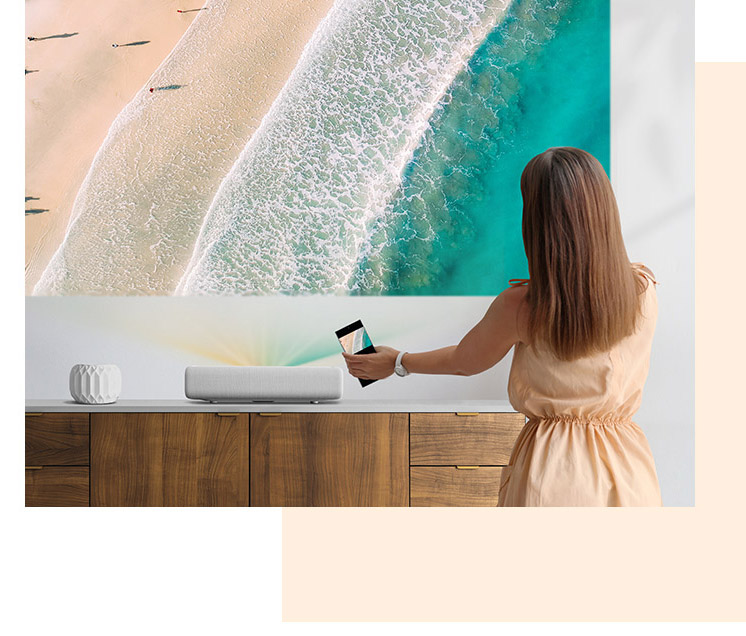 Just tap to mirror
Get content from your smartphone on the wall by simply tapping it to The Premiere.
Win more games, have more control
Get in the game without delay. Game Enhancer optimizes your settings to help you get the win.

Grandview LFPA120 AT6 Prestige Series 120″ Fixed-Frame Screen
Grandview LFPA120 AT6 Prestige Series 120″ Fixed-Frame Screen Features a new innovative easy rail installation system utilizing innovative rail mounting brackets for various locations including wood and concrete walls. The installation is secure yet flexible, allowing the screen to adjust horizontally.
4K Ultra HD
With a stylish velvet-wrapped aluminum alloy frame and cinema designed HDTV material, the Permanent Fixed Frame is the enthusiast's choice for use in a dedicated application. The material is specifically designed for all high-definition feeds. The solid structure and tensioning system ensures that the projection screens are always perfectly flat and the picture flawless.
Adjustable Tension System
An adjustable tension system ensures that the screen display surface if completely flat at all times. The flexible material of the screen maintains surface integrity and helps prevent any waves or wrinkles. Dimensions: 105″ x 59″. Size: 120″ (Diagonal)
Perforated Fabric
The AT6 Acoustically Transparent (perforated) fabric has a 1.0 gain, and is comparable in nature to the screens used in modern movie theatres. The fabric's perforations allow the soundwaves emanating from speakers mounted behind the screen to be heard with minimal loss of fidelity while maintaining higher quality saturation and contrast levels.
Reduced Glare
The AT6 Acoustically Transparent (perforated) fabric utilizes mini diamond veins that enhance contrast and image details while reducing glare. It provides a clear picture at any angle. The projection surface's backside is reinforced with a special PVC composite material.