Sanus VLT16-B1 Slim Tilting Wall Mount for 51″ – 80″ Displays – Black
Sanus VLT16-B1 Slim Tilting Wall Mount for 51 to 80″ Displays – Black
Heavy-gauge steel construction with powder-coated finish
Supports up to 125 lbs.
Mount holds TV approximately 7/8″ from wall
Tilt range: 0 to -10°
Stud-mounting required
Movable brackets for off-center stud placement
Special Order
$199.99
Payments as low as
$16.67/mo
30 DAY RETURN POLICY
LOW PRICE GUARANTEE
Product Description
Features & Specifications
Shipping
Documents
Warranty
Sanus VLT16-B1 Slim Tilting Wall Mount for 51 to 80″ Displays – Black
The slender Sanus VLT16 mount holds your TV a scant 7/8″ from the wall, great for installations where you want ot keep the mounting depth to a minimum. An innovative Virtual Axis™ system lets you tilt your TV forward for optimal viewing, despite its closeness to the wall. The VLT16 can support a TV with a screen size between 51″ – 80″, and a weight of up to 125 lbs.
The mount's brackets can easily be shifted to the right or left, in case the wall studs are a little off-center. You can also make small adjustments after the mount is affixed to the wall to level it, or even change the height. And the handy ClickStand at the bottom of each vertical brace swings out to prop your mounted TV away from the wall, to make cable hookup a breeze — without removing the TV from the mount.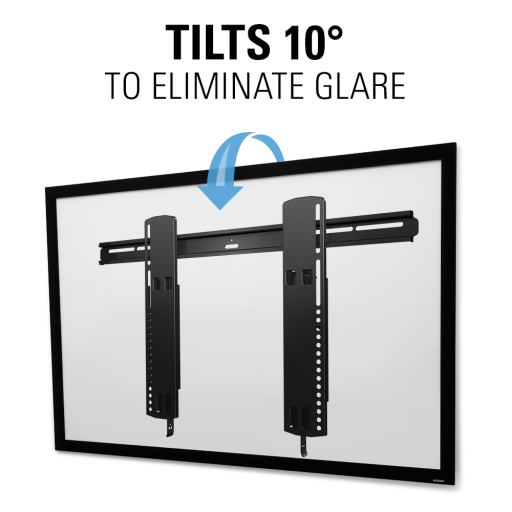 Sanus VLT16-B1 Super Slim tilting mount places 51″ – 80″ TVs just 7/8″ from the wall, yet still allows up to 10 Degree of tilting capability. The VLT16 features the revolutionary Adjustable Virtual Axis technology, which allows tilt tension to be adjusted to compensate for a variety of TV depths.
Features:
Designed for custom installers
Installation hardware included
Leveling adjustments allow the display to be positioned after hanging
Position your TV as close as 7/8″ from the wall
Pull down on hidden straps to access cables behind your display
Tilt your display for your preferred viewing angle
HDpro™ product specially created for the custom installer
Hardware included

Product: Sanus VLT16-B1 Slim Tilting Wall Mount for 51" - 80" Displays - Black
Specifications

Compatibility
– Supported Screen Sizes: 51 to 80" / 129.5 to 203.2 cm
– Supported Weight Capacity: 125 lb / 56.7 kg
– Mounting-Hole Pattern: 100 x 100 to 750 x 400 mm
– Number of Displays Supported: 1

Adjustments
– Tilt Adjustment: -10 to +0°
– Orientation: Landscape

General
– Stud Distance: 16.0" / 40.6 cm
24.0" / 61.0 cm
– Dimensions: 29.3 x 17.3 x 0.82" / 74.42 x 43.94 x 2.08 cm

Specials
NoWebSale
Back Order Allowed
Estimated Shipping
When you add an item to your cart the Estimated Shipping* cost will be shown.  This estimated shipping* cost is accurate to most major city locations across Canada.  If the shipping cost is higher than the estimated shipping* then GibbysESM will contact you for approval before we process your order.
To learn more click Shipping Terms & Conditions
Sanus Canada 1 Year Limited Warranty