Sanus VLT16-B1 Slim Tilting Wall Mount for 51 to 80″ Displays – Black
The slender Sanus VLT16 mount holds your TV a scant 7/8″ from the wall, great for installations where you want ot keep the mounting depth to a minimum. An innovative Virtual Axis™ system lets you tilt your TV forward for optimal viewing, despite its closeness to the wall. The VLT16 can support a TV with a screen size between 51″ – 80″, and a weight of up to 125 lbs.
The mount's brackets can easily be shifted to the right or left, in case the wall studs are a little off-center. You can also make small adjustments after the mount is affixed to the wall to level it, or even change the height. And the handy ClickStand at the bottom of each vertical brace swings out to prop your mounted TV away from the wall, to make cable hookup a breeze — without removing the TV from the mount.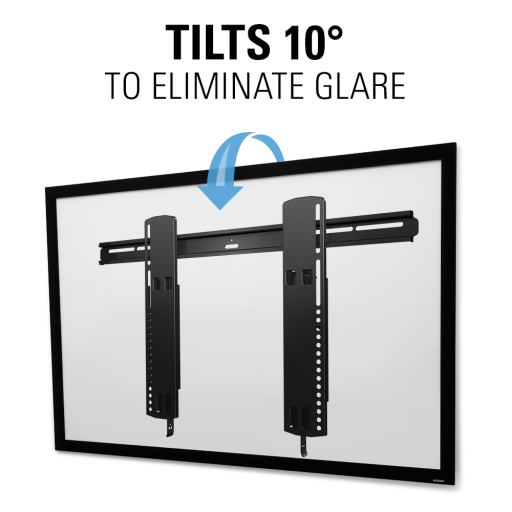 Sanus VLT16-B1 Super Slim tilting mount places 51″ – 80″ TVs just 7/8″ from the wall, yet still allows up to 10 Degree of tilting capability. The VLT16 features the revolutionary Adjustable Virtual Axis technology, which allows tilt tension to be adjusted to compensate for a variety of TV depths.
Features:
Designed for custom installers
Installation hardware included
Leveling adjustments allow the display to be positioned after hanging
Position your TV as close as 7/8″ from the wall
Pull down on hidden straps to access cables behind your display
Tilt your display for your preferred viewing angle
HDpro™ product specially created for the custom installer
Hardware included