Sanus WSS2W1 Wireless Speaker Stands For Sonos-White – Open Box
Product Description
Features & Specifications
Shipping
Documents
Warranty
Sanus WSS2W1 Wireless Speaker Stands For Sonos-White – Open Box
The Sanus WSS2W1 is ideal for Sonos PLAY:1 & PLAY:3 wireless speakers, these stands are built with high quality materials to keep your speakers safe, while providing the best sound quality.
Designed to work with both the Sonos PLAY:1 and PLAY:3 speakers in any orientation.
Use these Sanus WSS2W1 stands to position your Sonos speakers at the ideal angle for the best sound quality.
Securely supports the Sonos speaker for optimum bass response.
Includes all hardware needed for a quick and easy assembly process. In under 15 minutes your stands will be assembled.
Comes with rubber feet for stability on hard floors, and spikes for stability on carpet.
Wire channels in the stand make cable management easy if you choose to plug in your PLAY speaker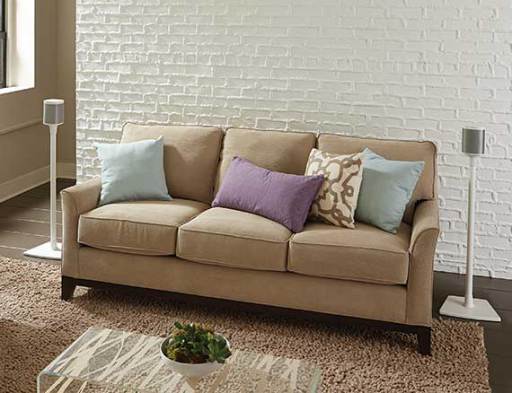 Tools You Will Need For Installation
Phillips Head Screwdriver
The Details
Product Brand: SANUS
Model Code: WSS21
UPC Code: 793795532411 – Black – $69.99 USD
793795532435 – White – $69.99 USD
Product Width: 13.00″ / 33.02cm
Product Height: 34.00″ / 86.36cm
For more Sanus products, click here.
Product: Sanus WSS2W1 Wireless Speaker Stands For Sonos-White - Open Box
Dimensions

Product Width: 13.00" / 33.02cm
Product Height: 34.00" / 86.36cm
Product Weight: 6.82lbs / 3.09kg
Package Width: 35.00" / 88.90cm
Package Height: 3.00" / 7.62cm
Package Depth: 11.25" / 28.58cm
Estimated Shipping
When you add an item to your cart the Estimated Shipping* cost will be shown.  This estimated shipping* cost is accurate to most major city locations across Canada.  If the shipping cost is higher than the estimated shipping* then GibbysESM will contact you for approval before we process your order.
To learn more click Shipping Terms & Conditions
Sanus Canada 10 Year Limited Warranty