Sanus WSSA2-B1 16″ Adjustable Height Speaker Stands for Sonos ONE, Play:1, and Play:3 – Black – Pair
The Sanus WSSA2-B1, Height-Adjustable Speaker Stand, fits the Sonos™ PLAY:1 and PLAY:3 wireless speakers. Offering 16″ of effortless sliding height adjustment and compatibility with the Sonos PLAY:3 in either horizontal or vertical orientation, the Sanus WSSA2-B1 is sure to deliver optimal audio performance regardless of your listening needs. Durable, anodized aluminum construction not only resists wear, but also perfectly complements Sonos speaker aesthetics for a sleek, seamless look. Stands are sold as single pieces or in pairs to accommodate any sort of system arrangement, be it home theater, surround sound, or ambient listening. For a completely cable-free solution, our Press Fit cable management technology secures cords down the back of the stand for concealment.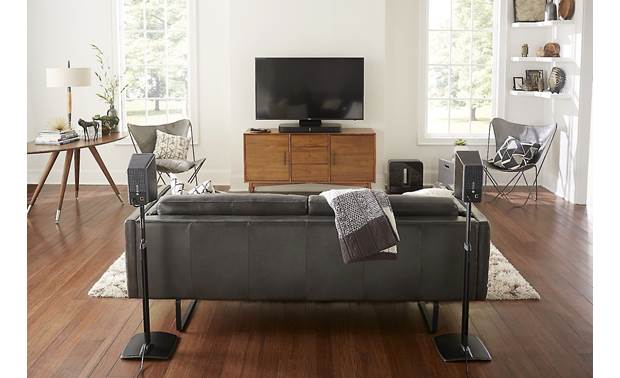 Assembling easily in 15 minutes and featuring 16" of tool-free height adjustment, you'll be enjoying perfect sound from this sleek stand in no time. Designed to fit Sonos PLAY:1 and PLAY:3 Wireless Speakers, 16″ of tool-free height adjustment puts your speaker at optimal listening height, & Anodized aluminum stand construction provides both durability and style. Press Fit cable management allows for sleek concealment of cables, Press Fit technology conceals cables for a sleek, cord-free look, & Easy, 3-step assembly in just 15 minutes. Included carpet spikes and rubber pads facilitate stability on any flooring surface, Tool-free technology allows 16″ of effortless speaker height adjustment, Stand holds Sonos PLAY:3 in either vertical and horizontal orientation to fit your listening needs, & Perfect for any setup: Home theater, stereo pairing or surround sound.