Sanus WSSBM1 Soundbar Mount for Sonos Beam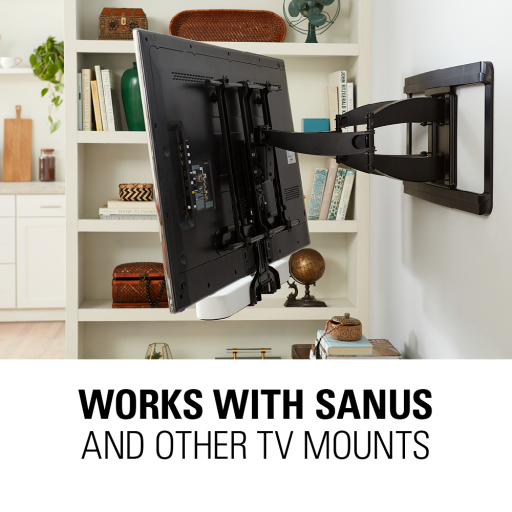 The Sanus WSSBM1 Soundbar Mount seamlessly integrates your Sonos Beam with your mounted TV. The 12" of height adjustment ensures an ideal fit between Beam and the bottom of your mounted TV for a clean, streamlined look, and the intuitive Smart Latch™ allows for speaker height adjustment with just the lift of a finger – no tools required.
Developed in partnership with Sonos, the SANUS mount for Beam is custom-fit to Beam ensuring optimal speaker performance and unobstructed access to speaker ports. Installation is a brief, 15-minute process that requires only a screwdriver, and all necessary hardware is included in the box.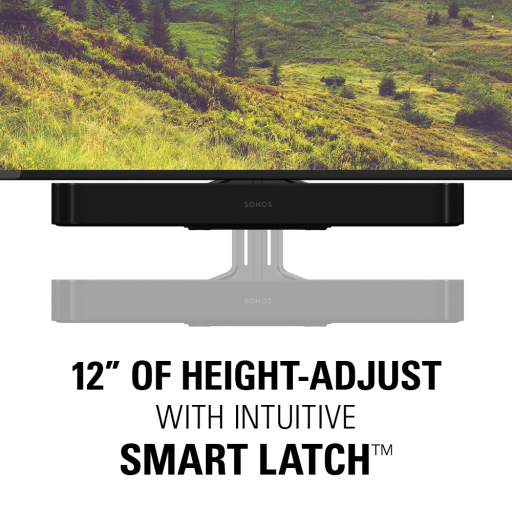 Integrate your Sonos Beam with your wall-mounted TV
Compatible with SANUS TV mounts and other mount brands, the Soundbar Mount for Beam works with a large range of TV sizes and features broad VESA compatibility. When used with a full-motion TV mount, the soundbar mount allows Beam to move with the TV for an optimal listening experience.
The Sanus WSSBM1-B2 lets you mount your Sonos Beam sound bar directly below your wall-mounted TV. The bracket connects directly to your wall mount so your Sonos Beam will always remain in the same plane as your TV, no matter how you move it.  You can use the bracket with fixed, swivel, or full-motion mounts.
Made for the Beam
Sanus designed this mount attachment in conjunction with Sonos. The result is a bracket that fits the Sonus Beam perfectly. You'll have easy access to the Beam sound bar ports, and unobstructed speakers for optimal sound.
You can height-adjust your mounted sound bar up to 12″, so you can use the bracket with TVs up to 70″. And with Sanus' Smart Latch system, you can make those adjustments easily without using tools, so you can fit the Beam snugly under your TV.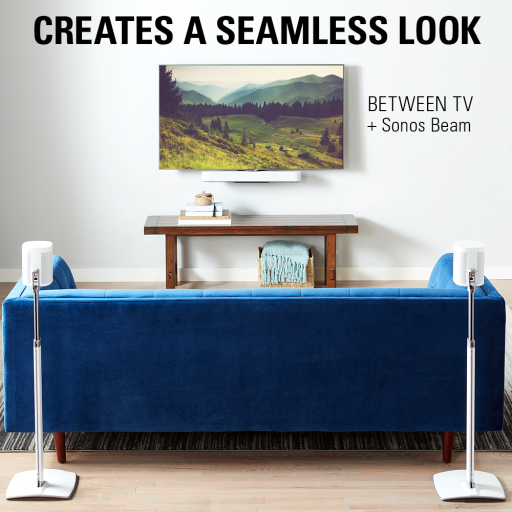 Features:
Seamlessly integrates Sonos Beam with mounted TVs
Allows sound to move with full-motion TV mount for an ideal listening experience
Saves space by attaching Beam directly to TV
Intuitive Smart Latch™ provides 12″ of height adjustment with just the lift of a finger
Compatible with SANUS and other TV mount brands
Works with a large range of TV sizes – up to 70″ – and features broad VESA compatibility.
Custom-fit to Beam to ensure optimal speaker performance and unobstructed access to speaker ports
Easy 15-minute installation with no drilling required