Strong Mounts SM-PROJ-XL-BLK Universal Fine Adjust Projector Mount – 50 lbs Capacity – Black
Model Number:
SM-PROJ-XL-BLK
Model Number:
SM-PROJ-XL-BLK
UPC: 842822025263
Product Description
Features & Specifications
Shipping
Documents
Warranty
Strong SM-PROJ-XL-BLK Universal Fine Adjust Projector Mount – 50 lbs Capacity – Black
Strong SM-PROJ-XL-BLK is equipped with longer mounting arms and security screw holes, this projector mount is specifically designed to handle oversized models up to 50 lbs., including JVC projectors, while offering maximum installation flexibility. It features tool-less adjustments – so getting the ideal alignment is a breeze – and has a simple three-piece design that minimizes time spent at the top of the ladder.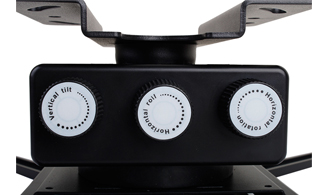 Tool-Less Adjustments: Getting a projector image to perfectly align with a screen is easier said than done. Thankfully this mount simplifies the process with easy-to-use vertical tilt, horizontal roll and yaw adjustments. Just pop off the cover and use the tool-less dials to make micro adjustments until the ideal alignment is achieved – no tightening or loosening of the screws required.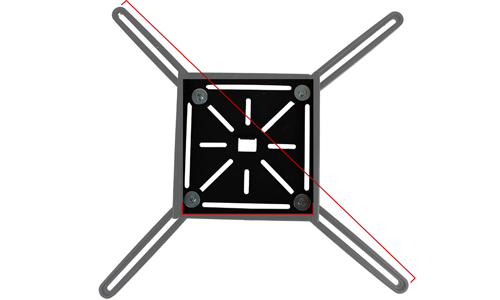 Maximum Mounting Flexibility: For the most versatility in your next installation, this projector mount features longer arms that extend for up to 17.7" diameter mounting. Plus it has a series of slots on the arms and the bottom plate that provide almost limitless placement options, so it's easy to get the projector perfectly positioned. Need to install directly in concrete or ceiling drywall? Not a problem – just use the included hardware.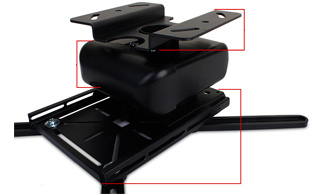 Easy to Install: A smart three-piece design makes it easy to get this projector securely installed – without having to fumble around at the top of the ladder. The top plate attaches to the ceiling and screws into the mount assembly body, while the bottom plate (with attached projector) simply slides and locks into place. It makes installing the product – and taking down the projector for servicing – fast and easy. Now that's what we call installer friendly!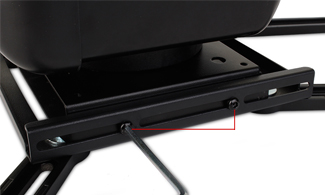 Security Screws: When it comes to projector installs, a secure attachment is key. That's why this mount features multiple security screws for projector attachment, as well as screws on each side of the mounting base – which all help to lock things in place. Move the mount around until you get the perfect center of gravity for the projector, then tighten down the screws and you're good to go!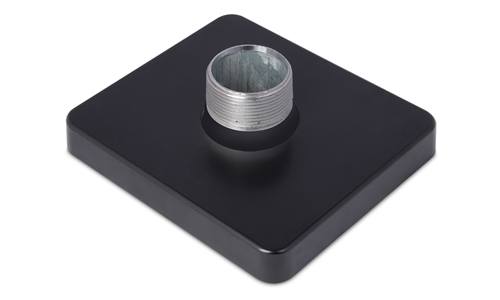 Extension Capability: If you want to drop the projector off the ceiling with an extension pole, we've included a separate ceiling plate to allow for easy connection to the pipe. Also included is a plastic cover to keep the install looking neat and tidy.
Product: Strong Mounts SM-PROJ-XL-BLK Universal Fine Adjust Projector Mount – 50 lbs Capacity – Black
Specifications

Distance from Ceiling: 5-1/5"
Roll: -5/+5°
Swivel: -5/+5°
Tilt: -5/+5°
Colour: Black
Maximum Load Support: 50 lbs
Construction: Steel, Plastic
Weight: 5.5 lbs

Color
Specials
Back Order Allowed
Estimated Shipping
When you add an item to your cart the Estimated Shipping* cost will be shown.  This estimated shipping* cost is accurate to most major city locations across Canada.  If the shipping cost is higher than the estimated shipping* then GibbysESM will contact you for approval before we process your order.
To learn more click Shipping Terms & Conditions
Strong Mount Lifetime Limited Warranty