Thinkware F200PROD32CH F200 PRO Front and Rear Full HD 1080p Dash Cam Bundle
Model Number:
F200PROD32CH
Model Number:
F200PROD32CH
UPC:
Thinkware F200PROD32CH F200 PRO Front and Rear Full HD 1080p Dash Cam Bundle
1920 x 1080 Resolution at 30 fps
140° Diagonal Field of View
160° Rear View Camera Field of View
Wi-Fi Connectivity
32GB microSD Card Included
Save $90.00
$209.99
$299.99
Payments as low as
$17.50/mo
30 DAY RETURN POLICY
LOW PRICE GUARANTEE
Product Description
Features & Specifications
Documents
Warranty
Thinkware F200PROD32CH F200 PRO Front and Rear Full HD 1080p Dash Cam Bundle
Meet your new road companion. The ThinkWare F200 PRO improves on its critically-acclaimed predecessor to deliver you more features in a revamped design that continues to be sleek and discrete. Boasting an updated Ambarella processor, the F200 PRO is capable of recording both the front and rear views of your vehicle in 1080p Full HD while its embedded Advanced Driver Assistance System helps you stay safe on the roads. Enhancing ThinkWare's industry-leading Parking mode, Super Night Vision and Time Lapse for Parking Surveillance mode now allow you to choose the right parking protection for your vehicle.
Super Night Vision (Parking Surveillance Mode only)
Super Night Vision technology reduces noise and enhances image quality in low-light conditions.
Parking Surveillance Mode*
*Requires Hardwiring Cable and installation (professional installation recommended).
Time Lapse
Time Lapse in Parking mode records footage at 2FPS, enabling the dash cam to record long periods of parking surveillance continuously without increasing power consumption.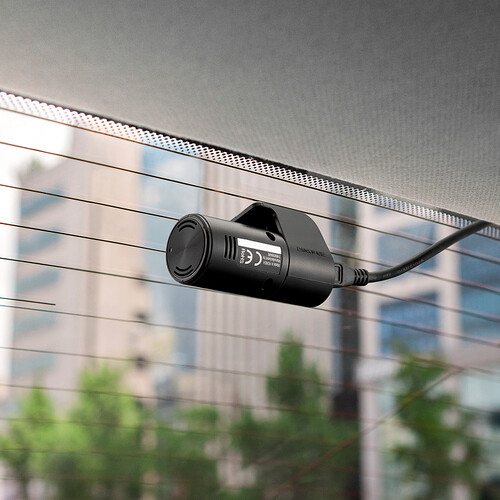 Energy Saving Mode
The dash cam goes on standby when entering Parking Surveillance mode and wakes up to record events triggered by impacts only. This allows the dash cam to conserve energy and increase up to 3 times the total duration of the dash cam's Parking Surveillance mode.
Impact Detection
Monitor any impact to the vehicle while it is parked to catch any hit-and-run driver in the act while you are away.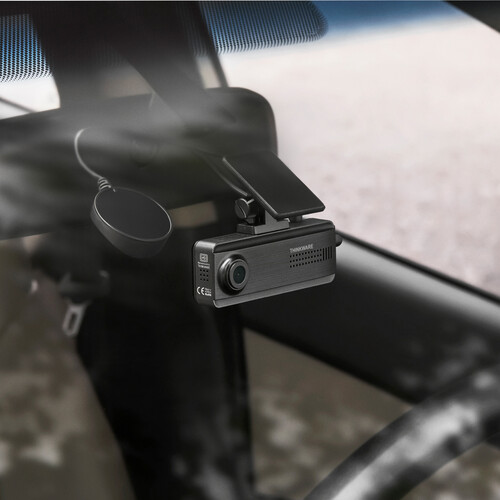 Motion Detection
Monitor and capture any motion around the vehicle for potential vandalism attempts.
Battery Protection
Advanced Driver Assistance System*
*Optional GPS Antenna Required.
Forward Collision Warning System (FCWS/ uFCWS)
Warns the driver of impending road hazards.
Front Vehicle Departure Warning(FVDW)
Informs the driver of the vehicle ahead starting to move.
Lane Departure Warning System(LDWS)
Detects if the vehicle is veering off the driving lane.
Safety Camera Alert*
Alerts the driver of upcoming speed and red light cameras.
* Optional GPS Antenna Required.
Red Light Camera Alert
Speed Camera Alert
Review Recorded Videos & Update Firmware Using Your Smartphone
ThinkWare Dash Cam Link
ThinkWare Dash Cam Link provides easy access to your ThinkWare Dash Cam. Replay your latest driving videos and manage your dash cam's settings all in one app!
PC Viewer
Video Playback
Review your footage on a compatible Windows or Mac OS computer.
Download
Conveniently download the recordings for sharing and review.
Settings
Configure all dash cam settings from easy-to-use software.
Driving Data
View the GPS data (speed, time, and location) embedded into your video.
Video Quality
ThinkWare Dash Cams capture everything from the ordinary to the spectacular.
Wide Viewing Angle
ThinkWare Dash cams come with wide viewing angle to provide the best coverage of the roads.
WDR (Wide Dynamic Range)
The video is always in the right exposure and contrast in any environment.
Reliability Features
Integrated Thermal Protection
The integrated Super Capacitors and Thermal Sensor provide added safety and reliability in extreme temperatures.
Anti-File Corruption
ThinkWare's proprietary Anti-File Corruption Technology improves your Dash Cam's reliability by protecting your memory card from data corruption and lost footage.
Product: Thinkware F200PROD32CH F200 PRO Front and Rear Full HD 1080p Dash Cam Bundle
What's in the box

• Dash Cam
• 12V Power Cable
• Hardwiring Cable (length: 3m/10 ft)
• 32GB MicroSD Card
• Windshield Mount
• Spare 3M Mounting Tape
• Adhesive Cable Clips
• Quick Start Guide
• Rear View Camera
• Rear Cam Cable (length: 7.5m/24.5 ft)
Estimated Shipping
When you add an item to your cart the Estimated Shipping* cost will be shown.  This estimated shipping* cost is accurate to most major city locations across Canada.  If the shipping cost is higher than the estimated shipping* then GibbysESM will contact you for approval before we process your order.
To learn more click Shipping Terms & Conditions
Thinkware Canada 1 Year Limited Warranty
Only logged in customers who have purchased this product may leave a review.